2021 Round Rock Classic
Jason Ruffcorn Leads The Oklahoma Sooners On The Mound In 2021
Jason Ruffcorn Leads The Oklahoma Sooners On The Mound In 2021
Jason Ruffcorn leads Oklahoma on the mound, and if the Sooners want to make noise in a loaded Big 12 they'll need him and others at their best.
Feb 17, 2021
by Andre Fernandez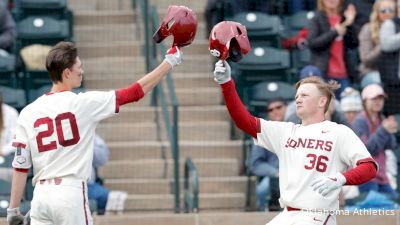 Oklahoma coach Skip Johnson has a method he teaches to help his players focus and overcome adversity on and off the field.
The Sooners call it their "light system."
"Your routines as players are like a green light," Johnson said. "Green means go. Each pitch you get either a bad experience or a good experience. If you get a bad experience, you release it. You take a breath and then go into your routine. It might be picking up the rosin bag to get back to your focal point and make the next pitch….It's all part of the process."
Watch the Sooners at the Round Rock Classic LIVE on FloBaseball
Johnson will need his best pitchers to take things a pitch at a time more than ever with COVID-19 likely to present obstacles throughout college baseball this season.
The Sooners staff already hit a red light recently when they learned star freshman Cade Horton would be out for the season with a torn UCL requiring Tommy John surgery.
Horton, a 6-foot-2, 211-pound right-hander and local star at Norman High in Oklahoma was projected to pitch potentially even as part of the Sooners' weekend rotation. Horton was tabbed as the Big 12 Conference Freshman of the Year by D1Baseball.com.
Horton, a dual-threat quarterback on his high school team, hit .420 with 34 doubles, 87 RBI and 128 runs scored.
"Cade is a really good player. He's the best freshman pitcher I've been around and I've been around some good ones," Johnson said. "He's a really good leader and that comes from being a quarterback in high school. He has a lot of poise and can throw a fastball, breaking ball and changeup for strikes.
"Losing him doesn't define our team but someone has to step up. And during this COVID period you might have 4 or 5 different starters on any given week. Everybody has to be ready to play."
Horton's loss seemingly depleted a staff that already saw the departures of Cade Cavalli, Levi Prater and Dane Acker, who all were selected in the first four rounds of last year's MLB draft.
Redshirt senior Jason Ruffcorn might have been another had the draft not been abbreviated to only five rounds due to the pandemic.
But instead, Ruffcorn returned to Oklahoma and could spearhead a new rotation along with redshirt sophomores Wyatt Olds and junior college transfer Dalton Fowler. Right-hander Luke Taggart, a grad transfer from Incarnate Word who had 189 strikeouts in 53 career appearances, is also a contender to start.
Ruffcorn, a 6-2, 215-pound right-hander, has pitched solely out of the bullpen during his two seasons with the Sooners since transferring from Texas A&M. Ruffcorn, who is 3-2 with a 2.00 ERA, 40 strikeouts and 14 walks in 45 innings, didn't allow a run in seven appearances in 2020 and gave up just three hits and a walk in eight innings.
Ruffcorn said he fixed a mechanical issue in his delivery this offseason involving his shoulder movement.
"I used to pull off my shoulder," Ruffcorn said. "Once I fixed that I started getting a little more control and more velocity."
Olds shined as both a starter and reliever during the shortened 2020 season going 4-0 with a 1.89 ERA in five appearances (two starts). Olds finished with 29 strikeouts and eight walks in 19 innings.
Fowler, a transfer from Northwest Mississippi Community College, was drafted by the Mets in the 27th round in 2019 and went 6-2 with a 3.76 ERA in 64 2/3 innings that year.
"Fowler has gotten a lot stronger and his delivery is a lot better," Johnson said. "Now it's a matter of holding runners, fielding his position. Taggart came in and his delivery was a bit herky-jerky. We smoothed it out and made him more efficient so he can repeat his delivery."
Johnson said several freshman pitchers could assume valuable roles including right-handers Carson Atwood, Jett Lodes and Jace Bohrofen and left-handers Tommy Lamb and Carson Thomas.
The Sooners, who open their season with a three-game series this Saturday and Sunday against Wichita State at Dell Diamond in Round Rock, Texas.
Oklahoma then plays Stephen F. Austin and UT Arlington at Globe Life Field in Arlington, Texas on Feb. 23-24.
Both games can be seen on FloBaseball.tv. as well as the Sooners' games in the Round Rock Classic (Feb. 26-28) where they will face Auburn, Texas A&M and Baylor, and in the Frisco Classic (March 4-7) where they will take on Arizona twice, Missouri and Dallas Baptist.
The Sooners, who went 14-4 before the season was halted, are expected to be a solid hitting team led by third baseman Peyton Graham, a third-team preseason All-American by D1Baseball.com.
But whether they can prove themselves on the mound will dictate if they can succeed in a loaded Big 12 Conference.
"We're pitching with a chip on our shoulder to prove we can pitch even better than those guys," Olds said. "I love those guys and I still hang out with Cade, but we're out to prove ourselves that's for sure."
---
Andre has covered baseball at the high school, college and both minor-league and major-league levels for the past 15 years for multiple publications including the Miami Herald, the Athletic and Baseball America. You can follow him at @FernandezAndreC on Twitter.