2021 State Farm College Baseball Showdown
As Opening Day Draws Near, Arkansas' Rotation Remains A Mystery
As Opening Day Draws Near, Arkansas' Rotation Remains A Mystery
Arkansas opens the 2021 season with as many as eight options from which to choose for the weekend rotation.
Feb 12, 2021
by Kolby Paxton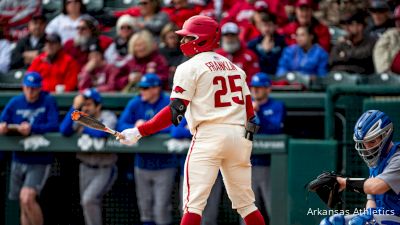 At the southeast corner of the college baseball cathedral that is Baum-Walker Stadium in Fayetteville, Ark., construction is well underway as Arkansas seeks to expand and enhance an already spectacular facility. And that's great news, because the Razorbacks' clubhouse must be bursting at the seams right about now.
Forty-six players currently claim a locker. Thirty of them are pitchers. Any number of them could, conceivably, find their way into the weekend rotation. Zero of them have locked down a spot as of yet. And that begs an otherwise ridiculous question.
When is too much not enough?
Watch the State Farm College Baseball Showdown LIVE on FloBaseball
Before Connor Noland ever picked up a baseball at the University of Arkansas, he chucked the pigskin for the football Hogs.
A four-star prospect behind center, the Greenwood (Ark.) HS product played in four games for then-head coach Chad Morris' squad in 2018, completing 21-of-42 passes for 255 yards and a touchdown.
Noland's position group also included Ty Storey and Cole Kelley, which, prior to Arkansas' season-opening thrashing of Eastern Illinois, elicited the following comment from then-offensive coordinator Joe Craddock.
"We feel comfortable with several guys ," he said. "We have several guys who are competing out there every day, and we're going to continue to give them every opportunity to earn the job."
If you follow football, by now, you know the old adage: "If you have two quarterbacks, you have none." In the case of the Chad Morris-led Razorbacks, they quite frequently had myriad options at quarterback, and it always meant they had none.
The question, as it pertains to the 2021 version of Dave Van Horn's Diamond Hogs is pretty simple. Can something similar be said about starting pitching?
Noland, among others, once again stands at the epicenter of this particular topic.
✅ Smile 😀
✅ Look cool for the camera 🎥
🔜 2021 season pic.twitter.com/flLtyl1eNt

— Razorback Baseball (@RazorbackBSB) January 20, 2021
"We've got six or seven or eight guys that we can start right now," said Arkansas head baseball coach Dave Van Horn. "It's a good problem, I guess, to have. Guys who aren't starting may have starter stuff. We've just got to figure it out."
Noland, who is among the most veteran of a group that includes, among others, Patrick Wicklander, Caleb Bolden and Caden Monke, is a presumptive piece of the weekend rotation after earning a place on the SEC's All-Freshman team in 2019, before finishing an abbreviated 2020 with a 2.00 ERA and 19 strikeouts over 18 innings of work.
A rocky fall, however, has cast some degree of doubt on the third-year sophomore's role heading into this season.
"Connor had a pretty good start last fall, and then the last couple of outings didn't go great for him," said Van Horn. "We're hoping that he'll bounce back and really eat up a lot of innings, possibly as a starter, we'll see how that goes."
Wicklander, who, like Noland, was selected to the league's All-Freshman team in 2019, is also being widely projected as a starter for the Hogs. Unlike Noland, the San Jose, Calif., product did not particularly enjoy the month-long 2020 campaign.
After cruising through his first two starts against Eastern Illinois and Gonzaga to the tune of 11 scoreless innings and 14 strikeouts, Wicklander struggled mightily in his final two appearances. He surrendered 13 runs (11 of them earned) over just 4.2 innings in two starts against Texas and South Alabama — and issued five free passes in the latter.
Arkansas catcher Casey Optiz feels like the third-year sophomore turned a corner in the fall.
"He's really kind of figured out that he's got to move the ball around the plate," said Optiz. "You could really tell in the fall that he made that adjustment — that it was going to be a point of emphasis for him. It's really shown. Now he's a legit guy that can go to both sides of the plate with really any pitch."
One of the biggest questions regarding the 2020 pitching staff has been "Who is the Ace?" Who is the next BK? The next Zay?

Is it Connor Noland? Is it Patrick Wicklander?

Answer: Yes. pic.twitter.com/5VdcL05tzr

— Ryan Folkes (@RyanFolkes) January 28, 2020
Noland and Wicklander are joined in the Presumed Rotation Department, by sophomore Caleb Bolden, who went 1-0 with a 1.16 ERA and 15 strikeouts in 16 innings of work a year ago. But it does not seem as though anyone within the program is ready to turn presumptions into reality just yet.
Like most teams in the SEC — and across the college baseball landscape — the Razorbacks have a surplus of arms this season as a result of eligibility and draft modifications related to the pandemic-induced shutdown last spring.
"Across the country, the talent level is probably better than it's ever been because of experience and age," said Van Horn. "In the SEC, I know that every team kept guys that they would've lost in a normal draft. A lot of kids stayed. Then you look on the other side of it, kids that would've signed out of high school … I feel like we've probably kept a couple of kids there for sure, maybe more."
Opitz echoed Van Horn's sentiments regarding the benefit of having so much more experience returning.
"Usually, you don't have this many older guys, guys that have been through it for two or three years around still. Especially on the pitching side, when you have guys that come in and already know the culture."
With all of the above being said, then, who else is in play for a spot in the rotation, exactly?
Junior Kole Ramage started three games in 2020 and, by all accounts, had an excellent fall, so he certainly figures into the conversation. Houston graduate transfer Lael Lockhart does, as well. The 6-foot-3, 220-pound southpaw was the Cougars' Friday night starter during what was meant to be his final collegiate season.
Still, there's seems to be a lot of conversation around two other pitchers who've not yet received mention.
VIDEO: Dave Van Horn, Zebulon Vermillion and Robert Moore preview Arkansas' upcoming games in Arlington. https://t.co/dNpF62Qr7E

— WholeHogSports.com (@wholehogsports) February 12, 2021
Zebulon Vermillion emerged as one of the top relievers in college baseball from 2019-20. A year ago, Vermillion did not allow a run across five appearances, striking out 12 batters en route to three saves. But it was his final appearance of the year that jumps out in the vein of this conversation.
Vermillion went three innings against South Alabama, allowing a single hit, and striking out six without a walk.
"Vermillion's stuff is outstanding. I'd love to have him start and I'd love to have him close," said Van Horn. "We're going to leave it up to what we see, what helps the team the most. If he shows us that he can go out and give us some really good starts and give us 5-plus and maybe more, then we might give him an opportunity there.
"Our guys do not like hitting off of him. I'll just tell you that. And that's a good thing. If our guys feel that way, the other team is going to feel the same way."
The wild card of the bunch — but the one who, you could argue, draws the most excitement from his head coach and his backstop — is second-year freshman Peyton Pallette.
The Benton, Ark., native recorded a 1.59 ERA and one save across 5.2 innings of work last season. It wasn't much. But it's what he's done in the months since that has him positioned to compete for the role of starter in 2021.
"We're going to give him every opportunity to prove to us that he can start for us," said Van Horn. "His stuff has been really good. His bullpens have been outstanding. His velocity seems up. He's getting bigger and stronger. He's an outstanding defender in the middle of the field. If he can show us that he can give us four, five, six innings, he's got as good a chance to start in the first weekend as anybody."
literally all of us after 300+ days without college baseball. pic.twitter.com/fF6GdSWc3h

— Razorback Baseball (@RazorbackBSB) January 8, 2021
Opitz has noticed an increasingly confident approach — and improving secondary pitches for good measure.
"He's got that mentality of just wanting to attack guys," he said. "Coming in as a freshman you're just trying to figure out how your stuff works. And now he's got a really good feel for how his stuff works and how he wants to attack hitters with it. He came in with a really good velo and he's just added on semester after semester. He's just continuing to get better. His curve ball looks even better. He's adding to his secondary pitches.
"He's looking like a real threat."
If you're keeping score at home, that's seven pitchers who would still appear to be in the mix for a spot in the weekend rotation — and this is not an exhaustive list. So back to the original question: Will too many pitchers be enough for the Razorbacks?
We should have a much better idea in a matter of days.
While some are easing into the waters of the 2021 college baseball season, the Hogs most certainly are not. Van Horn's bunch opens its season on Friday night at Globe Life Field in Arlington, Texas, against No. 3 Texas Tech.
Arkansas is amongst six of the nation's top 10 teams who will take part in the inaugural State Farm College Baseball Showdown. The field also includes No. 9 Texas and No. 10 TCU — the Razorbacks' opponents on Saturday and Sunday, respectively.
Every pitch will stream LIVE on FloBaseball and on the FloSports app.