2021 Round Rock Classic
Top 5 Hitters & Pitchers At The 2021 Round Rock Classic
Top 5 Hitters & Pitchers At The 2021 Round Rock Classic
The top pitchers and hitters gracing the field at the 2021 Round Rock Classic.
Feb 12, 2021
by PJ Potter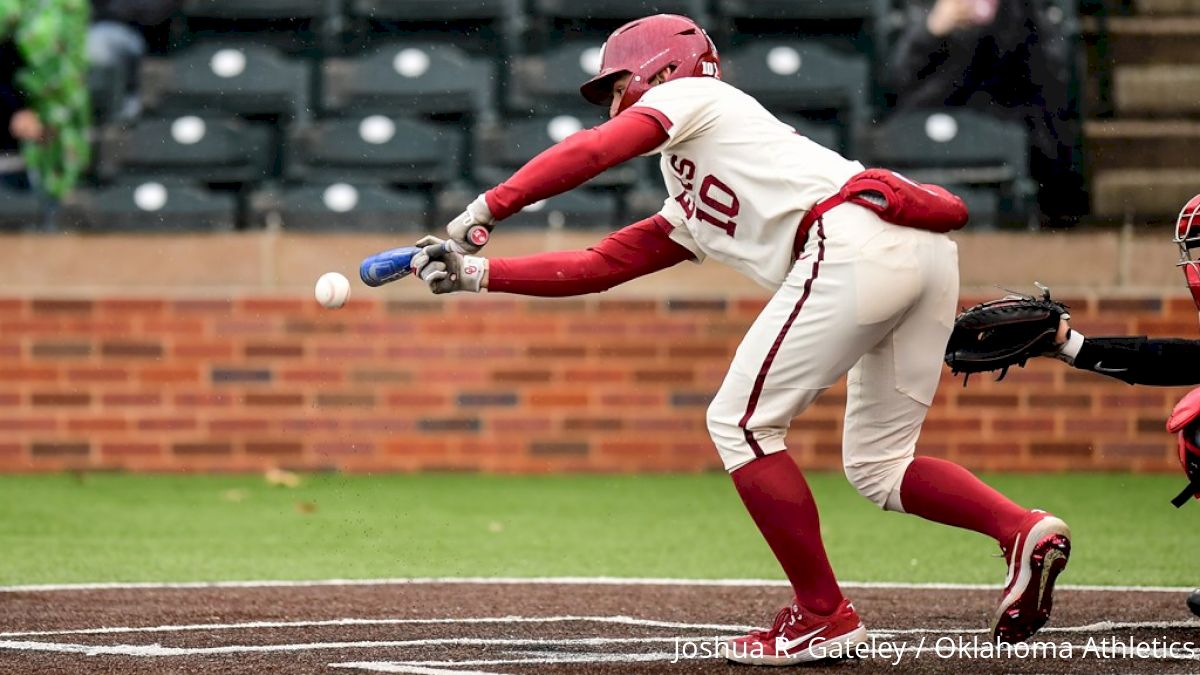 Another weekend, another killer tournament on FloBaseball, another gift to the early season.
This year's 2021 Round Rock Classic features No. 23 Auburn, Texas A&M, Baylor, and Oklahoma. The tournament runs from February 26-28, which will all be streamed on FloBaseball.
Watch the 2021 Round Rock Classic LIVE on FloBaseball
Let's take a look at the Top 5 hitters and pitchers to look out for, starting off with the bats.
1. Tanner Tredaway | Redshirt Junior | Oklahoma | UTIL
2020 stats: 18 G, .378 AVG, 1.081 OPS, 3 HR, 14 RBI, 16 R, 5 SB
Tredaway's breakout 2020 season was cut short due to COVID-19, but his impressive stat line is enough to place him atop the list. Tredaway led the Sooners in several offensive categories, including a .689 slugging percentage. He belted six doubles, four triples, and three home runs.
WARNING: Don't let him heat up. Tredaway carried a 10-game hitting streak last year, hitting 19-for-42 (.452) with 10 extra-base hits.
2. Rankin Woley | Grad | Auburn | Third Base
2020 stats: 18 G, .412 AVG, 1.105 OPS, 2 HR, 22 RBI, 13 R, 0 SB
Auburn's stacked lineup is happy to have Woley returning for another season. The Tigers' best overall hitter in 2020, Woley rode a 10-game hitting streak, including five straight multi-hit contests. He's another guy to be careful with when on a hot streak. Woley produced eight RBIs over a four-game set early in 2020, as well as a stretch at the end of the season with 14 runs driven in over just six games.
3. Peyton Graham | Redshirt Freshman | Oklahoma | Infield
2020 stats: 18 G, .358 AVG, 1.069 OPS, 3 HR, 10 RBI, 19 R, 8 SB
Receiving Freshman All-American honors last year by Collegiate Baseball Newspaper, Graham completes the best offensive duo in the 2021 Round Rock Classic alongside Tredaway. Despite the small sample size, Graham finished 18th in the nation with eight doubles. His season was just getting going before proceedings were canceled, smacking 11 hits in the last six contests. In this span, he scored 11 times, accompanied by four doubles, two home runs, and six walks. He clearly was getting more comfortable at the collegiate level, so be on the lookout for a monster season by the young Sooner.
4. Logan Sartori | Junior | Texas A&M |Infield
2020 stats: 16 G, .364 AVG, 1.046 OPS, 2 HR 10 RBI, 13 R, 4 SB
With the loss of Zach DeLoach to the MLB draft, Sartori becomes the Aggies' most relied-upon bat this season. Sartori logged a hit in all but two games last year, making him one of the most consistent hitters in this tournament. Though he did not produce a ton of runs with his bat, Sartori is more of a table-setter. We saw this especially at the end of last year, where he compiled seven runs in the last five games.
5. Ryan Bliss | Junior | Auburn | Shortstop
2020 stats: 18 G, .377 AVG, 1.009, 2 HR, 17 RBI, 21 R, 5 SB
Bliss is another player to be alert of when on the bases. He led Auburn with 21 runs scored, 46 total bases, and was tied for most stolen bases with five in 2020. His 29 hits were sixth-best in Division I baseball and second in the SEC. Bliss saw a major jump in power last year. He played in 66 games in 2019, accumulating 11 doubles, three homers, and a triple.
Even though he played in 27 percent of those games in 2020, he surpassed his triples total with two, came one home run short of matching his three round-trippers, and had only four fewer doubles. His trend is heading upward, so Bliss will be an interesting watch for this tournament.
And now for the pitchers.
1. Jonathan Childress | Redshirt Freshman | Texas A&M
2020 stats: 14.2 IP, 2-0, 1.84 ERA, 17 K
Losing Asa Lacy — one of the best arms in program history — certainly hurts after a shortened year. Texas A&M's pitching staff was rather consistent, however, sustaining a team ERA of 2.94. To help keep those runs to a minimum, Childress stood out most: a very young 6-foot-4 left-hander. Childress started four games for the Aggies in 2020 and surrendered just three runs. Keep an eye out for this southpaw in this tournament.
2. Luke Boyd | Senior | Baylor
2020 stats: 11 IP, 1-0, 6 SV, 0.82 ERA, 16 K
Closing out games last season, Boyd was a stud for the Bears. The fifth-year senior was tied for most saves in the NCAA with six, all while giving up just one run in nine appearances. Boyd seems to fly under the radar when it comes to national attention, as he made it onto no Preseason All-American lists. He certainly deserves to be on them, however. He's gone back-to-back campaigns holding batters to a sub-.180 batting average with 57 punchouts over 44.2 innings.
3. Wyatt Olds | Redshirt Sophomore | Oklahoma
2020 stats: 19 IP, 4-0, 1.89 ERA, 29 K
A reliever in three games, and a starter in two, Olds was a versatile arm for the Sooners. It didn't matter when he came in to pitch; he was Oklahoma's best pitcher last year. The right-hander logged six or more strikeouts in four out of his five appearances, while surrendering only two extra-base hits total.
4. Cody Greenhill | Senior | Auburn
2020 stats: 12.2 IP, 2 SV, 0.00 ERA, 17 K
Greenhill did not log a win in four appearances out of the bullpen in 2020, but his dominance was certainly present. His 17/1 K/BB was one of the best in the SEC. After three seasons as a reliever, Greenhill is expected to make the jump into the Tigers' starting rotation this season, so his transition will be interesting to watch unfold.
5. Jake Bennett | Redshirt Freshman | Oklahoma
2020 stats: 12 IP, 3-0, 0.75 ERA, 19 K
Another big lefty for the Sooners, Bennett held opponents to a lowly .146 average in three extraordinary starts last year. His best outing came against Arkansas Pine-Bluff, tossing four perfect frames with nine strikeouts. Bennett only toed the rubber for four innings each in those three starts, but his small sample size is enough to be mindful of heading into this season.
Honorable Mention
Logan Freeman, Baylor
2020 stats: 9.1 IP, 1-0, 1 SV, 0.00 ERA, 8 K, .037 BAA
---
PJ has played and worked in baseball for over 20 years as a pitcher, broadcaster, writer, and editor. A former Cape Cod League and Coastal Plain League broadcaster, his favorite time of the year is during the College World Series to see former players he worked alongside.