2021 State Farm College Baseball Showdown
Talented Underclassmen Will Be Crucial To Texas Tech's Success In 2021
Talented Underclassmen Will Be Crucial To Texas Tech's Success In 2021
Texas Tech has a few players missing the season because of injury, but Tim Tadlock's Red Raiders are still loaded with talent.
Feb 12, 2021
by Andre Fernandez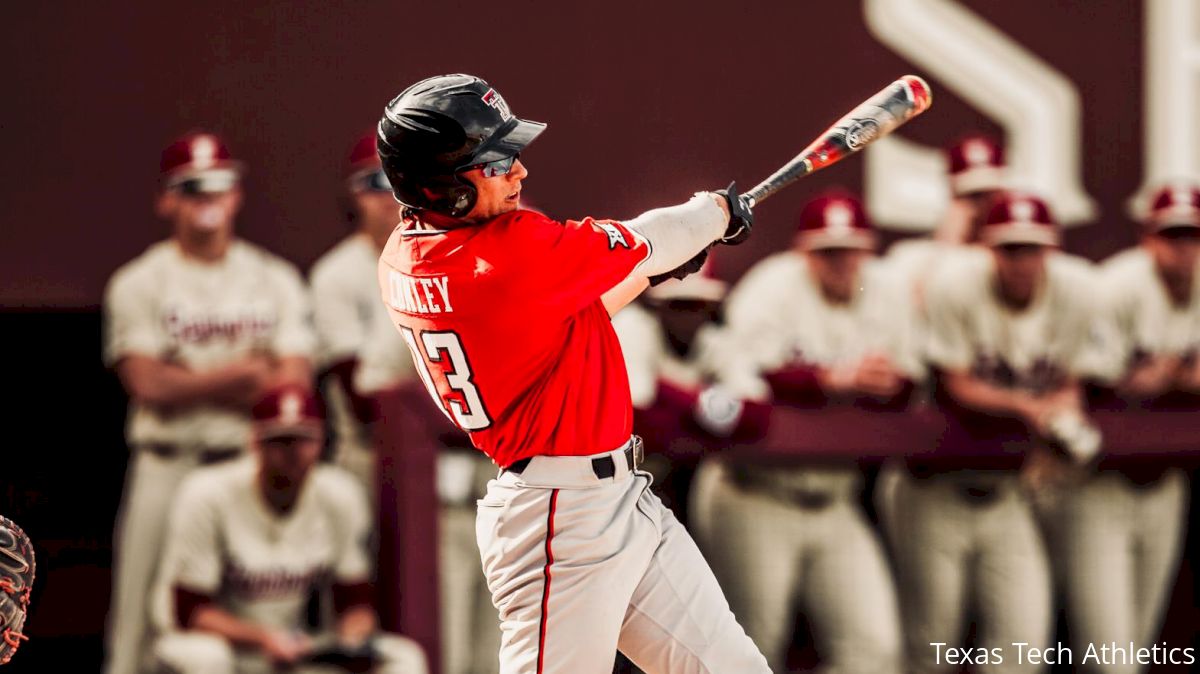 It's a good thing Texas Tech Tim Tadlock doesn't stress whether one of his players is a freshman or a sophomore.
"We don't look at them as that," Tadlock said. "They're baseball players and they're going to compete. We need everyone on our roster to be ready."
Tadlock's statement rings more true as the injury bug has hit Texas Tech's pitching staff hard even before it's thrown one pitch in 2021.
Watch the 2021 State Farm College Baseball Showdown LIVE on FloBaseball
D1Baseball.com reported this week that Red Raiders' sophomore Hunter Dobbins, who was projected to be in the Red Raiders' weekend rotation, would miss the entire season with a UCL injury.
Sophomore right-hander Austin Becker and junior left-hander Jakob Brustoski were already lost for the year after undergoing Tommy John surgery.
The Red Raiders won't have a talent drop-off, though.
Tadlock has a talented group of 21 freshmen and 10 sophomores vying for spots on the final 35-man roster, and expect many of them to play key roles on a Texas Tech squad ranked as high as No. 3 in the nation.
Tech only lost two seniors in second baseman Brian Klein (.318/.408/.465 with 10 homers, 124 RBI) and right-handed pitcher John McMillon (3.41 ERA in 145 1/3 innings, 189 strikeouts, 110 walks).
The Red Raiders, winners of three of four Big 12 conference titles before last season, climbed as high as No. 1 in the polls and were 16-3 at the time the COVID-19 pandemic forced the cancellation of the 2020 campaign. Texas Tech, ranked in the top five in six major polls, opens the season against Arkansas in the State Farm Showdown.
"That team last year was special," Red Raiders catcher Braxton Fulford said. "We could have done more than we ever had at Tech. That hurt."
While several players among the group are newcomers, shortstop Cal Conley will be one of the leaders despite still being a redshirt freshman.
Conley, who hit .371 with eight doubles and 24 RBIs, is one of three preseason All-American selections along with junior outfielder Dylan Neuse and sophomore right-hander Micah Dallas.
Conley has the best batting average among all returners and his RBI total was second only to freshman catcher Nate Rombach. Conley originally signed with the University of Miami before transferring to the Red Raiders and sitting out 2019 due to NCAA transfer rules.
Dallas and left-handed sophomore Mason Montgomery will likely spearhead the Red Raiders' pitching rotation.
Montgomery, a 39th-round pick of the White Sox in 2018, struggled with control during his first season in Lubbock walking 26 batters in 35 innings and finishing with a 5.14 ERA. But with better command of his mid-90s fastball, Montgomery's numbers improved early last season when he struck out 20 and walked only seven over 18 innings.
Dallas went 1-0 with three saves and a 0.57 ERA while striking out 23 and walking only one batter in 15.2 relief innings last season. But he already gained experience as the team's Friday night starter as a freshman helping the Red Raiders as they finished among the final four teams in the College World Series.
"I don't know where all the pieces will be but we have the potential to be the best staff in the nation," Dallas said. "It's just about being consistent with everything. I think I did a good job of that last year, but being consistent and attacking the zone and going after batters and keeping my team in the game."
Rombach, a 19th round pick of the Miami Marlins in 2019, earned Freshman All-America honors last season after hitting six home runs and driving in 27 runs while slugging .677 and hitting .308 in 65 at-bats. Rombach will share the catching responsibilities with Fulford.
Jace Jung, the younger brother of Tech alum and 2019 Rangers first-round pick Josh Jung, played in all 19 games last season and started 16 in the infield. Second base is likely his primary destination for the 6-foot freshman in 2021 after leading the team in walks (18) while hitting four home runs and totaling 23 RBIs.
Sophomore Dru Baker transitioned from shortstop to third base to the outfield in his two seasons in Lubbock. Baker has hit .303 with five home runs and 33 RBIs in 201 at-bats and did not make an error last season.
"It's way too early to put any type of expectations," Tadlock said. "We want to sprint toward being the best we can, but we know it's also a process. Really just do what they can with the day-to-day and get better each day."
Among the pitchers, Tech has high hopes for sophomore Brandon Birdsell, who played his freshman season at Texas A&M and started six games last season for San Jacinto Junior College in Pasadena, Texas. Birdsell struck out 45 and walked nine in 29 innings in 2020 and worked with San Jacinto pitching coach and 15-year MLB veteran Woody Williams on improving his mechanics.
Right-handers Hayde Key, Brandon Beckel and Chase Hampton, along with left-handers Nick Gorby and Jamie Hitt are among the freshman newcomers expected to carve out roles either as midweek starters or relievers.
"We have freshman arms with great ability, but they have to show it on the field," Fulford said.
---
Andre has covered baseball at the high school, college and both minor-league and major-league levels for the past 15 years for multiple publications including the Miami Herald, the Athletic and Baseball America. You can follow him at @FernandezAndreC on Twitter.