2021 Sanderson Ford College Classic
Oregon State Headlines The 2021 Sanderson Ford College Classic
Oregon State Headlines The 2021 Sanderson Ford College Classic
College baseball is finally (almost) back. Check out our preview of the 2021 Sanderson Ford College Classic, highlighted by the Oregon State Beavers.
Feb 10, 2021
by Brady Vernon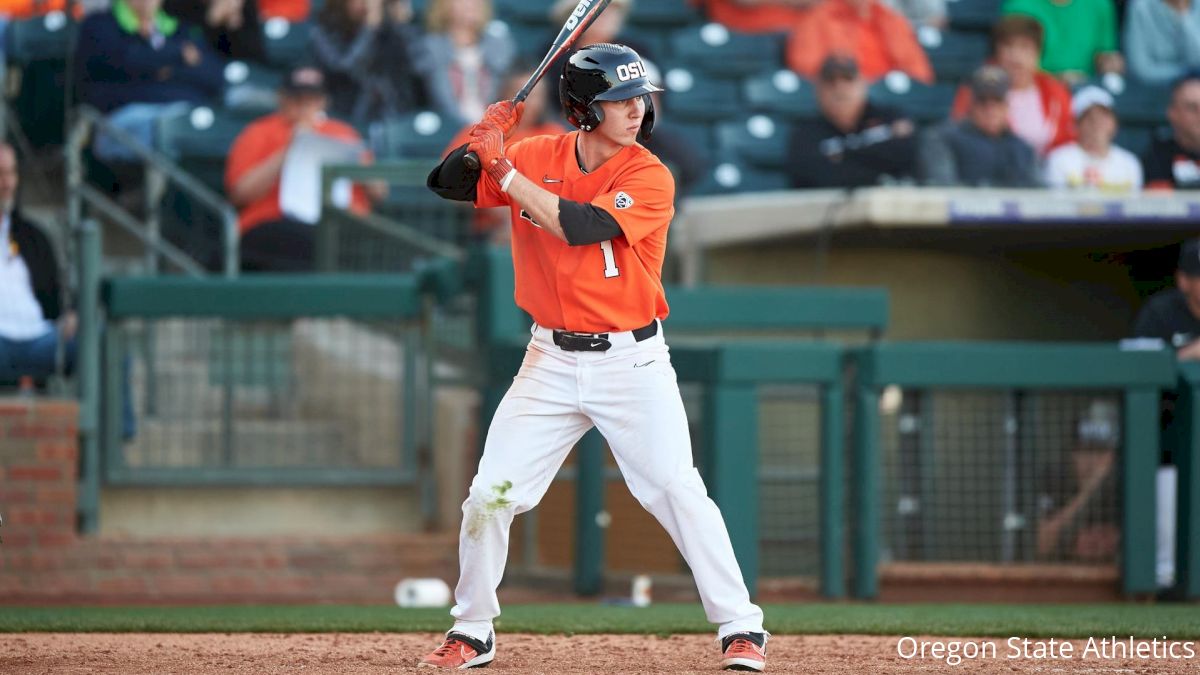 College baseball's return is quickly approaching. The Sanderson Ford Classic is one of many tournaments that welcomes the sport back. On Feb. 19-22, Surprise, Arizona, will play host to Gonzaga, Kansas State, New Mexico, and Oregon State. All eight games of the event can be seen right here on FloBaseball.
Watch the 2021 Sanderson Ford College Classic LIVE on FloBaseball
Let's dive into this loaded bracket for a team-by-team preview of what's to come.
Gonzaga
After a slow start to the 2020 season, the Zags look to get back to the postseason for the first time since 2018. Head coach Mark Machtolf's team returns two intriguing arms despite losing its top two pitchers from last season.
Alek Jacob's role for Gonzaga isn't known exactly, but in three seasons he's simply just been a good pitcher. In his freshman season, Jacobs started 15 games with a 2.88 ERA and a three-to-one strikeout-to-walk ratio. The following year he moved to the bullpen and recorded 12 saves with similar strikeout numbers. The other name to watch on the mound is Gabriel Hughes, who will also see some at-bats. Hughes has only thrown 11.2 innings at the college level, but they were impressive: only one earned run allowed and 13 strikeouts to boot.
Tyler Rando and Ernie Yake return after being Gonzaga's top bats in 2020. Yake has earned numerous West Coast Conference accolades through the years. He has hit over .300 every year and last year he belted two home runs after only having three total his first two seasons. Rando made the transition from Mission College smoothly. He's not a typical designated hitter/catcher size at 5-foot-10, but he connects well with the bat. He had hits in 12 of 15 games last year, with six being multi-hit games.
Kansas State
The Wildcats will be led by pitching in 2021. Left-handed Jordan Wicks and right-handed Carson Seymour will most likely both be selected in the upcoming MLB Draft. Wicks made a statement with his 2020 performance. In 26 innings, he accumulated a 0.35 ERA and struck out 26 batters while only four were walked. His changeup really stands out to scouts as MLB.com even labeled it as the best in the draft. He pairs it with a mid-90s fastball that makes it even tougher to deal with.
Seymour's 6-foot-6 stature is just the start of his appeal to professional teams. After sitting out a season because of his transfer from Dartmouth, he settled in for Kansas State just fine last season. Seymour has a powerful arm as told by his fastball that can reach 98 mph. Also in his arsenal are a changeup and a slider. He does tend to give up walks — 12 in 20.2 innings last year.
Kansas State brings a lot of returners to their lineup. Zach Kokoska has hit above a .330 batting average back-to-back seasons. He also brings strength to the plate with 12 doubles, four triples, and nine homers the past two seasons. Outfielder Dylan Phillips highlights the Wildcats' power. His five home runs led the team in 2020 and he sent out another 10 in his freshman season the year prior. Freshman Nick Goodwin has created a lot of buzz and was a top player in the state of Kansas in high school.
New Mexico
The Lobos have been a staple in this tournament the past few years and they're hoping to use it as a kickstarter to get back into the postseason for the first time since 2016. New Mexico got off to a hot start last season including ending 2020 on a six-game winning streak much in part to its offense.
A lot of those bats from the high-powered lineup return for 2021. Kyle Landers headlines the hitters. He led the team in batting average and RBIs. He drew 14 walks at the same time. Landers finished the season on an 11-game hitting streak and had 13 hits in the final five games. Outfielders Kyler Castillo and Harry Fullerton join him as well. Castillo led the team in hits and Fullerton had the most home runs and doubles for the Lobos.
As good as the offense is, the pitching staff is looking to find some consistency. In New Mexico's four losses, the Lobos allowed five runs or more including 18 allowed to BYU. Righty Justin Armbruester will be looked upon to lead the staff. In four starts last season, he started four games with a 1.14 ERA and 24 strikeouts to three walks.
Oregon State
Mitch Canham gets his first crack at a full season leading the Beavers after a slow start last year. The biggest benefit for him is the return of right-handed pitcher Kevin Abel, who has seen limited action since he dazzled in the 2018 College World Series final.
Abel will be the starting point for Oregon State's pitching. Before Tommy John surgery he brought a pitch mix of a fastball that was usually around the low-90s. He'd use a very good curveball and changeup as well. The rest of the staff includes veterans including Jake Mulholland, Nathan Burns, and Mitch Verburg. Burns was elevated to a starter role last season and brought his strikeout stuff, but also got roughed up a bit. Mulholland and Verburg have been proven bullpen arms. However, Mulholland had his worst season last year after All-American performances for three straight years and Verburg missed 2020 due to injury.
Outfielder Kyler McMahan was by far the Beavers' best batter a season ago. His .439 batting average and 1.036 OPS stood out among the rest. It's who can produce behind him will determine the quality of Oregon State's offense. There's plenty of experience in catcher Troy Claunch, second baseman Ryan Ober and shortstop Andy Armstrong all have the chance to breakout. Freshman Garret Forrester has the potential to inject some power into the lineup after being a standout at Bella Vista High School in Northern California.
Most Intriguing Matchup
Oregon State vs Kansas State | Friday, Feb. 19, 11 AM PT
If all falls into place for the opening game of the tournament and the season opener for these two programs, the starting pitching matchup should be Abel and Wicks. The two potential first-rounders paired up against one another should be a lot of fun to kick off the season.
---
Brady Vernon has covered various collegiate sports for the past five years. His work has been seen in SBNation, Baseball and Softball America.