2021 Round Rock Classic
Auburn Highlights Group At The Dell Diamond For The 2021 Round Rock Classic
Auburn Highlights Group At The Dell Diamond For The 2021 Round Rock Classic
Auburn, Baylor, Oklahoma and Texas A&M converge on the Dell Diamond for an early-season treat at the 2021 Round Rock Classic.
Feb 8, 2021
by Brady Vernon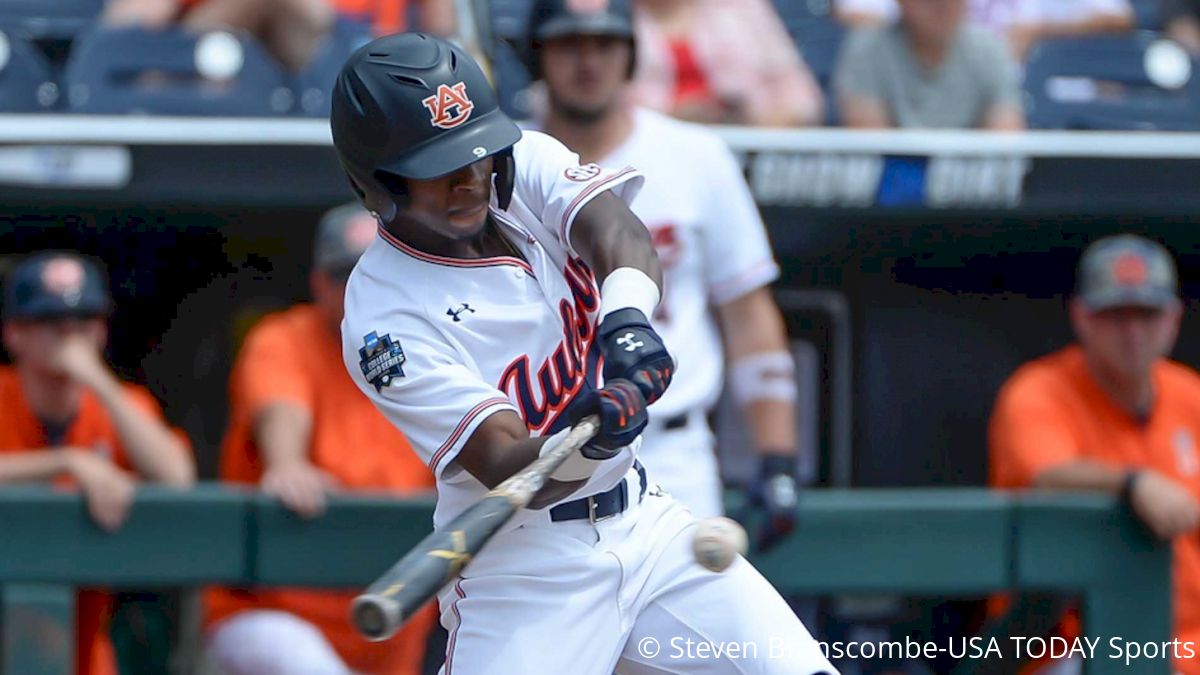 The Round Rock Classic returns for a second edition at Dell Diamond in Texas. The four-team round-robin tournament features Auburn, Oklahoma, Texas A&M, and Baylor on Feb. 26-28. All six games of the event can be seen here on FloBaseball.
Watch the 2021 Round Rock Classic LIVE on FloBaseball
Let's dive into this loaded bracket for a team-by-team preview of what's to come.
Auburn
Richard Fitts comes into the 2021 season as the projected next top arm from Auburn. The right-handed pitcher doesn't enter the Round Rock Classic with a ton of experience with only six starts and 75.2 career innings thrown. However, back in the Tigers' 2019 College World Series run, Fitts showed how talented he is. He'll bring heat on the rubber for Auburn.
Shortstop Ryan Bliss headlines the Tiger lineup filled with experience. Bliss was one of the toughest outs in the shortened 2020 season, leading the team with nine multi-hit games. He's joined by a handful of others including Rankin Woley, Judd Ward, Kason Howell and Steven Williams, who were part of the 2019 and 2020 offense.
Freshman infielder Cole Foster is a player to watch. A former Perfect Game Preseason First Team All-American, Foster would've likely gone in the MLB Draft that consisted of more rounds. The switch hitter will add another element to the plate for the Tigers.
Baylor
Baylor's 2020 season ended on a high note after an undefeated record at Shriners Hospitals for Children College Classic with ranked wins over LSU and Arkansas. The Bears return a lot of key pieces from last season including Jared McKenzie.
McKenzie was a standout performer as a freshman in 2020. The starting center fielder led the Bears in batting average, runs scored and hits. Behind him in the middle of the order is catcher Andy Thomas, plus position players Davion Downey and Kyle Nevin. Downey and Nevin weren't full-time starters but found success in limited action.
There's no shortage of pitching talent in Waco; it's just finding a role for everyone. One locked role is Luke Boyd as the closer. The fifth-year senior earned six saves and a 0.82 ERA in nine appearances. Hayden Kettler and Tyler Thomas will serve as veteran arms, Evan Godwin as a younger, upside talent who threw a lot last season.
Oklahoma
The Sooners have a ton of talent on their 2021 roster and might emerge as a ranked team by the season's end. Third baseman Peyton Graham headlines returnees to the lineup from last year. Graham earned Freshman All-America honors from Collegiate Baseball Newspaper after a 1.069 OPS that included eight doubles, three home runs and 10 RBIs.
Outfielder Tanner Tredaway, catcher Justin Mitchell and shortstop Brandon Zaragoza also come back to the lineup as well. Oklahoma also brings on newcomers Jace Bohrofen, Breydon Daniel, Brett Squires and Jimmy Crooks, who could make an impact. The one downfall is that D1Baseball's Kendall Rogers reported that skilled freshman Cade Horton will miss the entire 2021 season.
Jason Ruffcorn slots in as one of the best bullpen arms in the nation. Across 45 innings in two seasons in Norman, Ruffcorn has earned 16 saves with a 2.00 ERA. Starting-wise there are a few question marks for Oklahoma. Starters Cade Cavalli, Levi Prater and Dane Acker were all selected in the 2020 MLB Draft. Wyatt Olds most likely will find himself in the rotation and there's a good chance that transfers Dalton Fowler, Luke Taggart and returner Jaret Godman could as well.
Texas A&M
The Aggies' strength in 2021 comes from their lineup. Infielder Logan Sartori had the best numbers of any returner, seven doubles and had a .364 batting average and 1.046 OPS. Texas A&M returns a ton of other starters such as Bryce Blaum, who, despite having a low average, drove in 17 runs.
Will Frizzell slots into the designated hitter position and adds power. Grayson College transfer Taylor Smith has a bat that should find a spot in the lineup somehow and he'll see time behind the plate with Mikey Hoehner.
Pitching has question marks. Asa Lacy and Christian Roa were both drafted and left the weekend rotation. Right-handed Bryce Miller has the stuff to be a high-quality starter, but he hasn't made a start for Texas A&M. Other arms that will have an important part for the Aggies are Jonathan Childress, Chandler Jozwiak and Chris Weber.
Most Intriguing Matchup
Auburn vs Oklahoma, Friday, Feb. 26, 12 PM CT
If Fitts starts the opening contest of the Round Rock Classic, the pitching-hitting intrigue should be a fun matchup with the Sooner lineup. It'll be a good warmup before he turns toward conference play in the deep SEC. As for Oklahoma, if that offense can get after Fitts it'll be a testament to how dangerous it can be.
---
Brady Vernon has covered various collegiate sports for the past five years. His work has been seen in SBNation, Baseball and Softball America.