2020 Leesburg Lightning vs Sanford River Rats, Finals Game #1
Lightning, River Rats Set To Clash For Florida League Crown
Lightning, River Rats Set To Clash For Florida League Crown
The championship series of the 2020 Florida League will pit the top-seeded Leesburg Lightning (19-5) against the No. 2 seed Sanford River Rats (16-6).
Aug 6, 2020
by FloBaseball Staff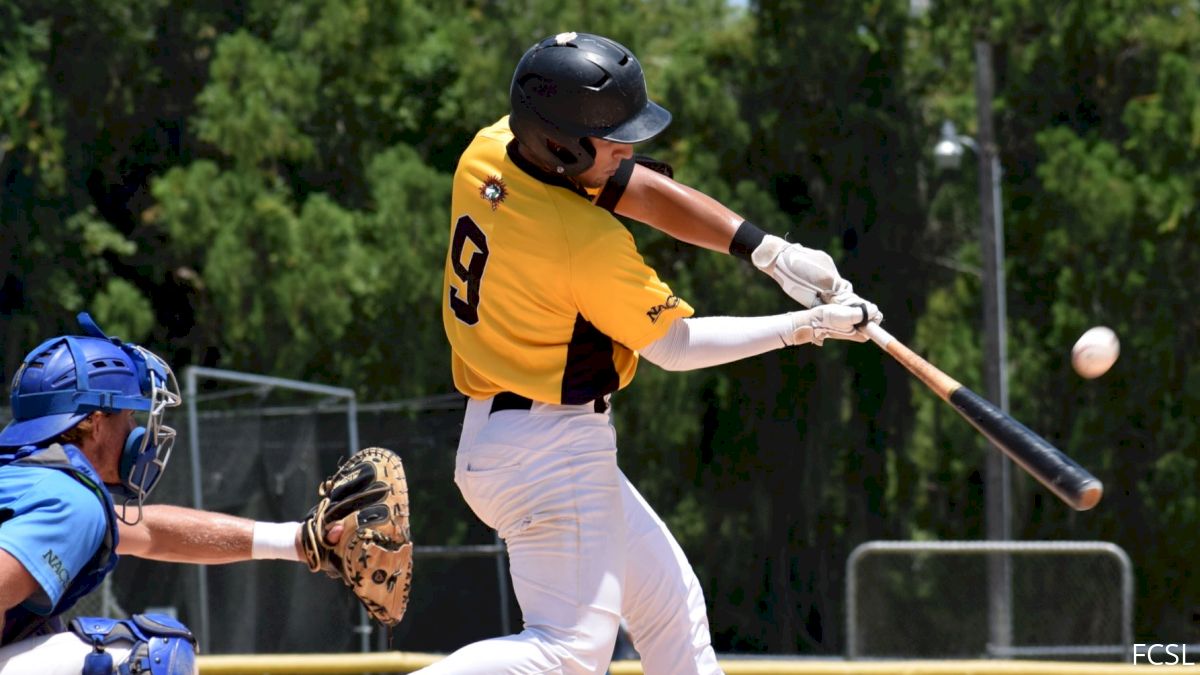 The championship series of the 2020 Florida League will pit the top-seeded Leesburg Lightning (19-5) against the No. 2 seed Sanford River Rats (16-6).
All of the action can be watched LIVE on FloBaseball.
Projected Starters
Game 1: Lightning @ River Rats:
LL: Nate Henderson (1-0, 0.00 19K) SAN: Jarrod Cande (1-2, 2.14, 31K)
Game 2: River Rats @ Lightning
SAN: Grayson Moore (1-0, 1.38 15K) LL: Sam Bennett (4-0, 0.00 16K)
Game 3: River Rats @ Lightning *If necessary*
SAN: To Be Determined LL: Tucker Smith (1-1, 3.52 19K)
Regular Season Results
River Rats 5-1 W (7/8), River Rats 8-6 W (7/21), Lightning 4-3 W (7/31)
It all comes down to this. In a year rife with uncertainty, somehow this matchup worked out almost exactly the way everyone predicted. There's something comfortably poetic about things falling oh so neatly into place, and in this case, it's going to make for some classic summer baseball. Make no mistake, the Leesburg Lightning and the Sanford River Rats are indeed the best two ball clubs in this entire league and perhaps in the country at this level, and they have been all summer long.
Both groups earned a bye through the first round and in very different ways proved why they deserve to compete for the top prize over the next couple of days. In their semifinal match, Leesburg utterly dominated the Seminole County Snappers, stifling their potent offense to the tune of a shutout on just four hits, and mashing on the other end, putting up nine runs. The River Rats won a much different game, hanging on to defeat an incredibly talented Winter Garden Squeeze team with mental toughness and even stronger pitching.
It's about time!

For the first time since the 2015 season, the Leesburg Lightning will play for a Florida League Championship! pic.twitter.com/YFnEsWsgfF

— Leesburg Lightning (@FCSL_Lightning) August 4, 2020
The last time these two behemoths met, there was the feel of a serious playoff game, some foreshadowing of what was to come. With first place on the line and both squads' aces toeing the rubber, the game was an instant classic with the Lightning just edging out the Rats in a game that had it all, from clutch hits to big strikeouts. This time, the stakes are much higher, as the two teams will battle it out for a chance to become immortalized in the FCSL history books as champions of the 2020 season.
Below is a breakdown of everything you need to know and a glimpse of what is to be expected over the next two days of some spectacular championship baseball.
The Lineups
The Lightning and River Rats feature two of the deepest batting orders in the entire league, with Leesburg leading the league in batting average (.291), on-base percentage (.419) and runs per game (6.3) while Sanford boasts three batters with multiple home runs and double-digit RBI in this shortened season.
Leesburg has perhaps the best one through ten lineup in the circuit, with all projected starters posting a batting average of at least .250, and an on-base percentage of at least .313. Putting the numbers aside, this unit thrives based on good old-fashioned plate discipline and solid pitch selection.
Tommy Seidl (Harvard) and Collin Teegarden (Valdosta St.) set things up incredibly well by taking their walks or putting the baseball in play for their heavy-hitters in the middle of the order. Alejandro Figueredo (Seminole St.), Clay Stearns (Troy) and Gabriel Rincones (St. Petersburg) have combined to drive in 50 runs this year, over half of the total RBI of every team in the FCSL aside from their own, making them a major threat against any pitcher.
It's been a long wait for us, but it's good to be back!

Here's the highlights as the River Rats finally head back to the Florida League Championship Series! pic.twitter.com/zxq1NHRsNX

— Sanford River Rats (@FCSLRats) August 4, 2020
It doesn't get much easier after that as Luke Harper (North Alabama), Robbie Scott (UNF), Daniel Cruz (Marshall) and Camden Traficante (Stetson) are all extra-base hit threats who find ways to reach base. The youngster Jalen DeBose (FAU) rounds out the order as a second-leadoff type hitter who flips the lineup over a batter early before the top gets their second crack at things.
The River Rats' bats are fantastic in their own right, with Justin Farmer (Florida International) setting the tone from the leadoff spot, sporting a .321 average and a team-leading 15 RBI. The trio behind him have all gotten red-hot down the stretch of the season to help him out with Dylan Crews (Louisiana St.) collecting 12 hits (two home runs) in his last 24 at-bats over his current seven-game hitting streak, Josh Crouch (UCF) coming to form with a .481 average since July 20, and Brayden Jobert (Louisiana St.) providing a home run threat in the middle of the order.
From there, guys like Brandon Fields (South Carolina), Hylan Hall (Wabash Valley) and the newly added Noah Orlando (UCF) wreak havoc on the basepaths, turning normal hits into extra-base opportunities. The River Rats thrive on putting pressure on opposing pitchers and punishing mistakes in the zone and on defense, making them a chore to send down at the plate.
On the Mound
Starting pitching is always key in championship baseball and boy do we have some marquee matchups to headline Games 1 and 2. For Thursday's opener, it'll be a rematch of the Lightning vs. River Rats throw down from July 30th that I mentioned earlier with Nathan Henderson (Flagler) squaring off against Jarrod Cande (Florida Southern). In that game, we saw both pitch masterfully through their allotted 80 pitches, with Leesburg's starter putting up zeros on the scoreboard and five strikeouts through 4.1 frames, and Cande countering with seven K's of his own through six and a small two-run hiccup off a sacrifice fly, and a wild pitch in the fourth inning.
Tomorrow. 11 AM. You do not want to miss this Championship Series matchup. pic.twitter.com/SlUDYx6MA8

— Florida League (@floridaleague) August 5, 2020
Henderson was able to keep Sanford's hitter off-balanced all night long with a sweeping slider that moved like a Frisbee away from right-handers and his sharp fastball will certainly join that pitch in a starring role in Game One. As for Jarrod, he can blow away pretty much anybody with a heater that has touched 98mph and get ahead in the count with ease with his pinpoint accuracy (one BB allowed in 21 IP). Whoever is able to score off of either of these young men will have earned it and will find themselves with a distinct advantage in the series primer.
Game Two features another strong pair of arms with Sam Bennett (U Penn) taking on Grayson Moore (Vanderbilt). Bennett did not allow a single run in the regular season and that was no accident as he was stellar at preventing traffic on the basepaths. He posted an incredible 0.86 WHIP and .125 BAA to stifle batsmen on his way to a 4-0 record. Moore is an incredibly worthy contender, as he last allowed an earned run way back on July 3rd. He also comes in with a fresh arm, with his most recent appearance coming over two weeks ago against the Diamond Dawgs. In what could either be the turning point or final game of the series, both squads are sending up one of the best in the league to fight in their corner and silence the bats of their opponents.
Bullpens
Getting off to a good start is great and all, but it's how you finish that determines the outcome of any contest on the diamond, and the Lightning and River Rats each have a plethora of lock-down firemen at their disposal to shorten ballgames and come in in high-leverage situations.
A few names that stand out for Sanford have to be Kyle Kramer (Rollins), and Doug Kirkland (Florida St.), who put up ERAs of 1.58 and 1.12 respectively in the regular season and collectively nailed down all three of the team's saves. Zach Holcomb (Pitt) is another guy who can get big outs, on the strength of solid location and a breaking pitch that is as unidentifiable as the UFOs allegedly seen in Roswell and equally baffling.
On the Lightning side, there are few trios as lethal as Connor Gleeson (Gardner Webb), Matt Coles (Carson-Newman), and Jude Ard, who punched out an alarmingly excellent 47 batters in 33.1 frames between them. They also added Storm bullpen ace Zach Henderson (Daytona St.) as an injury replacement, who's sidewinding delivery from the left side led to a 1.19 ERA in a league-leading 22.2 innings. Tucker Smith (Georgia Southwestern) who has been phenomenal in the middle-to-end off ballgames will likely only come in if the Lightning need to desperately hang onto a Game Two lead to clinch as he's slated to start a potential third game.
Verdict
This is the best matchup that fans of this league could ever have hoped for with the two teams who have dominated the league from the get-go vying for the championship. It's a case of an unstoppable force meeting an immovable object with the strengths off each team nearly perfectly countering the best parts of the other on paper and in practice. Expect every one of these games to be close affairs with the outcomes being decided by an incredibly clutch hit or the capitalization on a crucial mistake. These two teams are on near equal footing from a talent standpoint and can be reasonably favored to win the entire thing.
The River Rats' grit, ability and determination have carried them up to this point and will keep them going through this final stretch while the attitude, passion and outrageous work ethic of the Lightning set them apart and give them a chance to win no matter what the situation. The final two days of the 2020 FCSL campaign will be a magical one and the proverbial cherry on top of one of the best seasons of summer league baseball this country has ever seen.
Catch all the action live starting Thursday at 11 AM ET on FloBaseball.
---
This breakdown, written by Zack Smolen, originally appeared on FloridaLeague.com.