2020 DeLand Suns vs Orlando Scorpions
14 Must-See Florida Collegiate Summer League Standouts
14 Must-See Florida Collegiate Summer League Standouts
With two weeks of the Florida Collegiate Summer League in the books, one thing's clear: These college stars and stars of tomorrow are must-see material.
Jul 13, 2020
by Kolby Paxton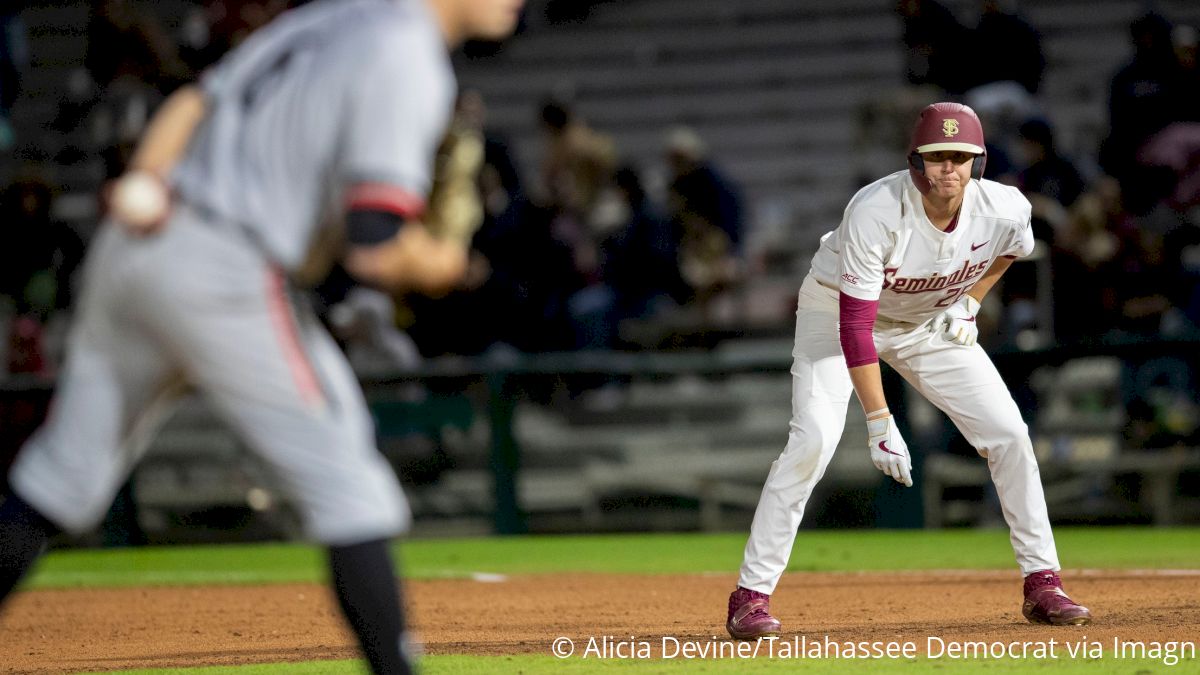 With two weeks of the Florida League in the books, a number of players have staked their claim to well-deserved recognition with repeated standout performances.
Some are guys you know from schools you routinely watch — others not so much. The one thing they all have in common? They're must-watch prospects who are putting their games on display all summer long in the FCSL.
Watch the Florida Collegiate Summer League LIVE on FloBaseball
Here are just some of guys who warrant appointment viewing the rest of the way.
Carson Pillsbury, P/C, Leesburg Storm
The hard-throwing righty from Inverness, Fla., inked with the Florida Gators in November after posting a 19-5 record with 220 strikeouts and a 2.90 ERA over 152 innings of work during his career at Seven Rivers Christian High School. Not for nothing, he also hit .347 and drove in 116 runs.
Pillsbury leads the league with three victories during which he's been virtually unhittable, allowing no runs and just two hits over 5.2 innings of work.
Joe Burke, 1B/3B, DeLand Suns
If you don't already know the deal with Kentucky Wesleyan's Joe Burke, well, read all about it.
The career home run king at KWC leads the Florida League with a .625 batting average to along with a homer and eight RBI thus far.
Jeffrey Mejia Jr., OF, Leesburg Storm
The southpaw outfielder from North Reading, Mass., is taking part in the Florida League for the first time this summer and it's safe to say he's making the most of his opportunity.
After getting in just two games at Northern Essex Community College before COVID-19 spoiled the season, Mejia is off to a scorching start in the Sunshine State, hitting .522 (12-for-23) with four RBI and six stolen bases.
Greg Lewandowski, 2B/SS, DeLand Suns
The Port Orange, Fla., native has appeared in 81 games at Kent State over his first two collegiate seasons, logging 58 hits, 35 runs scored and 29 RBI. In 2018, he earned second team All-MAC honors.
Lewandowski has been among the brightest spots of the Florida League thus far, hitting .462 (12-for-26) with five doubles, five stolen bases and a pair of runs driven in.
Justin Farmer, OF/P, Sanford River Rats
After arriving at Florida International by way of Wallace Community College, Farmer was slashing .375/.435/.589 with 21 hits (eight of which went for extra bases) before the '20 season was cut short.
In his second season with the River Rats, Farmer has starred, hitting .400 (8-for-20) with two doubles, a home run, four stolen bases, and a league-best 12 RBI. Last week, he picked up Offensive Player of the Week recognition.
Our first Player of the Week Awards are out. Congratulations to Justin Farmer (@FCSLRats) and to @carsonpillz (@Storm_FCSL) on winning this past week's awards! Read up on Farmer, Pillsbury, and each individual team's Award Winners here: https://t.co/7jwEMUiCKU pic.twitter.com/6up4GXDPsI

— Florida League (@floridaleague) July 7, 2020
Alejandro Figueredo, 1B/3B, Leesburg Lightning
Figueredo is fresh off a five RBI day against the Squeeze on July 11, so you could call this recency bias but for the fact that he's tearing the cover off the ball since June 29. He's hitting .409 (8-for-22) with two home runs and nine RBI.
The Venezuelan corner infielder has slashed .398/.509/.641 with 11 home runs, 30 doubles and 75 RBI over two seasons with Seminole State College.
Watch the Florida Collegiate Summer League LIVE on FloBaseball
Zach Henderson, P, Leesburg Storm
But for a single blip on the radar, the crafty southpaw from New Port Richey, Fla., has been nails on the bump for Leesburg this summer, posting a 2.02 ERA and seven strikeouts over 13.1 innings of work — including six scoreless outings and a 0.91 WHIP.
Henderson posted an 8-3 record with 85 strikeouts against just 36 walks over 87.2 innings at Daytona State College and will look to continue his promising career at Florida next spring.
Jarrod Cande, OF/P, Sanford River Rats
In Cande's third summer with the Rats, he has been largely untouchable, posting a 1.17 ERA with 14 strikeouts while allowing just six hits over 7.2 innings of work. Not for nothing, he's also been solid at the dish, driving in three runs and drawing three free passes.
The two-time Florida League All-Star appeared in nine games for Florida Southern in '20.
Bryce Hubbart, P, Winter Garden Squeeze
This Florida State Seminole has been nothing short of electric across two starts for Winter Garden. Hubbart tossed two scoreless innings, striking out five, in his debut on July 7. Six days later, he went four innings, allowing one earned run on two hits, while fanning nine of the 15 batters he faced.
As a senior at Windermere (FL) High School, Hubbart went 9-0 with a 0.73 ERA and 96 strikeouts across 57.2 innings of work, and was ranked the fourth-best lefty in Florida by Perfect Game. He made seven appearances for the 'Noles this spring, striking out 13 batters over 8.1 innings.
Giovany Lorenzo, C/3B, Seminole County Snappers
All Lorenzo has done since making his debut for the Snappers on July 3 is record at least one hit in every game, running his batting average to .571 (8-for-14) with a double and three RBI over five appearances.
The standout backstop played eight games for Stetson this spring, scoring four runs and driving in a pair. In his most recent full season at State College of Florida, Lorenzo his .319 and drove in 44 runs.
The boys of summer 😎 pic.twitter.com/D0YmoI1HaQ

— FSU Baseball (@FSUBaseball) June 18, 2020
Robby Martin, OF, Orlando Scorpions
This former Miami Marlins draft pick has certainly been among the very best of this year's crop of talent in the Florida League. Martin is hitting .438 (7-for-16) with a pair of doubles, three RBI and three stolen bases through six games for the Orlando Scorpions.
Perhaps best-known for his College World Series heroics of a season ago with Florida State, Martin started all 17 games of '20, and was leading the Seminoles with a .324 batting average at the conclusion of the abbreviated campaign.
Rollin Layton, P/SS, Sanford Mavericks
Layton was busy piling up seven strikeouts without allowing a run over three dominant innings of work while we were compiling this list — so that certainly got our attention. The Jacksonville, Fla., native sports a 2.07 ERA with 12 strikeouts and a save over 8.2 innings of work.
A year ago, the righty from the University of the Cumberlands was electric in the Florida League, piling up 28 strikeouts and a 6-0 mark over 28.2 innings of work.
Keegan Foge, P, Winter Park Diamond Dawgs
Foge's most recent appearance was among the very best a pitcher has turned in during the '20 Florida League season, as he earned the victory after striking out five and walking no one over three scoreless innings, dropping his ERA to 2.70 after three starts for the Diamond Dawgs.
The six-foot-four right-hander led North Alabama in appearances with 29 in 2019 and climbed the bump thrice more this spring. He's pitching in the FCSL for the first time.
Tyrell Brewer, 2B/SS, Seminole County Loggerheads
Tyrell Brewer appeared in 10 games for Florida State in 2020, including three starts, scoring six runs, swiping a pair of bags and driving in three runs during the shortened season. The highly regarded prospect will become a high-profile transfer for Charleston Southern in '21, as he's announced his intention to join the Bucs.
Through seven games in Florida, Brewer is hitting .263 (5-for-19) with two RBI and eight stolen bases.
Once more, for the people in the back: The Florida League is streaming LIVE on FloBaseball all month long.