2020 Sanderson Ford College Classic
The Definitive Sanderson Ford Baseball Classic Preview
The Definitive Sanderson Ford Baseball Classic Preview
National power Oregon State joins a trio of mid-major contenders looking to make an opening weekend splash in Surprise, Ariz., this weekend.
Feb 10, 2020
by Eric Sorenson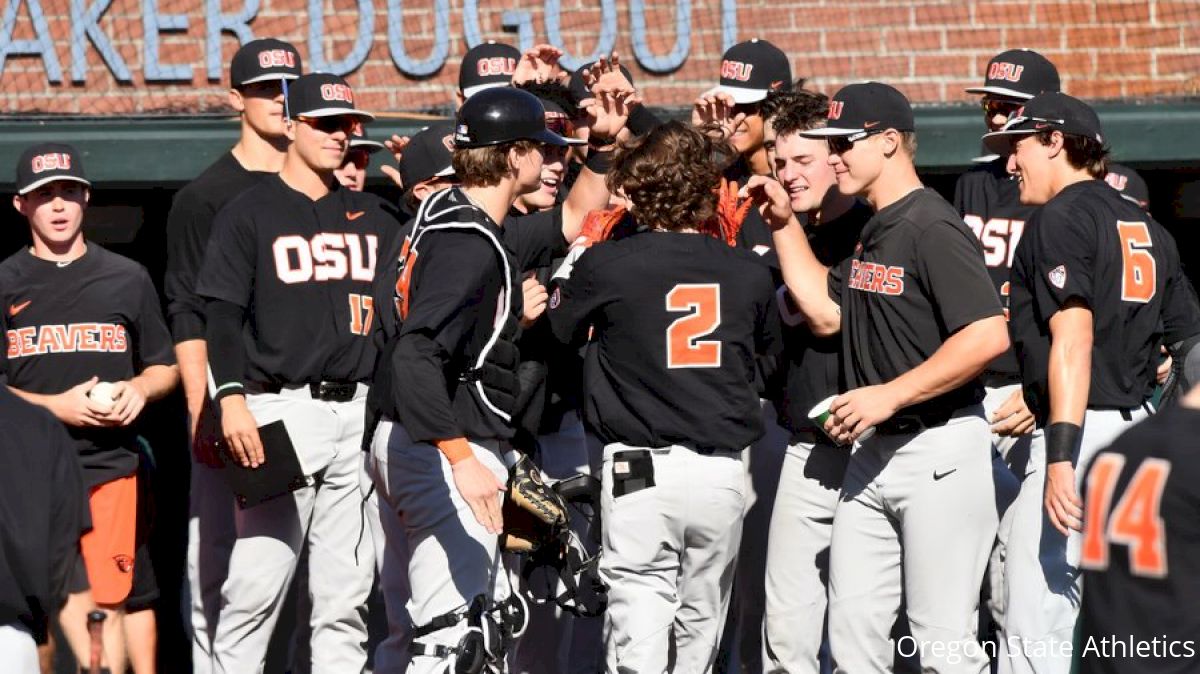 The Sanderson Ford Classic that will take place in Surprise, Ariz., on the opening weekend of college baseball, could be a great springboard to whoever can put together a few wins.
The field consists of national power Oregon State and a trio of mid-majors that could make waves this season in our sport: BYU, Gonzaga and New Mexico.
Watch the 2020 Sanderson Ford College Classic LIVE on FloBaseball
The one through-line between these four teams is that they could all be considered underrated programs due to their "geographically challenged" locations. That's what makes non-conference games like these so important to their RPIs when the post-season nears in May.
Most of the eyes will be on the Beavers, due to their winning consistency the last two decades. But the Cougars and Bulldogs are very capable of making the postseason this year, while the Lobos are chomping at the bit to turn things around.
Oregon State
Conference: Pac 12
2019 Record: 36-20-1, 21-8
Preseason Ranking: NA
Top Players:
LHP Christian Chamberlain (3-4, 3.83)
C Troy Claunch (264)
RHP Jake Mulholland (3-3, 1.93, 8 saves)
SS Andy Armstrong (.248)
1B Alex McGarry (.293-8-30)
4 Things To Watch
Former OSU catcher Mitch Canham comes to Corvallis to take the head coaching reigns after spending a few years as a minor league manager. He'll have plenty of talent to surround himself with though there will be some re-adjustments necessary.
Some veterans are still around from the 2018 national championship roster, especially in expected Friday night starter Christian Chamberlain (93-94mph fastball), LHP Jake Mulholland (30 career saves, 2019 All American), SS Andy Armstrong (33 starts in 2018) and OF Preston Jones (.288 in 2018).
A lot of pressure falls on the shoulders of new pitching coach Rich Dorman, who replaces one of the most respected pitching coaches in the country in Nate Yeskie, who left for Arizona. Dorman was formally the pitching coach for Grand Canyon and comes to Corvallis with a ton of accolades.
Keep an eye on RHP Jake Pfennigs, a 6'8" rising star on the mound who could take over a weekend spot in the rotation. Also, Mitchell Verberg is back for his junior year after throwing 38 strikeouts in 25 innings last year and will play a huge role this season.
---
BYU
Conference: West Coast
2019 Record: 36-17, 19-8
Preseason Ranking: NA
Top Players:
RHP Justin Sterner (8-3, 2.92)
RHP Easton Walker (7-2, 2.20)
RHP/DH Mitch McIntyre (0 earned runs in 17 innings, .130 OBA and hit .291-7-38 at the plate)
4 Things To Watch
This team should be motivated as the Cougars won last year's WCC regular season title but a two-and-out post-season tournament kept them from making the field of 64 in the NCAAs.
Two of the top returning pitchers in the WCC will be RHPs Justin Sterner and Easton Walker, who were both All-WCC performers. Also, expected closer Reid McLaughlin won seven games last year with a 2.61 ERA.
The Cougars had a banner recruiting class that was ranked as No. 16 in the country by D1baseball.com. From that group watch for the emergence of LHP Cy Nielsen, RHP Carter Smith and infielders like SS Andrew Pintar, 2B Peyton Cole and 3B Brock Watkins to make immediate impressions.
BYU went just 1-3 against Gonzaga a season ago, including losing a 3-1 game to get eliminated from the WCC Tournament. All three losses were by two runs and cost the Cougars a shot at the NCAA Tournament.
---
New Mexico
Conference: Mountain West
2019 Record: 23-28-1, 11-16-1
Preseason Ranking: NA
Top Players:
RHP Nathaniel Garley (6-4, 4.92)
OF Connor Mang (.359)
2B Justin Watari (.313)
3 Things To Watch
The coaching staff feels this year's mound staff will be much deeper than a year ago, bolstered by a few JC transfers who should make immediate contributions. RHPs Aaron Makil, Miguel Reyes and Payton Strambler are the newbies to watch.
Only three returning starters are back in the field, so look for JC transfers like Harry Fullerton (projected three-hole hitter), 3B Kyler Castillo and 1B Kyle Landers to make big impressions.
Ray Birmingham enters his 13th season at UNM and 33rd year as a head coach in the collegiate ranks. A full 14 of his 18 teams at New Mexico JC won 40-plus games but he as hit tough times in the last few years. UNM hasn't gone to the NCAA Tournament since 2016 and have suffered two straight losing seasons in 2018 and 2019. From 2012 to 2017 the Lobos never won less than 30 games.
---
Gonzaga
Conference: West Coast
2019 Record: 31-24, 18-9
Preseason Ranking: NA
Top Players:
RHP Alek Jacob (7-3, 2.17, 12 saves)
SS Ernie Yake (.302-3-30)
3B Brett Harris (.305-3-25)
1B Ryan Sullivan (.252-7-20)
4 Things To Watch
The Zags were selected by the conference coaches as the preseason favorite in the WCC, after finishing second in the loop a year ago. They went on to lose out in the WCC Tournament and missed the NCAA Tournament. But if you're looking for a mid-major that could make a lot of waves on the national scene, the Bulldogs are a good bet for that.
Alex Jacob has been tabbed a preseason All-American going into 2020, after pitching in 25 games last year. He has been named a two-time All-WCC performer for his freshman and sophomore seasons.
RHP Mac Lardner could certainly be a player to watch after he went 2-1, 1.29 while pitching for the Bourne Braves in the prestigious Cape Cod League last summer. Lardner went just 6-4, 5.06 for the Bulldogs last year as he battled through some bumps and bruises.
Though the offense/defense has some star-power, coach Mark Machtolf says that the quality of the pitching depth will be one of the biggest strengths of his 2020 squad.
Get The FloSports Apps