Atlantic League of Professional Baseball (ALPB)
FloBaseball Player Of The Week: Jimmy Kerrigan
FloBaseball Player Of The Week: Jimmy Kerrigan
Kerrigan had seven home runs and 20 RBIs across seven games, helping the Blue Crabs to much-needed wins in their quest to make the Atlantic League playoffs.
Sep 8, 2023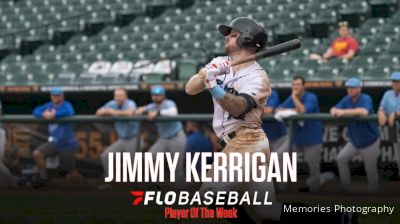 As part of a weekly look-in at the many independent baseball leagues across the country covered and streamed on its platforms, FloBaseball's Player of the Week series highlights the best of the best from indy ball over the week that was.
Jimmy Kerrigan, an outfielder for the Southern Maryland Blue Crabs of the Atlantic League of Professional Baseball, is this week's honoree.
Here's a look at Kerrigan's week, along with his background and a peek into his independent league season to date.
Career Look-Back
Kerrigan, a former player in the Minnesota Twins' minor-league system who turned 29 this year, didn't even start his 2023 season with the Blue Crabs or in the Atlantic League at all.
The well-traveled Philadelphia-native began the year with the independent team he spent the entire 2022 campaign with, the Kane County Cougars of the American Association of Professional Baseball, before being released by the team in early August. Kerrigan signed on with Southern Maryland just a couple of days later as a free agent, and though he's had limited experience in a Blue Crabs uniform across just 30 games played, he's made an immediate impact in the team's battle for a playoff spot.
Slashing a fantastic .364/.458/.773 since coming on, Kerrigan is already up to 12 home runs and 38 RBIs in hardly a month of play as of Thursday evening, with half of his 40 total hits going for extra bases (12 homers, seven doubles and a triple).
His limited games played means that he does not qualify for a spot on the Atlantic League's leaderboards, but his batting average, if it did would be over .020 higher than anyone else in the league.
Standout Performances
Southern Maryland needs all the help it can get as it chases for a chance to make the Atlantic League's playoffs with just nine regular season games remaining after Thursday, and thanks to a four-game winning streak (as of Thursday) helped largely by numerous showcases of offense by Kerrigan, the Blue Crabs are within striking distance and a game back of the Lancaster Barnstormers for the Atlantic North Division's second half standings lead.
Kerrigan started his hot streak last Thursday against the High Point Rockers by near-singlehandedly driving the offense with a pair of homers and six RBIs in a 7-4 win, then had another homer with two RBIs the next day in a defeat to the Gastonia Honey Hunters.
Two more homers (to go along with five RBIs in all) came for Kerrigan in another loss to the Honey Hunters on Saturday, but Kerrigan kept chugging and the Blue Crabs' fortunes started changing. Southern Maryland won the Sunday game over Gastonia as Kerrigan hit yet another homer, then he was finally held at bay and hitless during Monday's series finale, which the Blue Crabs won.
Two wins over the York Revolution on Tuesday and Wednesday saw Kerrigan pick up right where he left off, however, smashing his 12th blast of the season in the team's 5-4 win in the latter matchup, and helping the Blue Crabs extend their run of victories.
Across seven games from last Thursday to this Wednesday, Kerrigan had seven home runs and 20 RBIs. If that's not Player of the Week material, what is?