FloBaseball Player of the Week
FloBaseball Player Of The Week: Gastonia Honey Hunters' Braxton Davidson
FloBaseball Player Of The Week: Gastonia Honey Hunters' Braxton Davidson
Braxton Davidson, an outfielder for the Gastonia Honey Hunters of the Atlantic League, is this week's nominee for FloBaseball Player of the Week.
Aug 25, 2023
by Briar Napier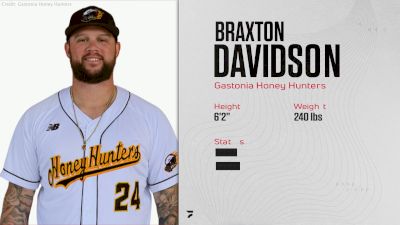 As part of a weekly look-in at the many independent baseball leagues across the country covered and streamed on its platforms, FloBaseball's Player of the Week series highlights the best of the best from indy ball over the week that was.
Braxton Davidson, an outfielder for the Gastonia Honey Hunters of the Atlantic League of Professional Baseball, is this week's nominee.
Here's a look at Davidson's week, along with his background and a peek into his independent league season to date:
Career Look-Back
It's not every day that a former first-round MLB Draft pick ends up spending a healthy chunk of his professional career in indy ball, but for the 27-year-old Davidson — the 32nd overall selection in 2014 by the Atlanta Braves immediately out of high school, forgoing a commitment to play collegiately at North Carolina — that's just how his career has shaped up.
His time with Atlanta's minor-league system, from 2014-20, saw him make the Braves' spring training roster in 2016 but only reach High-A ball in the regular season across over 500 total minor-league games, saddled by bad luck in 2019 and 2020 as he missed the former season due to injury and the latter season along with plenty others due to the COVID-19 pandemic.
🔥HUNTERS WIN🔥
Braxton Davidson secured the win with a huge grand slam in the seventh! The boys are headed to Long Island for the weekend, but we're back in town next Tuesday.#OnTheHunt #Gastonia #GrandSlam #baseball pic.twitter.com/uAfyAwp3zu

— @GoHoneyHunters (@gohoneyhunters) August 11, 2023
His release from Atlanta in May 2020 saw him dip his toes into the indy scene for the first time in the short-lived Constellation Energy League (a four-team, Texas-only league created for summer 2020 to give minor-leaguers an opportunity for live baseball) before joining the Frontier League in 2021, playing with the Joliet Slammers and Schaumburg Boomers across his two seasons there as he slashed an impressive .363/.484/.775 in 30 games with the Boomers in 2021.
He was picked up by the Honey Hunters as a free agent in May after starting the year with the Chicago Dogs of the American Association of Professional Baseball, playing just four games there.
Standout Performances
A reliable source of power hitting throughout his pro career — he's cracked the 20-homer mark in three different minor league/independent seasons — Davidson hasn't changed that fact with Gastonia as he enters Thursday's games with 22 homers, 69 RBIs, and a .637 slugging percentage on the season thus far, all of which rank near the top of the Honey Hunters' roster.
The team remains in the chase for a second-half South Division title, sitting only a game back of the leading High Point Rockers as of this writing, and Davidson's performances throughout this past week have greatly helped that push.
The Honey Hunters are on a three-game win streak entering Thursday and have won five of their past six, with one of those victories in that stretch coming during a 12-8 triumph over the Lexington Counter Clocks last Friday in which Davidson (playing DH) smashed two homers with six RBIs in a monster outing to lead his team to the W.
He, along with much of the rest of Gastonia's offense, was mostly shut down in a 5-1 loss to Lexington the next day, but Davidson was integral in getting the Honey Hunters back on track in the Sunday series finale; he went 3 for 5 (including a triple) with four RBIs in an 8-3 win, then managed one more RBI for the week via a base hit in Gastonia's 5-0 shutout victory over the Long Island Ducks on Wednesday as he and the team look for more positive results to keep their collective mojo going.