FloBaseball Player of the Week
FloBaseball Player Of The Week: Joliet Slammers' Cole Cook
FloBaseball Player Of The Week: Joliet Slammers' Cole Cook
Cole Cook, a left-handed pitcher for the Joliet Slammers of the Frontier League, is this week's nominee for the FloBaseball Player of the Week.
Aug 11, 2023
by Briar Napier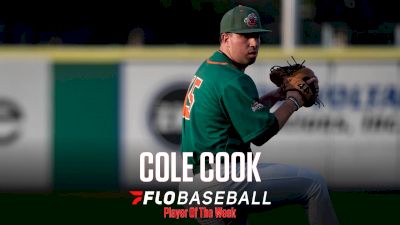 As part of a weekly look-in at the many independent baseball leagues across the country covered and streamed on its platforms, FloBaseball's new Player of the Week series highlights the best of the best from indy ball over the week that was.
Cole Cook, a left-handed pitcher for the Joliet Slammers of the Frontier League, is this week's nominee.
Here's a look at Cook's week, along with his background and a peek into his independent league season to date:
Career Look-Back
An All-Missouri Valley Conference starting pitcher at Bradley, Cook, 26, joined the independent baseball scene following his graduation in 2019, finding a home with the now-defunct Southern Illinois Miners of the Frontier League.
A year off from the professional game in 2020 due to the pandemic ended up leading him to two independent ball clubs in two different leagues in 2021. He first was with the Gary SouthShore RailCats of the American Association of Professional Baseball, and he then was with the Missoula PaddleHeads of the Pioneer League.
He returned to his home state of Illinois in 2022 with Joliet, where he's remained as a dependable, standout member of the Slammers' rotation.
Cook was named a Frontier League All-Star in 2022 and finished with an 11-7 record with a 3.22 ERA and 109 strikeouts to just 28 walks in 117 1/3 innings pitched, being a bright spot on a Joliet team that missed out on the postseason with a losing record.
He has been a step above in 2023 with an 8-2 mark, 2.21 ERA and 108 strikeouts to 24 walks across 110 innings, and he made his second straight All-Star Game in the process, too.
Congratulations to LHP #15 @cole_cook_5 for being named to the Frontier League All Star team!

This will be the second season in a row that Cole will represent the Slammers at the game ⭐️

Learn more at https://t.co/SsTqgGVybC pic.twitter.com/fN6W84hvOC

— Joliet Slammers (@JolietSlammers) July 5, 2023
Joliet, currently fourth in the West Division at 35-40 overall as of this writing Thursday evening, needs a late-season charge to get to the postseason, but six straight wins following Joliet's Thursday game makes them one of the league's hottest teams coming into the home stretch with less than a month of regular-season play to go.
Standout Performances
Much of Cook's season to date could probably be considered a "standout performance," but for this week's purposes, he gets a shoutout for what he did in the Slammers' 5-1 win over the Lake Erie Crushers on Aug. 4.
Given the start in Joliet's first game following a series loss to the Gateway Grizzlies, Cook was outstanding in helping the Slammers' recent surge start off strong by going seven innings with one run allowed from four hits, while striking out 12 and walking none.
It was Cook's single-game strikeout high for the season and the second time he had reached double-figure Ks in 2023, along with the third time this year he had gone at least six innings in an outing and gave up no walks.
Cole Cook has followed up his 2022 Fronter League All-Star campaign w/an even more impressive 2023 season. The lefty continues to be a strike throwing competitor that gets guys out. He's deserving of a chance at affiliate ball @FlatgroundApp pic.twitter.com/iCgZ4KDlJE

— Wes Anderson (@WesAndersonPC) June 17, 2023
Matched with a 3-for-5, five-RBI night at the plate from teammate Zach Biermann, Cook's clinical demeanor on the mound that night was one of the main catalysts behind Joliet's ongoing winning streak. The team hasn't lost since (as of Thursday), allowing one run or less in 4-of-5 games in the stretch.
Cook admittedly was a bit shakier in his Thursday start against the Schaumburg Boomers, allowing five earned runs off of 12 hits in six innings, but he still picked up his eighth victory of the season, getting help from his bullpen and some strength in the lineup, such as outfielder GJ Hill, who went 3-for-5 with an RBI and was a homer away from the cycle. The Slammers won 6-5.