Frontier League
Former NCAA Baseball Player Looks For Redemption
Former NCAA Baseball Player Looks For Redemption
Just a few years after an epic college baseball season, Bren Spillane was back on the market and looking for options to play baseball again.
Aug 8, 2023
by Briar Napier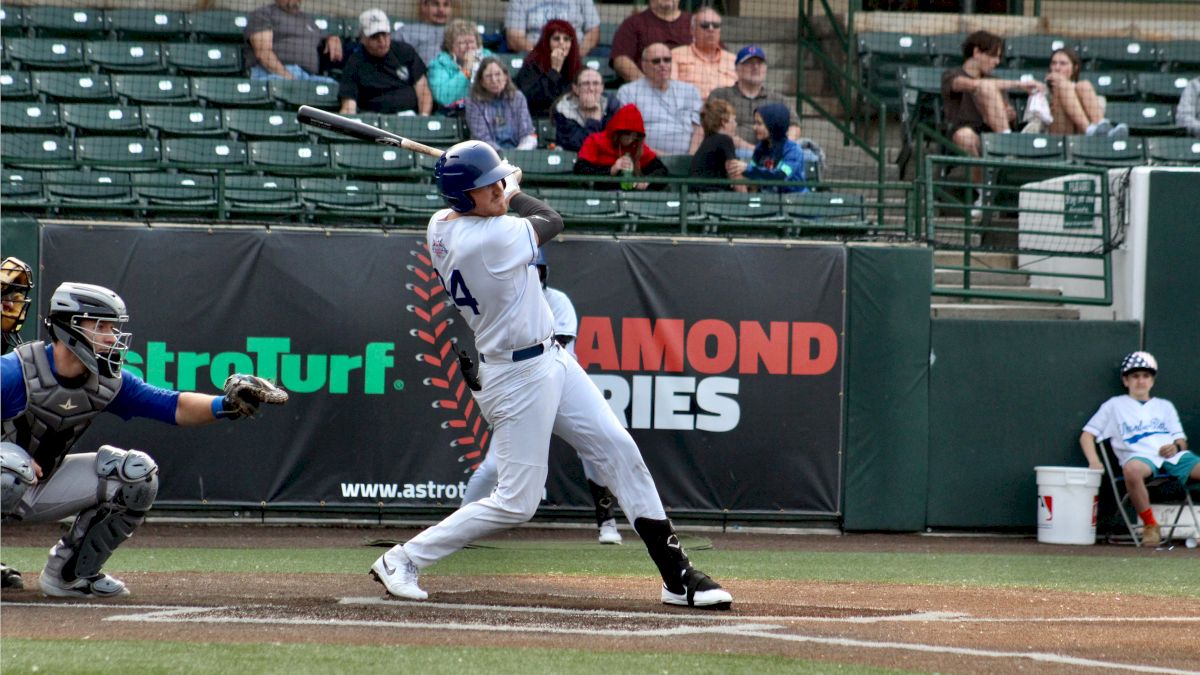 College baseball fans know very well of Bren Spillane's 2018 season at Illinois, when the native of Chicagoland had a breakout campaign for the ages.
After a middling first two years in Champaign, in which he had five home runs and 23 RBIs across 41 games, Spillane exploded his junior year.
He won the Big Ten Conference's regular-season Triple Crown (.407 average, 22 homers, 57 RBIs), had first-team All-America selections and captured the Collegiate Baseball Newspaper National Player of the Year award — an honor won in the past by big-name MLB stars, including Kris Bryant, Buster Posey and Trevor Bauer.
A third-round choice of the Cincinnati Reds in the 2018 MLB Draft off the back of that eye-popping season as an outfielder, Spillane, understandably, wasn't thinking much about things not working out immediately.
Like, if the Reds were to release him, which is exactly what happened in April 2022, less than four years after Cincy picked him.
"You never think about getting released early," Spillane said. "It's like, 'Hey, I want to get to the big leagues,' and then when you get (to the minors), it's like, 'Oh, well, hey, these guys can really play ball, too. That was basically the biggest adjustment, of just saying hey, I'm still playing baseball. There's still a lot of room to improve and (I'm) going off of that."
A second triple in two innings for Bren Spillane! pic.twitter.com/5hywOKEEMZ

— Windy City ThunderBolts (@WCThunderBolts) June 3, 2023
It wasn't lack of talent that saw Spillane cast aside.
He played Rookie ball with the Billings Mustangs (now of the independent Pioneer League) after the draft and saw time in Low-A/High-A with the Dayton Dragons in 2019 and 2021. It actually was the fact that he had horrible injury luck and just couldn't stay on the field.
There was a partially torn labrum and a spleen injury in Billings, which Spillane said caused him to hardly eat for about a "week and a half."
In Low-A, he battled through an MCL sprain, making a valiant return after a couple of weeks, only to suffer a debilitating wrist injury on a routine swing that kept him sidelined for the rest of the year.
Adding to his misfortune, early in the High-A season, he sustained a thumb injury while playing first base. A runner slid through his hand on a tag, forcing him out of action after just 12 games.
Any time it felt as if Spillane was gaining some momentum and showing the Reds' brass why he won so many awards in college just a few years before, a nagging ache, pain and/or break would arrive at just the wrong time, limiting his chances to impress.
"I was barely able to play and show people what I'm capable of," Spillane said. "I get it's a business, and you have a limited time there, but that's what this whole thing has been about, getting healthy and playing every day and just showing that the talent's still there."
The "whole thing" Spillane is talking about is where his pro career led him to next after his Reds release — back home with the Windy City ThunderBolts in the Frontier League, where he signed with the independent club in advance of the 2022 season.
Not long after becoming a free agent, Spillane was contacted by ex-ThunderBolts manager Brian Smith, who Spillane had played under previously when he was on the summer collegiate league baseball grind with the Rockford Rivets of the Northwoods League in 2017.
The reunion was an easy choice, Spillane said, and the good vibes have continued even as the ThunderBolts brought in Richie Sexson as manager for 2023, with Spillane saying he's been "awesome" to work with.
Check out this profile from @cbschicago on our skipper, Richie Sexson. Thanks to @mattzahnsports for the great feature!https://t.co/KXW8NyU2Q2

— Windy City ThunderBolts (@WCThunderBolts) July 20, 2023
Year 1 in Windy City — based in Crestwood, Illinois, about an hour drive south of Spillane's hometown of Wheeling, Illinois — was a solid bounceback campaign for Spillane. He hit .232 with 12 home runs and 40 RBIs in 51 games.
The second year has seen that average grow to .249 with nine homers (a team-high as of Wednesday afternoon) and 26 RBIs in 54 games, which saw him selected to the Frontier League All-Star Game for the first time as a member of the West Division's team.
"In my opinion, it's never been about the talent (with me), but it's been about staying on the field," Spillane said. "I know if I put a full season together, the numbers will be there. The talent is there, and it's just been staying healthy … this year, it's been smooth sailing, and I'm just happy to be out there and playing every day."
Spillane said he has to catch himself in remembering he was at one point considered one of the best players in college baseball and a highly touted draft prospect, and at just 26, he has plenty of room left to grow, too.
Windy City wonder: Illinois product Bren Spillane, a former Cincinnati Reds draft pick, heats up in Frontier League for @WCThunderBolts. "I'm going to own it."@Millar_S has story for #TribSuburbanSports.@FLProBaseball @IlliniBaseball @BrenSpillane @Redshttps://t.co/tcG6prtuJd

— SouthtownSports (@SouthtownSports) June 20, 2023
The major-league dreams may have taken a bit of an unplanned detour, but by refining his game and playing consistent baseball with the ThunderBolts, the dream still is very much alive and well.
With good health and a bit more overdue good luck, Spillane may be on his way to chasing it once again very soon.
"Sometimes, you lose track of that, and I have to remind myself like, I still am that guy," Spillane said of his past. "There's always going to be that thought in your head of I can get better with this, this and that, but again, it's been just playing a full season is the biggest thing. … I know off of that, the numbers are going to be there at the end of the year."