SEC
2023 MCWS Finals Preview: Tigers, Gators Set To Meet For Title
2023 MCWS Finals Preview: Tigers, Gators Set To Meet For Title
Florida beat LSU for a national title in 2017. Six years later, they're meeting again in an identical scenario on the very same Charles Schwab Field.
Jun 23, 2023
by Briar Napier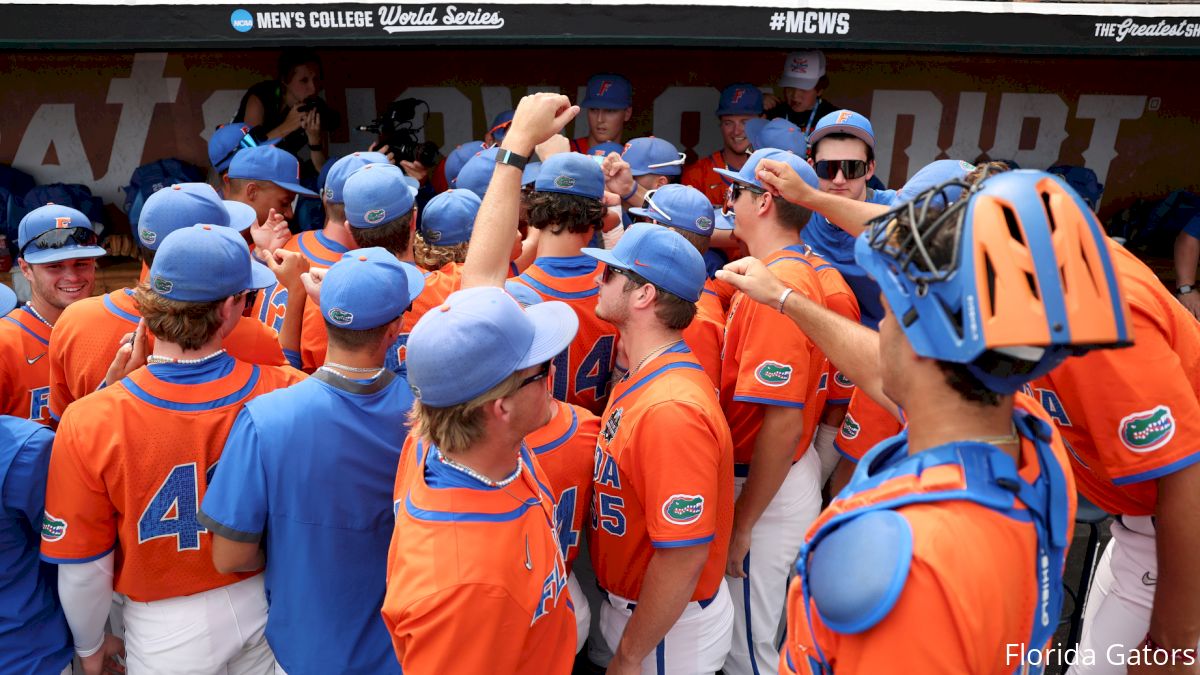 In 2017, Florida and LSU – two powerhouses in the mighty Southeastern Conference – found themselves meeting each other in Omaha for the chance to take home a national championship.
Florida won that meeting, beating the Tigers in back-to-back games to win its first national title in baseball.
Six years later, they're meeting again in an identical scenario on the very same Charles Schwab Field.
College baseball's top team honor runs through the SEC, and that won't change, as a team from the league will be the champion for the fourth straight MCWS.
The final question that remains is which team will win it all in 2023.
The Gators' stint in Omaha to this point hasn't exactly been drama-free. They have played the minimum amount of games, and they've looked strong in doing it, minimizing wear and tear, as they look to pull off a repeat of 2017.
As for the Tigers, they had to go the more difficult route after an early loss, winning three straight times with their backs against the wall – including consecutive times against the tournament's top overall seed – to grind and fight their way to the title series.
🎥 Preview the #MCWS Finals with @JeffCardozoUF and @SeanKelleyLive! #GoGators pic.twitter.com/o9gIibHjTg

— Florida Gators Baseball (@GatorsBB) June 23, 2023
No matter what it took to get to the championship series, though, both Florida and LSU have more than earned the right to be here after stellar seasons with players likely to make major impacts on major-league rosters one day.
Their college programs ask one thing before they move up to potentially make millions in a MLB lineup, though: help them secure the right to be called national champions again.
Omaha is a magical place in the college baseball world, and it's got plenty of potential – and the right programs left in play – for a few more extraordinary events in store.
Here's a look at the best-of-three Men's College World Series Championship Series between LSU and Florida, with Game 1 of the national title-deciding series scheduled to begin at 7 p.m. Eastern on Saturday.
Florida Gators
MCWS title: 2017
How they got here: Def. Virginia 6-5, Oral Roberts 5-4, TCU 3-2
The lowdown: Since the Gators got to Omaha, their mantra has been all about doing what's needed.
And, while their two possible MCWS final opponents, Wake Forest and LSU, were beating each other up Wednesday and Thursday for the right to face Florida for a national championship, coach Kevin O'Sullivan's crew was sitting back and enjoying the wars the other semifinalists had from afar, knowing they'd earned the right to relax a bit.
Now that an old SEC rival will be the final team on the docket this year, however, the Gators will have to do what's needed one last time in order to pick up their second national title.
Florida may have clinched a spot in the championship series (for the fourth time overall and first since 2017) with a 3-0 record at Charles Schwab Field, but it certainly did not roll through the competition. In fact, the Gators won all three games by one run, something the squad has specialized in all year, with a 10-3 record in such matchups.
A 6-5 victory over Virginia, in which UF came back from a 5-3 deficit in the bottom of the ninth inning, kicked off the festivities on the opening Friday of the tournament.
Next was a 5-4 win against Oral Roberts on Sunday, in which the Gators staved off a late Golden Eagles rally, followed and a 3-2 win over TCU on Wednesday, in which UF scored a go-ahead run in the top of the ninth, sealed Florida's spot in finals by the slimmest of margins.
All the best shots from G3 📸

Gallery ➡ https://t.co/vaQu90U14h pic.twitter.com/DE4YI8MECV

— Florida Gators Baseball (@GatorsBB) June 22, 2023
When you're as armed to the teeth in all facets as Florida's roster, though, you can feel pretty good about your chances, no matter the scenario or scoreline.
In those three MCWS games, Florida smashed seven home runs to up its season total to a program-record 136, with the ringleader behind the long bombs – sophomore Jac Caglianone – being worth the price of admission on his own.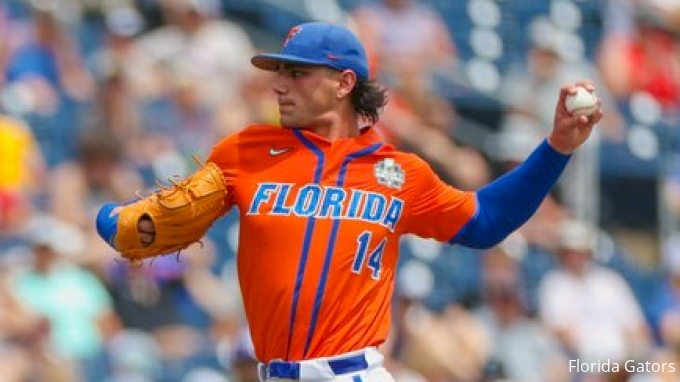 This season's college equivalent to Shohei Ohtani, the two-way Caglianone is tied for the national lead in homers (31), while simultaneously being a key arm on a Gators pitching staff (7-3, 3.68 ERA, 85 strikeouts in 73 1/3 innings) that has been great throughout much of Florida's run.
Junior right-hander Hurston Waldrep is on fire, as he's struck out a combined 37 batters in his past three starts alone, all in the postseason.
Florida and LSU never squared off in SEC play this year, but the last time that the two met this late in the season, it was the Gators who brought the hardware back down south.
A repeat performance – which would give UF a program best in single-season wins, too – would be one of O'Sullivan's finest moments as a coach.
LSU Tigers
MCWS titles: 1991, 1993, 1996, 1997, 2000, 2009
How they got here: Def. Tennessee 6-3, lost to Wake Forest 3-2, def. Tennessee 5-0, Wake Forest 5-2 and 2-0
The lowdown: Staring elimination in the face for much of its time in Omaha, the Tigers have lived life on the edge in the MCWS, but also have seemed to play a little bit better that way.
Having on the roster the widely regarded top two overall prospects in the upcoming MLB Draft – outfielder Dylan Crews and right-handed pitcher Paul Skenes – helps a little bit with that.
A Monday loss to top-seeded Wake Forest put LSU on the back foot in its chase for national title No. 7, but following an elimination-game victory over SEC rival Tennessee to earn another clash with the Demon Deacons (and needing to beat them twice to advance to the finals), the Tigers surged forward and handed Wake its first back-to-back defeats of the season in dramatic fashion to be the Gators' opponents this weekend with a title on the line.
LSU's 5-2 win Wednesday set up the Thursday decider, a pitching showdown between Skenes and Deacs ace Rhett Lowder, which didn't disappoint.
Both men went deep into their outings and allowed a combined five hits, as the game remained scoreless until the 11th inning.
At that point, Tigers third baseman Tommy White decided he had seen enough. He launched a Camden Minacci pitch to deep left field and over the outfield wall for a two-run, walk-off homer (upping his RBI total on the year to 100 in the process) to win it in extras and officially advance LSU in the bracket.
Feelin' It@tommywhite44 | #ThePowerhouse pic.twitter.com/sdnFl1WuLk

— LSU Baseball (@LSUbaseball) June 23, 2023
It's the program's first appearance in the MCWS finals since 2017, when it also saw the Gators there, and the first in Baton Rouge for coach Jay Johnson, who arrived two years ago from Arizona following national title-winning coach Paul Mainieri's retirement.
And though it definitely isn't accurate or fair to say LSU has been carried all year by only its two highly touted stars, it also cannot be denied that if the Tigers do indeed reach the mountaintop and pick up another national championship, their contributions had a lot to do with it.
Crews and Skenes both are Golden Spikes Award finalists (along with Caglianone, who they'll face this weekend) with the former picking up the SEC Player of the Year award for the second straight season. He has a monstrous .423 average, 18 home runs and 69 RBIs to date.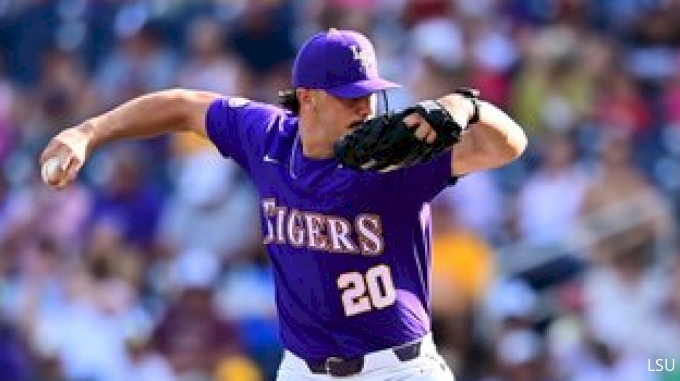 The latter won SEC Pitcher of the Year honors with a 12-2 record, 1.69 ERA and a nation-leading 209 strikeouts in 122 2/3 innings.
With both standouts carrying superstar potential as they begin their pro careers next season, a fitting close to their college campaigns before they go would be ending a lengthy title drought (14 years) by LSU's lofty standards.
If the way the Tigers have handled pressure in Omaha is any indication, they might just be OK – and be the ones left standing when all the dust is settled.