Pac-12
College World Series Bracket 2 Breakdown: Can Wake Forest's Drought End?
College World Series Bracket 2 Breakdown: Can Wake Forest's Drought End?
The end of the Super Regional round last weekend decided the eight teams left standing in college baseball this season, divided into two four-team brackets.
Jun 16, 2023
by Briar Napier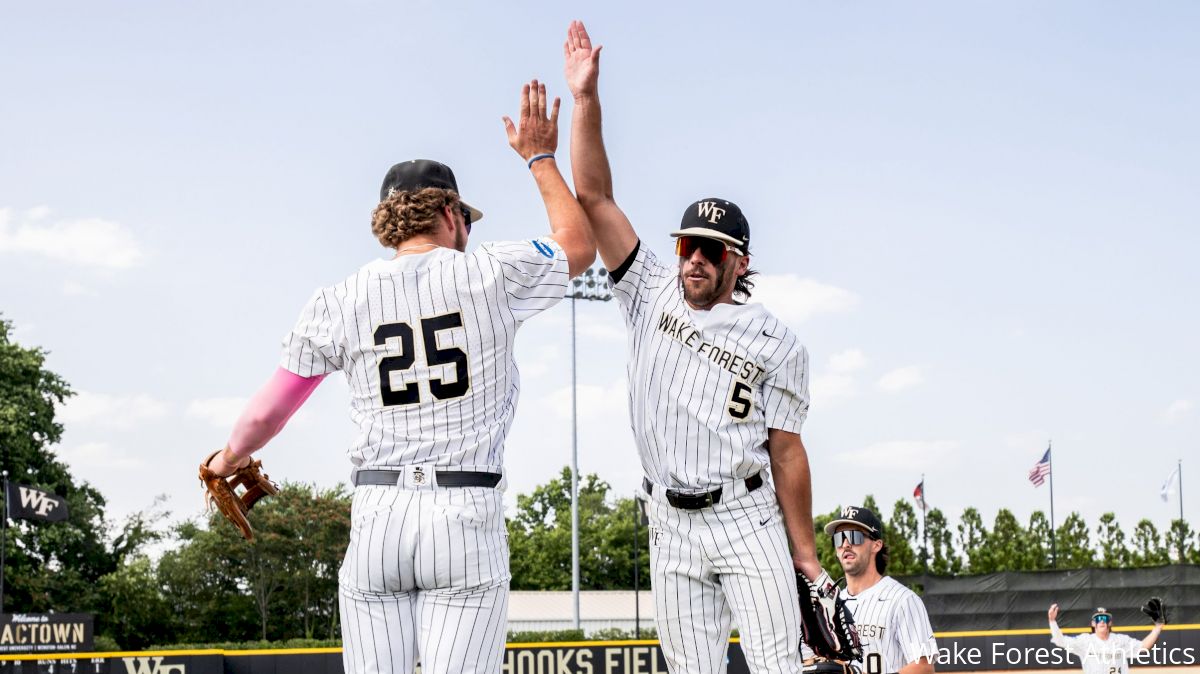 Look through the college baseball programs playing in Bracket 2 of this weekend's College World Series. What names do you see? What do you know about the programs in the field?
There are the classic Southeastern Conference representatives – two of them. There's the decorated West Coast school. And then there's the top-seeded team in the chase to take home a national title that's neither of those things.
But here they all are on the hallowed grass in Omaha, just several victories away from bringing back history to their hometowns.
Booked and busy for Baseball ⚾️
️
📍 OMAHA, NE#MCWS pic.twitter.com/K0PEBoFILi

— NCAA Baseball (@NCAABaseball) June 13, 2023
And in the College World Series, where there's usually a bit of magic going around the place in some form, one team from Bracket 2 will capture it and find itself playing for a national title because of it.
Over a week of play leads to the title series, and of the eight teams that remain, only one can survive.
And, in Bracket 2, the four teams set to do battle all have their own reasons for how they can potentially surge their way to glory.
Here's a look at the teams in Bracket 2 at the 2023 College World Series, as the fight for a national championship gets going Friday at Charles Schwab Field in Omaha, Nebraska.
NOTE: All first-pitch times are listed in Eastern Time and are subject to change.
Wake Forest Demon Deacons
Record: 52-10
Past MCWS appearances: 1949, 1955
How they got here: Won Winston-Salem Regional 3-0, won Winston-Salem Super Regional vs. Alabama 2-0
The lowdown: Yep, the No. 1 overall seed and the on-paper favorite to win it all in Omaha this year hadn't made the MCWS prior to this season for 68 years. Who would've thunk it?
Alas, the Demon Deacons' renaissance under longtime coach Tom Walter required time and patience in order for it to take place.
That patience, if things go according to plan in the program's grand return to the MCWS, may be rewarded with a national championship that's seven decades in the making.
Wake won the Atlantic Coast Conference regular-season crown for the first time since 1963 this year and became the first team in the league in six years to emerge victorious in every single conference series in the process, hitting the 50 wins mark for the first time in program history on top of it all.
𝟮𝟬𝟮𝟯 𝗣𝗲𝗿𝗳𝗲𝗰𝘁 𝗚𝗮𝗺𝗲/@RawlingsSports 𝗖𝗼𝗮𝗰𝗵 𝗼𝗳 𝘁𝗵𝗲 𝗬𝗲𝗮𝗿

Tom Walter, @WakeBaseball pic.twitter.com/poyE3ns0ZT

— Perfect Game USA (@PerfectGameUSA) June 15, 2023
The engine behind that history, meanwhile, is the best pitching staff in America – by a long shot.
Wake's team ERA of 2.84 this year isn't just the lowest in the country, it's the lowest by over 7/10 of a point, and highly touted right-hander Rhett Lowder is the ringmaster.
Now a two-time ACC Pitcher of the Year after repeating the feat from 2022, Lowder's been near-unconquerable as the nation's wins leader with a 15-0 record and 1.92 ERA – one of two hurlers in America, and the only one still playing, with at least 10 wins and zero defeats on the year.
Then there's left-handed sophomore Josh Hartle, who'd be the ace on nearly every other staff in college baseball, butting in as a first-team All-ACC nod. He has a sizzling 11-2 record and is even with Lowder on strikeouts with 131 entering Omaha.
Collectively, the Deacons' pitchers have the best strikeouts-per-nine-innings rate in the country at 12.2.
As for the offense, there's juice in the batter's box.
Only LSU has a higher team slugging percentage of teams left standing than Wake's .556, but the Deacons have the distinction of being the only team in Omaha with a pair of teammates who've smashed at least 24 home runs apiece in Brock Wilken (30) and Nick Kurtz (24).
ACC HOME RUN KING 👑 @B_Wilkes25 🚀™️ pic.twitter.com/JORXKvTddO

— Wake Forest Baseball (@WakeBaseball) June 11, 2023
That destructive combination has led to an undefeated postseason, in which Wake has hit the double-digit runs mark four out of a possible five times.
Whether or not it can carry them to bringing a long-awaited baseball title back to Winston-Salem is up for debate, but the Deacons clearly have made their case.
First game: vs. Stanford, Saturday at 2 p.m.
Stanford Cardinal
Record: 44-18
Past MCWS appearances: 1953, 1967, 1982, 1983, 1985, 1987, 1988, 1990, 1995, 1997, 1999, 2000, 2001, 2002, 2003, 2008, 2021, 2022
How they got here: Won Stanford Regional 4-1, won Stanford Super Regional vs. Texas 2-1
The lowdown: Even if you don't know much about Stanford (you probably should by now, especially considering that this is its third straight trip to the MCWS, after all) you probably have seen how the Cardinal got to Omaha in the first place, if you're reading this.
In one of the wildest finishes, considering the circumstances, in college baseball history, Stanford won a dramatic decider in the Super Regional against Texas by a 7-6 score in an unusual way – after Drew Bowser hit a two-out fly ball to center field with the score evened up at 6-6 in the bottom of the ninth inning, the Longhorns' outfield lost the ball in the lights and let it drop to the turf, sending the Cardinal into hysterics and back to the MCWS.
A WILD WALK-OFF SENDS STANFORD TO OMAHA 🤯 pic.twitter.com/bhwufpAcbb

— SportsCenter (@SportsCenter) June 13, 2023
The ride has been bumpy for the No. 8 national seed, which had to win three elimination games just to make it out of its own regional, but Stanford – battered and bruised and a bit lucky, too – is still here, still swinging.
The Cardinal are no fluke, though.
They've won the Pac-12 Conference in back-to-back seasons and are giants of the sport, reawakened under coach David Esquer, an alum who jumped ship from rival Cal in 2017 and has thrived ever since, winning at least 39 games in every completed season in charge.
For this go-round, he has the emergence of junior catcher Alberto Rios in large part to thank.
The native Californian turned from a sparingly used pinch-hitter (seven total at-bats) in his first two seasons with the program into the cornerstone of the Cardinal lineup, batting .387 with 18 home runs and 71 RBIs entering the MCWS.
He became the first Stanford player since former MLB All-Star Jed Lowrie captured the honor in 2004 to be named Pac-12 Player of the Year.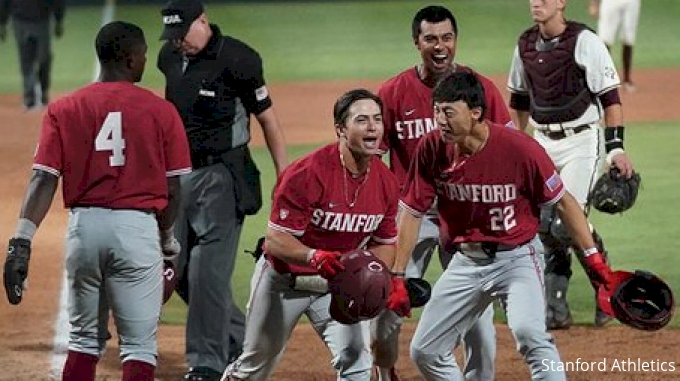 Meanwhile on the mound, left-hander Quinn Mathews turned down the majors to become the third straight Stanford hurler to win the league's Pitcher of the Year honor, two-time California Gatorade Player of the Year Malcolm Moore lived up to the hype at catcher and first base by being named the conference's Freshman of the Year and Tommy Troy finished the regular season as the Pac-12's batting champ, entering the league tournament with a .404 average.
Sometimes, it's better to be lucky than good – especially when mighty Wake Forest awaits first in Omaha – but Stanford is pretty good on top of its good fortune, too.
First game: vs. Wake Forest, Saturday at 2 p.m.
LSU Tigers
Record: 48-15
Past MCWS appearances: 1986, 1987, 1989, 1990, 1991, 1993, 1994, 1996, 1997, 1998, 2000, 2003, 2004, 2008, 2009, 2013, 2015, 2017
How they got here: Won Baton Rouge Regional 3-0, won Baton Rouge Super Regional vs. Kentucky 2-0
The lowdown: LSU is far, far more than just a two-man team, as no program that's gotten this far has done so without having a deep, talented roster.
But when those two players arguably are the top two overall MLB Draft prospects and have decimated nearly everyone that's stood in their paths? Yeah, it's easy to be drawn to them and the amazing things that they do.
The dynamic duo that's being talked about here is, of course, outfielder Dylan Crews and right-handed pitcher Paul Skenes, both of whom have been named finalists for the Golden Spikes Award as the best amateur baseball player in the United States, after a pair of monstrous seasons for the Tigers.
College Baseball's Best Player@Paul_Skenes is the 2023 Dick Howser Trophy Winner pic.twitter.com/yacWvmiE9h

— LSU Baseball (@LSUbaseball) June 15, 2023
Let's start by talking about Skenes, who was fantastic as a two-way player and two-time All-American for two terrific seasons at Air Force, but arrived to the SEC with question marks about how he'd adjust to the gauntlet of the best, most competitive league in college baseball.
Those doubts were quickly cast aside.
Skenes is 12-2 with a miniscule 1.77 ERA and eye-popping 188 strikeouts in 107 innings as a pitcher for LSU this year, with his performances winning him the SEC Pitcher of the Year Award and making MLB.com bestow him as both the No. 2 overall prospect and "the best college pitching prospect since Stephen Strasburg."
The only name ahead of him in that list is Crews, who entered his third year in Baton Rouge with sky-high expectations after being named the 2022 SEC Co-Player of the Year, and smashed them, winning the honor outright this time around with the highest batting average (.434) of any player suiting up in Omaha, along with 17 homers and 64 RBIs.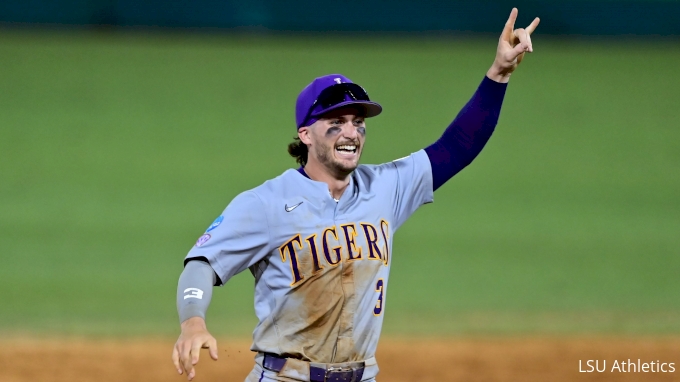 And, of course, LSU wouldn't be here if it didn't have an elite supporting cast.
Third baseman Tommy White, who had 27 home runs in a fantastic freshman year at NC State in 2022, transferred to the Tigers in the offseason and picked up right where he left off. He's up to 22 homers in 2023, with 97 RBIs, and a deep LSU run could see him tie or surpass Maryland's Nick Lorusso (who has 105) in the latter category for the national lead.
Skenes may be the workhorse of the pitching staff, but Ty Floyd is 7-0 on the mound, with 93 strikeouts in 78 innings, proving to be an effective second option.
Still, make no mistake about it – if LSU is to indeed win a seventh national title later this month, the inseparable Skenes and Crews are going to have something, likely heavily, to do with it.
First game: vs. Tennessee, Saturday at 7 p.m.
Tennessee Volunteers
Record: 43-20
Past MCWS appearances: 1951, 1995, 2001, 2005, 2021
How they got here: Won Clemson Regional 3-0, won Hattiesburg Super Regional 2-1
The lowdown: This is probably the spot most college baseball fans expected the Vols to be in last year, rather than right now, but baseball can be a fickle game sometimes.
With Tennessee's hype through the roof in 2022 as it entered the NCAA Tournament as the No. 1 overall seed, SEC regular-season and tournament champs and with a historically great pitching arsenal that finished the season with a team ERA of 2.51, it was where the season ended – in the Super Regional round, upset by Notre Dame – that was so deflating.
Perhaps the Vols' 2023 season, more so under the radar than standing out, was needed after such a result.
THE FINAL OUT!

VOLS ARE HEADED BACK TO OMAHA! pic.twitter.com/DE0cEBUH2O

— Tennessee Baseball (@Vol_Baseball) June 13, 2023
UT didn't place a single player on the All-SEC first team, finished fourth in the SEC East and was dumped out in its first game of the SEC Tournament by Texas A&M.
Yet, when the going got especially serious in the NCAA tourney, Tennessee came alive.
Two triumphs over Charlotte and a clutch win in a 14-inning marathon against No. 4 Clemson saw the Vols escape out of regional play, and when they had to travel to Southern Miss and deal with weather delays that forced the Super Regional decider to be held on a Monday, Tennessee didn't budge, shutting out the Golden Eagles 5-0 to make it to the MCWS for the second time in three seasons.
The man who started on the bump in that clinching performance, sophomore right-hander Drew Beam, was terrific, throwing six scoreless, while striking out seven, as the still-lethal UT rotation, now "only" holding the second-lowest ERA in America at 3.57, remains the backbone of the Vols' success under coach Tony Vitello.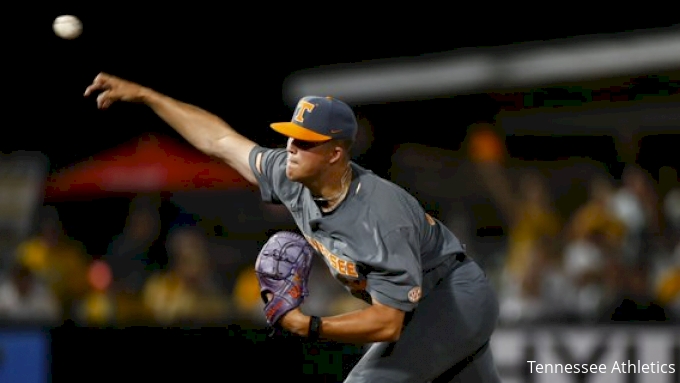 Questions about whether they have the offense to keep up if opponents tag them are fair – Tennessee's .284 team average is, well, fairly average nationally, and opening Omaha opponent LSU won the SEC series partly because the Tigers were able to break open games enough (in 5-2 and 6-4 wins) to emerge ahead.
But, as it's now the Tigers with all the pressure with the can't-miss prospects and the No. 5 national seed, the Volunteers have arrived in a bit of a different kind of underdog role. It's a position that, if not taken seriously, could make UT a serious spoiler threat ready to shake up the MCWS.
First game: vs. LSU, Saturday at 7 p.m.