SEC
2023 CWS Bracket 1 Breakdown: Will Oral Roberts' Cinderella Run Continue?
2023 CWS Bracket 1 Breakdown: Will Oral Roberts' Cinderella Run Continue?
The end of the Super Regional round last weekend decided the eight teams left standing in college baseball this season, divided into two four-team brackets.
Jun 14, 2023
by Briar Napier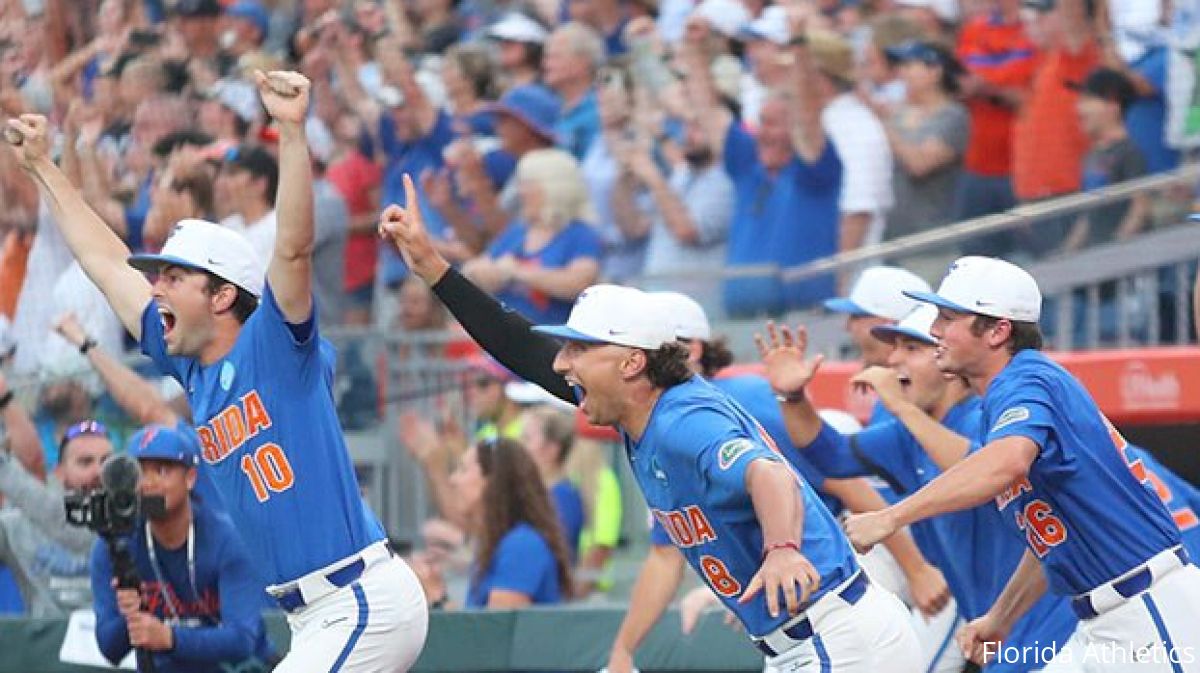 The name Omaha carries heavy weight in college baseball.
Each year, only eight teams get to actually experience what hallowed ground it is at the College World Series.
The conclusion of the Super Regional round last weekend decided the eight teams left standing in college baseball this season, divided into two four-team brackets.
The first FloBaseball is previewing in successive days, Bracket 1, is the more unique of the two.
THE OMAHA 8#MCWS pic.twitter.com/UWRz3adD0X

— NCAA Baseball (@NCAABaseball) June 13, 2023
Two former national champions – both of whom have won titles in the past decade – are squaring off immediately in their first games in Nebraska. The other matchup features a program that's been a frequent fixture in the MCWS as of late, facing a breakout squad over a generation removed from last knowing what it's like to make it this far in the NCAA Tournament.
Over a week of play leads to the title series, and of the eight teams that remain, only one can survive.
And, in Bracket 1, the four teams set to do battle all have their own reasons for how they can potentially surge their way to glory.
Here's a look at the teams in Bracket 1 at the 2023 College World Series, as the fight for a national championship gets going Friday at Charles Schwab Field in Omaha, Nebraska.
NOTE: All first-pitch times are listed in Eastern Time and are subject to change.
TCU Horned Frogs
Record: 42-22
Past CWS appearances: 2010, 2014, 2015, 2016, 2017
How they got here: Won Fayetteville Regional 3-0, won Fort Worth Super Regional vs. Indiana State 2-0
The lowdown: Back in Omaha for the first time since legendary coach Jim Schlossnagle left for rival Texas A&M for the 2022 season, Horned Frogs coach Kirk Saarloos – Schlossnagle's pitching coach for eight years before, being promoted to head coach upon his departure – has proven he's been able to make a growing baseball tradition stick in Fort Worth by taking TCU to its sixth MCWS in 13 years.
The next mission? Win it all.
White-hot in postseason play, with the highlight being a combined 32 runs in two wins over Arkansas to eliminate the No. 3-ranked Razorbacks on their own diamond, the Horned Frogs took down tournament darling Indiana State (in Fort Worth, as scheduling conflicts and a lack of volunteer staff prevented the No. 14 Sycamores from hosting) and have another mid-major threat, Oral Roberts, on the docket in their opening game at Charles Schwab Field.
TCU, with 12 wins over ranked opposition on the season, should be well-prepared.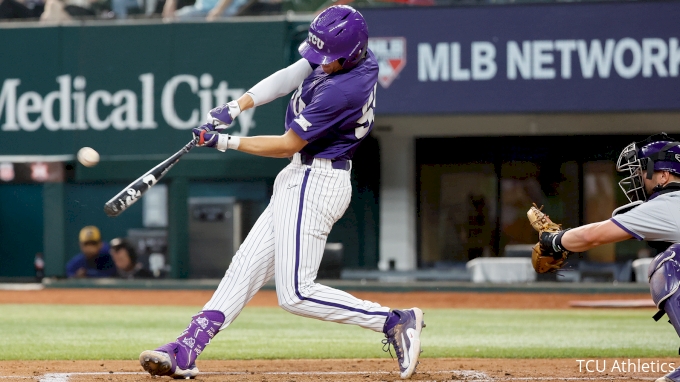 Brayden Taylor, the only Frog to make the All-Big 12 Conference first team, was among the best sluggers in the league and goes into the MCWS as a standout with one-swing power, tallying 23 homers and 69 RBIs thus far, with a .657 slugging percentage.
And with five players on the roster batting over .300, along with the most stolen bases (139, compared to being caught stealing just 21 times) of any team still playing, the Frogs can hop around the basepaths in numerous ways and cause havoc to opposing rotations.
Speaking of the rotation, TCU is just outside the top 50 nationally in ERA (4.73), but freshman Kole Klecker has immediately stepped into the ace role with big results, going 10-4 with a 3.84 ERA and .209 opposing batting average allowed.
But, if the Frogs keep pounding runs like they have for much of the postseason, scoring at least 12 six times dating back to the Big 12 Tournament, those on the bump will have plenty of insurance to work with in Omaha.
First game: vs. Oral Roberts, Friday at 2 p.m.
Oral Roberts Golden Eagles
Record: 51-12
Past CWS appearance: 1978
How they got here: Won Stillwater Regional 3-0, won Eugene Super Regional vs. Oregon 2-1
The lowdown: Those that are perhaps just getting around to following college baseball this year have a right to be shocked that ORU is left standing and playing in Omaha.
To the untrained eye, after all, the Golden Eagles are merely a team from the Summit League – playing the likes of Western Illinois, St. Thomas and Northern Colorado in conference play – and is just the third No. 4 regional seed in history to make it to the MCWS.
Pretty decent timing for a live shot @ORUBaseball😅🦅🚌 pic.twitter.com/uXaAVt8L8B

— Spenser Tilus (@Spenser_Tilus) June 13, 2023
Those who are in the know and have followed the sport all season, however, know exactly how dangerous the Golden Eagles have been in 2023.
Only top-seeded Wake Forest has more wins this year, and entering the MCWS, ORU has won an incredible 23 of its past 24 games. The only loss came by a run in the opening game of the Super Regional, before it stormed back to beat Oregon twice and qualify for the biggest stage in college baseball for the first time in 45 years.
Coach Ryan Folmer's squad defeated his alma mater, nationally seeded Oklahoma State, three times this year (including in the regional round), not to mention it also hasn't lost back-to-back games since March, showing a fantastic ability to not lose very often and rebound very quickly when it does.
Oral Roberts won every major individual award in the Summit League this year, with two of them won by junior Jonah Cox. An offseason junior college transfer, he exploded onto the scene to win the Summit League Player and Newcomer of the Year honors, after a monstrous year to date (.420 average, 11 home runs, 67 RBIs).
Meanwhile, Summit Pitcher of the Year Cade Denton, who is tied for the national lead in saves (15), is the lethal closer of a staff that has the seventh-lowest ERA (3.97) in America – and that's on top of ORU having the Summit's Defensive Player of the Year, too, in redshirt senior infielder Mac McCroskey.
FOR THE 1ST TIME IN 45 YEARS, ORAL ROBERTS IS HEADING TO OMAHA.

ORU knocks off Oregon 11-6, becoming just the 3rd team as a 4 seed to make it to Omaha.

Incredible. No words. @ORUBaseball pic.twitter.com/GuSfftFfS4

— TJ Eckert (@TJEckertKTUL) June 12, 2023
If a 2016 Coastal Carolina-esque national championship for ORU is in the cards, all the names above, and more, will need to have the best couple of weeks of play of their lives.
But, while Golden Eagle baseball already is amid a dream run, why not continue to dream big?
First game: vs. TCU, Friday at 2 p.m.
Florida Gators
Record: 50-15
Past CWS appearances: 1988, 1991, 1996, 1998, 2005, 2010, 2011, 2012, 2015, 2016, 2017, 2018
How they got here: Won Gainesville Regional 4-1, won Gainesville Super Regional vs. South Carolina 2-0
The lowdown: Chomp, chomp.
The 2017 national champs seemed to be on a bit of a decline since winning it all, being eliminated in the MCWS semis the next year, before being knocked out in the regional round in three straight tournaments.
But the Gators are emphatically back on the biggest stage and holding their most wins since the national title – and they have points to prove.
The No. 2 overall seed sputtered a bit in regional play, needing to beat Texas Tech twice to advance to the Supers, but the Gators left no doubt against Southeastern Conference rival South Carolina, as a Game 2 shutout against the Gamecocks (with starter Hurston Waldrep throwing an eight-inning gem (surrendering three hits and striking out 13) sealed the deal and got Florida back to Omaha.
🎞️ Super Showdown Pt 3: CWS Bound#GoGators pic.twitter.com/KIQTyiPhg9

— Florida Gators Baseball (@GatorsBB) June 13, 2023
The on-paper favorite to advance to the championship series out of Bracket 1, there's good reason behind that. The Gators put a league-best five players on the All-SEC first team – an astounding achievement considering how brutal the SEC is year after year, including a nation-high 10 teams making it to the NCAA Tournament in 2023.
No SEC player in 2023 has caught more eyeballs than Jac Caglianone.
The sophomore first baseman and pitcher is a two-way machine, well deserving of his nomination as one of three finalists for the Golden Spikes Award, college baseball's equivalent of the Heisman Trophy, as both the nation's current home run king (31 entering the MCWS) and arguably Florida's best-performing starting pitcher, going 7-3 on the season with a 3.78 ERA and 81 strikeouts in 69 innings.
Two workhorses in the rotation in Waldrep and Brandon Sproat round out the bunch and keep the heat toward opposing batters coming, while closer Brandon Neely (13 saves) is about as good as it gets in late-game scenarios to go along with it.
Also, it's not just Caglianone who can launch long bombs. ix Gators have double-digit homers in 2023, with junior outfielder, All-American and leading hitter Wyatt Langford (.373 average) being among them.
Stacked in all facets of the game, the SEC's regular-season champ (an achievement that often bodes well for success in Omaha) is looking to return to the top of the college baseball mountain, and it'd be no shock to see Florida succeeding at the MCWS once again.
First game: vs. Virginia, Friday at 7 p.m.
Virginia Cavaliers
Record: 50-13
Past CWS appearances: 2009, 2011, 2014, 2015, 2021
How they got here: Won Charlottesville Regional 3-0, won Charlottesville Super Regional vs. Duke 2-1
The lowdown: The Atlantic Coast Conference, with three top-8 national seeds in the NCAA tourney (including the No. 1 overall team), has been in the spotlight a lot this season, a situation that's been rare air for a league that's only ever won two national championships.
But though top-seeded Wake Forest, also in Omaha in the other bracket, has been getting much of that attention, remember that it was Virginia that broke the ACC's long baseball national-title drought in 2015, the conference's first since Wake did it in 1955.
The Cavs have been mainly solid ever since.
A four-year NCAA Tournament drought starting in 2017 ended with emphasis, when coach Brian O'Connor took UVA back to the MCWS in 2021. Two years later, the Hoos are back on the big stage after cleaning house in their home regional, then fending off ACC rival Duke in a three-game war in the Supers.
Firepower is required to beat Florida, but the good news for Virginia is that it's got plenty in its arsenal.
Junior Jake Gelof (23 home runs and UVA's all-time leader) ranks tied for fourth in the country with 89 RBIs, a school record that also made him the only player in Cavs history to record two 80-plus RBI seasons after doing so in 2022.
A @JakeGelof at bat. You'll never guess what happens next!

He gets his 89th RBI of the season!

📺 ESPN2 | #GoHoos | #RoadToOmaha pic.twitter.com/0z1FOEchaW

— Virginia Baseball (@UVABaseball) June 11, 2023
But, arguably the most complete hitter (and player) on the roster is catcher Kyle Teel, named a first-team All-American and the ACC Player of the Year (the first Virginia player to earn the award since 2006), following a monster .418 hitting campaign so far, which includes 13 homers, 69 RBIs and a joint ACC-best 25 doubles – a distinction shared with his teammate, Ethan Anderson.
Throw in the nation's fourth-lowest ERA (3.77), with all four pitchers who started at least 10 games holding ERAs under 4.00, and it's easy to see why UVA was a consistent winner, such as when it ripped off to a 14-0 start and won league series against ranked teams such as North Carolina, NC State and Miami.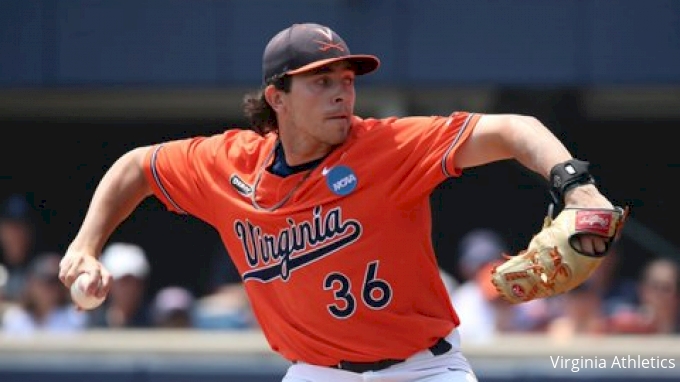 It never got a chance to properly test itself in either the regular season or conference tournament against the Demon Deacons, who didn't lose an ACC series.
If the stars align in Nebraska, however, the Cavaliers may get a chance to get their shot at Wake Forest with a national championship on the line.
First game: vs. Florida, Friday at 7 p.m.