Big Ten
2023 NCAA Baseball Regionals Recap: Tre Richardson Mashes For TCU
2023 NCAA Baseball Regionals Recap: Tre Richardson Mashes For TCU
Six of the 16 teams that advanced through NCAA Tournament Regional play on the road to the 2023 College World Series impressed with away wins.
Jun 7, 2023
by Kyle Kensing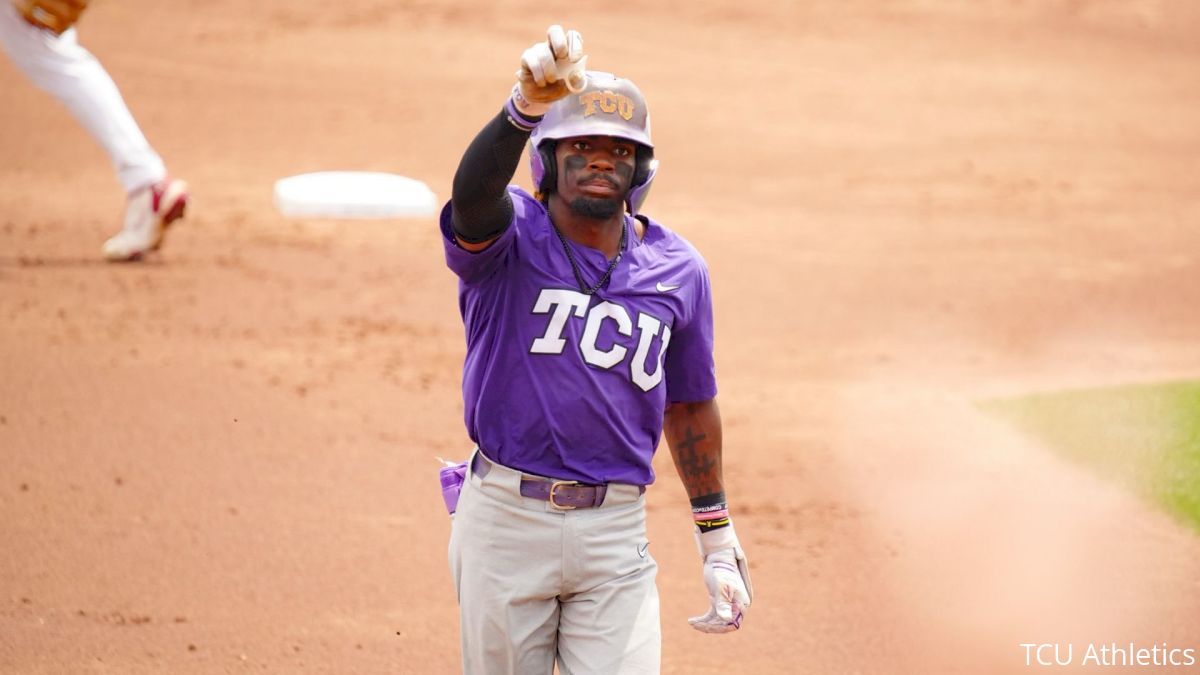 Following TCU's hit parade at the 2023 NCAA Tournament Fayetteville Regional may have felt like a case of deja vu.
While it may have been surprising for some to see the Horned Frogs posting a dizzying 44 runs in wins over Arizona and host Arkansas — the latter which TCU beat twice — the performance was reminiscent of TCU's start to the season.
The Horned Frogs scored an 18-6 defeat of Arkansas, the top finisher in the Southeastern Conference's West division this season, at Globe Life Field back on Feb. 18.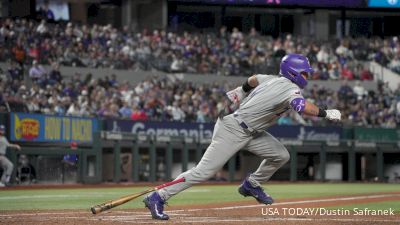 Fast forward to June, and TCU finished with a staggering 50 runs scored on the Razorbacks in three meetings, all Frogs wins. The sweep included a 20-5 deluge on June 4, in which Tre Richardson drove in an incredible 11 runs.
Four of those came on an early grand slam, the first of a historic two-grand slam, three-home run performance for the second baseman.

Richardson and TCU commanded the spotlight in a Regionals weekend filled with surprises, as six of the 16 teams to move onto the Super Regionals did so playing away from home.
Along with TCU, two other teams from the same side of the bracket helped shake up the road to Omaha.
Oral Roberts and Oregon will meet in the Super Regionals, after advancing from the Stillwater and Nashville Regionals, respectively.
Oral Roberts is perhaps the least likely of the Regional winners, drawing the host Oklahoma State in the first game of the Stillwater Regional as a "reward" for winning the Summit League's automatic bid.
But behind a 3-for-4, three-RBI outing from Mac McCroskey, the Golden Eagles downed the Cowboys to begin a perfect run through Stillwater.
Home runs from Jonah Cox and Drew Stahl highlighted ORU's 15-12 defeat of Washington, which was subsequently bounced after a rematch loss to Dallas Baptist. The Golden Eagles then handled DBU, 6-5, with the trio of Dalton Patten, Jacob Widener and Cade Denton keeping the Patriots in check down the stretch.
ORU next travels to Eugene to face the University of Oregon, winner of the Nashville Regional.
The Ducks won a pair of one-run decisions against Xavier and host Vanderbilt, the perennial powerhouse and winner of this season's SEC Tournament.
Oregon had to sweat its victory against the Commodores, giving up a pair of runs in the bottom of the ninth, but the Ducks' four-run fifth inning — ignited in large part on a bases-clearing Jacob Walsh double — made the difference.
Make it 8-4 Oregon after Jacob Walsh shoots a bases-clearing 3-run double into the LCF gap! Great job by Walsh to let this pitch travel and get his hands inside the baseball. pic.twitter.com/jItYymKF72

— Peter Flaherty III (@PeterGFlaherty) June 4, 2023
Another one-run decision was Vanderbilt's undoing, as Xavier rode outstanding pitching performances from Luke Hoskins and Justin Loer to the 2-1 win in an elimination game. Hoskins pitched seven innings with just the one run allowed and struck out four, while Loer mowed down three in the six outs he recorded.
The win added another highlight to an unforgettable season for the Musketeers, winners of the 2023 BIG EAST Championship.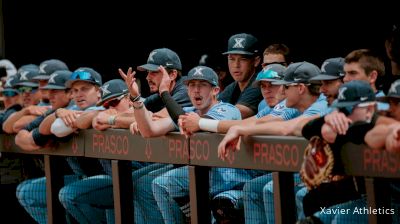 Unlock this video, live events, and more with a subscription!
Get Started
Already a subscriber? Log In

Xavier's magic ran out against Oregon, however, with the Ducks romping to an 11-2 win to close the Nashville Regional.
Another matchup of unseeded Regional winners is set for the Super Regionals with Southern Miss, which advanced from the Auburn Regional, set to host Tennessee. Tennessee successfully navigated the Clemson Regional with a pair of dominant wins over Charlotte, 8-1 and 9-2, book-ending a 6-5 defeat of host Clemson.
The Vols' win over Clemson was one for the ages, thanks to a proverbial rollercoaster of a ninth inning.
Zane Denton's three-run home run completed Tennessee's chipping away at a deficit and gave the Vols' a 5-4 advantage — which lasted all of three outs.
ARE. YOU. SERIOUS⁉️

Down to his last strike and last out, Zane Denton pulls @Vol_Baseball ahead!! 🤯#RoadToOmaha x 🎥 ESPN2pic.twitter.com/NZn3yj3TuM

— NCAA Baseball (@NCAABaseball) June 4, 2023
With two outs and the Tigers' season on the line, Cam Cannarella continued an exceptional performance with a run-scoring double that tied it at five and sent the teams to extra innings. Cannarella's three-run home run in the fifth inning gave Clemson the initial cushion it saw slip away in the Vols half of the ninth.
The teams needed almost 2/3 of another game to reach a decision, but Hunter Ensley came through at a perfect time for his only hit in seven at-bats with the game-winning double.
Perhaps most impressive in its marathon win was that Tennessee used only three pitchers: Chase Dollander, who went 4 1/3; Chase Burns, who struck out eight in 6 1/3; and Seth Halvorsen, who didn't give up a hit in his 3 1/3 innings.
Denton homered again in the Regional-deciding, 9-2 defeat of Charlotte.
Up next for Tennessee is a trip to Southern Miss, which navigated one of the most difficult roads to the Super Regional imaginable.
The Golden Eagles lost their opener to Samford, 4-2, and after host Auburn suffered a 6-3 loss to Ivy League champion Penn, needed to avoid elimination as a true road team.
Christopher Sargent's first-inning, three-run homer, however, set an immediate tone both for the contest, and Southern Miss' march the rest of the Regional.
With no margin for error, USM exacted revenge Sunday in a 9-4 defeat of Samford, then needed to beat Penn twice to advance. Justin Storm's lights-out pitching in the first game, striking out 10 Quakers in 5 2/3 innings of work, set up a winner-take-all finale.
Monday's showdown provided Dustin Dickerson one final opportunity to make an impact in what was already a standout weekend. The USM shortstop extended his ongoing hitting streak to 11 games and blasted his second homer in as many contests — and fourth of the Regional — in what proved to be the decisive sixth inning.
SOUND. THE. HORN.

Status updated to "Having fun at Plainsman Park"

B6| Southern Miss 8, Penn 5

📺: https://t.co/WE4T4Oc2MN
📻: https://t.co/sZGBQeSWbU
📊: https://t.co/DmtKxbHkqB#EverythingMatters | #SMTTT pic.twitter.com/SC4zKKCnP3

— Southern Miss Baseball (@SouthernMissBSB) June 5, 2023
Southern Miss is the lone team remaining on its side of the bracket not representing the SEC. In addition to Golden Eagles' Super Regional opponent Tennessee, LSU and Kentucky advanced thanks to winning Regionals each hosted.
Ryan Waldschmidt's two-RBI double in the sixth proved to be the difference for Kentucky on Monday, as it completed the back-to-back sweep of Indiana after dropping a prior matchup with the Hoosiers in the Regional.
In Baton Rouge, Most Outstanding Player Dylan Crews homered in both of LSU's wins over Oregon State.
Crews making that one SPICEY!!!#RoadToOmaha x 🎥 ESPN2 / @LSUbaseball pic.twitter.com/VdKIGPiGxD

— NCAA Baseball (@NCAABaseball) June 5, 2023
Another Super Regional pitting in-conference opponents head-to-head features Virginia, which gave up four total runs in its Charlottesville Regional wins over Army West Point and East Carolina, against Atlantic Coast Conference counterpart Duke.
Duke joins the group of Super Regional qualifiers to have made it through a road weekend, beating host Coastal Carolina to advance from the Conway Regional.
MJ Metz and Alex Stone each homered in the decisive, 12-3 Blue Devils' defeat of the Chanticleers. Both Metz and Stone have 18 homers on the season; Metz bopped three of them in Duke's NCAA Tournament-opening win over UNC Wilmington.
Metz also homered against Virginia on April 28 in a 17-5 Blue Devils win in Charlottesville. Stone homered in the same contest. The two will try to again lead Duke past an outstanding Cavaliers pitching staff, which shined with strong starts by Connelly Early, Brian Edgington and Nick Parker all delivering quality starts in the Regional.
Another same-conference showdown is on the same side of the bracket, as second overall seed Florida advanced through the Gainesville Regional to draw Columbia Regional winner South Carolina.
South Carolina faced little resistance in its Regional, winning three games over Central Connecticut State, North Carolina State and Campbell by a combined 30 runs.
In the field and at the plate!! @braylenwimmer08

📺 ESPN+#Gamecocks | #ForeverToThee pic.twitter.com/MYdWyBOS2W

— Gamecock Baseball (@GamecockBasebll) June 3, 2023
Braylen Wimmer did his part with home runs against both Campbell and NC State.
Florida, meanwhile, had to overcome a road bump after losing a 5-4 decision to Texas Tech. The Gators needed to survive an elimination game against a quality UConn bunch, then take two from the Red Raiders.
Wyatt Langford's solo homer and then a pair of steals in the fifth inning ignited the Gators' offense en route to a 6-0 finale.
One more SEC team advanced, as Alabama made it through the Tuscaloosa Regional unscathed despite stiff challenges from Nichols and Troy.
Jacob McNairy's 11 strikeouts and just three hits allowed over 7 2/3 innings in the decisive shutout of Boston College powered the Crimson Tide to the Super Regional, where Alabama meets No. 1 overall seed Wake Forest.
A well-deserved standing ovation 👏 @JacobMcNairy #RollTide pic.twitter.com/sKe3hdXTaY

— Alabama Baseball (@AlabamaBSB) June 5, 2023
The Demon Deacons absolutely mashed through three games in their Regional, plating 48 runs over the weekend. Danny Corona was responsible for a considerable portion, thanks in part to his three home runs through the three contests.
Wake Forest rolls into the Super Regionals 18-4 over its last 22, with the majority of those wins coming over five different NCAA Tournament teams.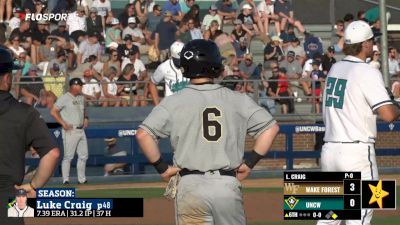 Unlock this video, live events, and more with a subscription!
Get Started
Already a subscriber? Log In