2023 Big East Baseball Championship
BIG EAST All-Tournament Team Announced After Xavier Takes Title
BIG EAST All-Tournament Team Announced After Xavier Takes Title
Shortstop Jack Housinger helped Xavier to a win at the 2023 BIG EAST Baseball Championship and earned the Jack Kaiser Most Outstanding Player Award.
May 30, 2023
by FloBaseball Staff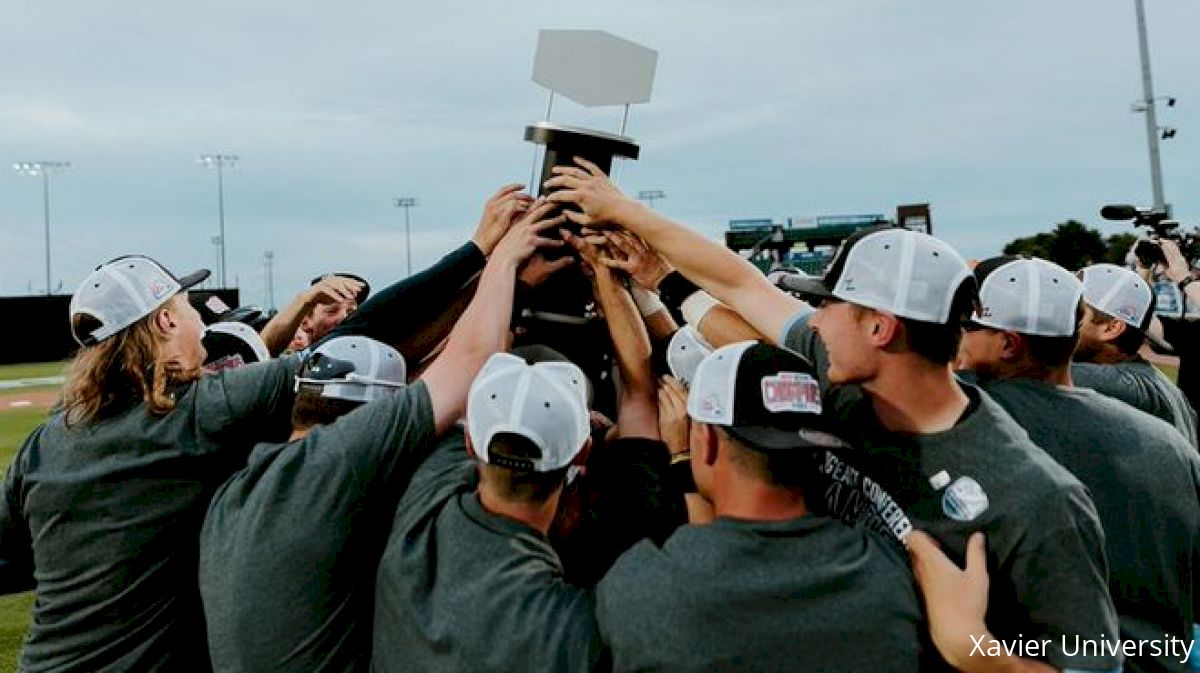 Behind the arm of graduate pitcher Brant Alazaus and the bat of graduate shortstop Jack Housinger, Xavier weathered the storm to win a nail-biter at Prasco Park on Saturday night and secure the program's fourth BIG EAST Baseball Championship title.
Alazaus pitched five innings with five strikeouts, just three days removed from 8 1/3 innings of work, to lead the Musketeers out of the first round.
Meanwhile, Housinger had one final heroic moment in his pocket, with a triple to seal the victory.
In the end, Xavier pushed past Connecticut, 7-3.
In the opening inning, Xavier struck first, with senior first baseman Matt McCormick flying out to center field and collecting an RBI. Junior catcher Matt DePrey reached home plate to give the Musketeers a 1-0 lead.
After three scoreless innings constructed by Alazaus, the Huskies tied the score at 1-1 in the bottom of the fourth, when graduate right fielder Jake Studley homered down the left field line.
Returning the blow in the top of the seventh, Xavier tied the game at 2-2, as DePrey singled to third base, with sophomore right fielder Carter Hendrickson scoring on the play.
Continuing to battle, UConn re-took the lead in the bottom of the seventh. Smith doubled down the left field line, this time sending sophomore catcher Matt Garbowski around the bases for a 3-2 advantage.
Exiting in the top of the eighth, Coe pitched 5 2/3 innings for the Huskies, collecting four strikeouts and allowing one earned run.
The lead would not last, as Xavier registered a five-run ninth inning to complete the comeback.
Leading the offense for Xavier all week, Housinger stepped up once again in the top of the ninth with an electrifying triple off the right field wall. The hit batted in junior third baseman Grant Stephenson and sophomore right fielder Carter Hendrickson, as Xavier took back the lead, 4-3.
On the very next at bat, DePrey flied out to left field, allowing Housinger to check up and score his 10th run of the tournament.
Later in the inning, Schultz reached on a fielder's choice, allowing Walker to cross the base and extend the lead to 6-3.
Moments later, Cushing singled up the middle, as Anderson made it a four-run game the Musketeers would not look back on.
Housinger finished the tournament batting 10-for-15 (.667), with 10 runs, five RBIs, five walks, three doubles, a triple and a home run to lock up Jack Kaiser Most Outstanding Player Award.
All-Tournament Team
Owen Carapellotti, Georgetown, So., C
Pat D'Amico, Seton Hall, So., INF
David Smith, UConn, R-So., OF
Garrett Coe, UConn, R-Jr., P
Paul Tammaro, UConn, Gr., INF
Ben Huber, UConn, Gr., INF
Carter Hendrickson, Xavier, So., OF
Jack Housinger, Xavier, Gr., INF
Tyler DeMartino, Xavier, Sr., DH
Andrew Walker, Xavier, Gr., OF
Brant Alazaus, Xavier, Gr., P

Jack Kaiser Most Outstanding Player
Jack Housinger, Xavier, Gr., INF
Xavier had lost to UConn in the title game two years in a row. Jack Housinger was on the losing end of both.

Today, he helped Xavier flip the script. pic.twitter.com/D2WUHyKQe6

— Paul Fritschner (@PaulFritschner) May 28, 2023
2023 BIG EAST Baseball Championship Schedule
Wednesday, May 24
Game 1: No. 1 seed Connecticut 5, No. 4 seed Georgetown 4
Game 2: No. 2 seed Xavier 6, No. 3 seed Seton Hall 5

Thursday, May 25
Game 3: No. 4 seed Georgetown 6, No. 3 seed Seton Hall 3
Game 4: No. 2 seed Xavier 10, No. 1 seed Connecticut 2

Friday, May 26
Game 5: No. 1 Connecticut 10, No. 4 seed Georgetown 1

Saturday, May 27
Game 6: No. 1 seed Connecticut 6, No. 2 Xavier 4
Game 7: No. 2 Xavier 7, No. 1 seed Connecticut 3