BIG EAST Baseball
2023 BIG EAST Baseball Championship: Xavier Wins, Headed To NCAA Tourney
2023 BIG EAST Baseball Championship: Xavier Wins, Headed To NCAA Tourney
It didn't matter what was thrown at it, Xavier's mission to win the BIG EAST Baseball Championship wasn't going to fail. And, the Musketeers didn't.
May 29, 2023
by Briar Napier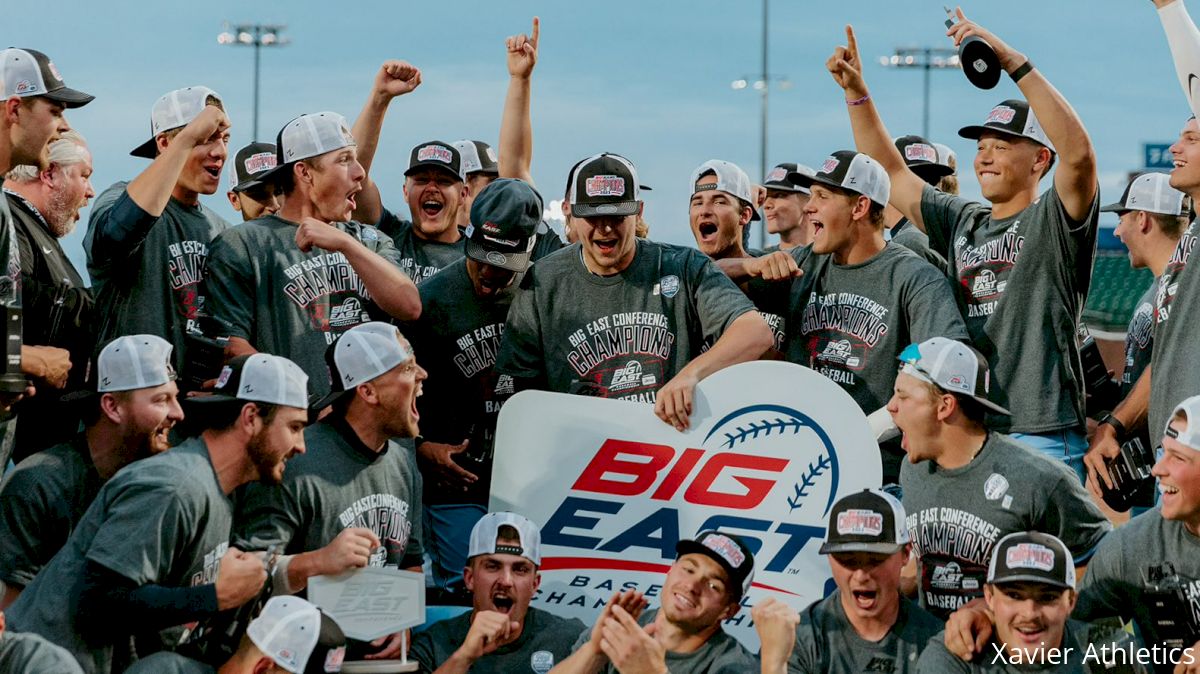 It didn't matter what was thrown at it, Xavier's mission to win the BIG EAST Baseball Championship wasn't going to fail.
Not by being on the regional bubble and facing the pressure of having its season possibly on the line. Not by being forced to respond Saturday after it was sent to an elimination game. Not by being down in the ninth inning in that subsequent elimination game. Nothing.
Instead of panicking when trouble arrived, the Musketeers sailed through the problems and prevailed.
A little joy for your Sunday evening! pic.twitter.com/sgh51RNMkM

— Xavier Baseball (@XavierBASE) May 28, 2023
Now, standing on top, they've secured a well-earned trip to a regional this week because of it.
Beating the regular-season BIG EAST champions and longtime kings of the conference twice to do so, Xavier thrillingly secured a conference tournament championship in front of home fans at Prasco Park in suburban Cincinnati, getting production from its stars when it needed it most.
And, if the Musketeers' play throughout the week is a sign of things to come, they'll surely be tough to get out when the national postseason gets going later this week.
It was another epic conclusion to a tense BIG EAST baseball season, and for the programs from the league that'll be left standing when the NCAA drops its regional pairings, they can take pride in knowing they made it through the gauntlet of their conference and earned the right to be there.
Here's a look back at how Xavier won the title and got back to the NCAA Tournament after a bit of a hiatus for the program – and what could be next for both the Musketeers and the team they eliminated to win the league's automatic bid.
Musketeers Keep Their Cool
Pressure? What pressure?
Xavier, which was hovering around the NCAA Tournament bubble – with D1Baseball regional projections earlier in the week indicating the Musketeers were on the wrong side of the at-large cutoff line – saved the selection committee the trouble by winning the BIG EAST's automatic bid and taking down regular-season champion UConn twice to do it.
The program's first conference tourney title (and subsequent NCAA Tournament appearance) since 2017, Xavier, which came up short, despite putting up record-setting run displays in last year's event, finally got the job done this time around and will return to a regional after refusing to let the Huskies' Saturday fightback hinder its charge for long.
The Musketeers have the week of play graduate shortstop Jack Housinger put up to heavily thank for that – he won the tournament's Most Outstanding Player award following a multi-game show at the plate that included a 10-for-15 tally at the plate, 10 runs, five RBIs and five extra-base hits (three doubles, one triple, one home run).
No performances throughout the week from him meant more to his team than his final one.
"It just seems right. It seemed like destiny."

Xavier baseball won their first Big East title since 2017.

We were there for their comeback win over top-seed UConn and wild celebration in Mason. @XavierBASE @fox19 @BillyOConner_XU @jackhou5e11 @mdeprey3 @jacush00 @BIGEAST pic.twitter.com/jvlCoLz6aM

— Jeremy Rauch (@FOX19Jeremy) May 28, 2023
Top-seeded UConn had to win twice on Saturday to win the conference tourney title, and after it beat the Musketeers 6-4 in the first game of the day to set up a winner-take-all final clash, the Huskies had Xavier on the ropes. UConn led 3-2 in the top of the ninth inning.
But with Housinger at the plate and runners at first and second, he delivered a massive no-out, two-RBI triple to turn Xavier's situation and focus from climbing out of a deficit to holding onto a lead – all with one critical swing.
It was the catalyst for what would become a five-run ninth inning from Xavier and, subsequently, both a 7-3 win and a sigh of relief in knowing the squad had done enough to earn its place in a regional next month.
Huskies Can't Pull Off A Double
Just a couple of weeks ago, it was thought that UConn, with a top-10 national ranking and plenty of momentum following an appearance in the Super Regionals, potentially would be in contention to host a regional following an impressive run of back-to-back 40-win seasons.
The Huskies, while still all but certain to qualify for the NCAA Tournament field for the fifth consecutive time thanks to a strong regular season, will instead have to jump into a regional on the road with an at-large bid, rather than being the BIG EAST's double champ following their regular-season title earlier in the year.
Xavier and UConn had battles throughout the season, with the Huskies narrowly winning the regular-season series in April by winning its two games against Xavier by a combined three runs, but the Musketeers got the better of the conference champs in postseason play.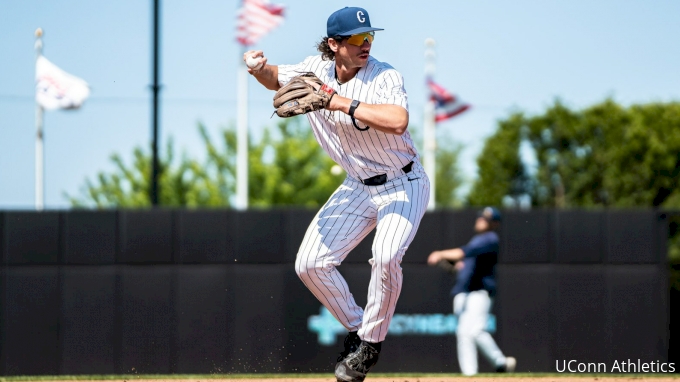 It forced UConn to play with its back against the wall from Thursday on, after the Musketeers first beat the Huskies in the winner's bracket semifinal by a 10-2 scoreline, and though coach Jim Penders' program fought valiantly to force a final decider by taking down Georgetown in a Friday elimination game and winning the Saturday opener over Xavier, it just barely wasn't enough.
The Huskies were denied a three-peat of winning the BIG EAST regular-season and tournament championships in the same season.
Of course, UConn is talented enough (with four selections to the All-Tournament team) to turn on the jets and make a run in the national postseason, even as far as the College World Series for the first time since 1979, if things go swimmingly.
It'll just have to make sure its conference tourney miscues act as the fuel for that drive through the bracket, rather than its downfall toward the season ending prematurely.
What's Next For The BIG EAST's Best?
Rejoice, BIG EAST baseball fans: You're likely to see not one, but two teams from the league taking on the very best in college baseball this week.
After the rest of the country's conference tournaments wrap up this weekend, the NCAA will announce the field of 64 teams headed for the regional round (noon Monday on ESPN2), officially setting the bracket and giving the BIG EAST's representatives an idea of who they're up against next.
Baseball America, which has updated tournament projections through Saturday's games, sees UConn and Xavier tied in with some familiar nonconference foes: the Huskies are looped into the Boston Regional as a No. 2 seed, where a pair of teams from Beantown – host Boston College and Northeastern – are predicted to be waiting for them, along with fourth-seeded Army.
If that were to occur, that would mean UConn would need to show out against two teams that beat it once already this season.
Northeastern, a 40-plus win team and dangerous mid-major, took down the Huskies 12-3 in Storrs on April 18, while UConn split its season series with the Eagles, first losing 6-3 on March 28 and getting redemption April 19 with a 12-1 victory in seven innings.
As for Xavier, its projected location has got more of a Midwestern flair as the No. 3 in the Lexington Regional, put into a bracket with host, and top seed, Kentucky, No. 2 Indiana and No. 4 Ball State.
Hear from @BillyOConner_XU after winning his first Big East title as the head coach of this program: pic.twitter.com/D711KL6AAy

— Paul Fritschner (@PaulFritschner) May 28, 2023
Sure enough, the Musketeers have played both of the top seeds once already this year, if that prediction were indeed to come to fruition.
Kentucky won their meeting 13-2 in eight innings right after the UConn series in mid-April, while the meeting against the Hoosiers came in May. The Big Ten team won 8-6 in Cincinnati.
Things can change dramatically before Monday's reveal, however, and more (or less) favorable draws could be coming for both of the conference's projected regional teams.
But no matter which teams UConn and Xavier are slated to face, what really matters is what they both do with the hands they're dealt when their seasons are on the line.