2023 CAA Baseball Championship
UNCW Holds Off Northeastern Rally To Claim 2023 CAA Championship
UNCW Holds Off Northeastern Rally To Claim 2023 CAA Championship
UNC Wilmington needed every bit of a five-run cushion to outlast Northeastern in a hard-fought final game at the 2023 CAA Championship.
May 29, 2023
by Kyle Kensing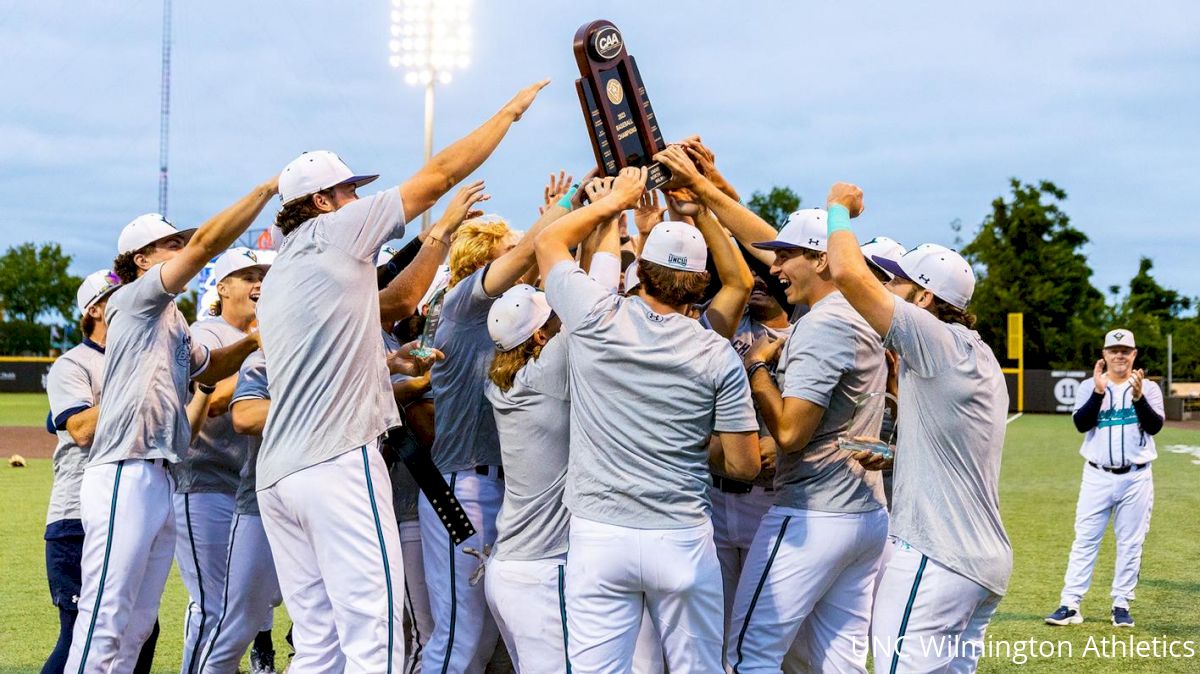 UNC Wilmington put the Sea in Champions with a 5-4 title-game win over Northeastern in Sunday's Colonial Athletic Association Championship.
For a #CAASports record 7th time, @UNCWBaseball are CAA Champions#CAAChamps | ⚾️ x 🏆 pic.twitter.com/rst03gdcSP

— Colonial Athletic Association (@CAASports) May 28, 2023
First-inning home runs from Tanner Thach and Dillon Lifrieri, and Jac Croom's two-run shot in the sixth, complemented Zane Taylor and Ethan Chenault pitching 7 2/3, one-run innings, as the Seahawks built a five-run advantage.
They needed all of it, too.
A Northeastern team that has been tough all season — and should near the front of the line for an at-large bid when the NCAA Tournament selections are announced Monday — battled back with a run in the eighth inning and three in the ninth.
Mike Sirota singled to lead off the eighth, part of his outstanding, 3-for-5 afternoon. Then with two outs, Alex Lane drew a walk, Cam Maldonado delivered a hit to load the bases and Harrison Feinberg took ball 4 with a full count to walk in Northeastern's first run.
Brett Banks got out of the eighth-inning jam with the bases loaded, avoiding further damage, when he threw a strikeout.
In the ninth, however, Northeastern got to Banks for three runs — all earned — in a late-game rally that was reminiscent to UNCW's comeback in Saturday's restart of the previous matchup between the Huskies and Seahawks.
⚾️ Roll those HIGHLIGHTS as @UNCWBaseball wins its 3rd #CAAChamps 🏆 in the past 5 tournaments pic.twitter.com/r6rClwR99L

— Colonial Athletic Association (@CAASports) May 28, 2023
Sirota crushed a home run to right field that drove in Gregory Bozzo and Spenser Smith, pulling Northeastern to within a run. After a pair of outs, NU got the tying run aboard, when Lane drew a walk and pinch-runner Justin Bosland stole second on a wild pitch.
Maldonado made contact and looked to keep Northeastern's title hopes alive, trying to beat out the throw to first. A bang-bang play, initially called an out, prompted the UNCW dugout to empty — but the celebration was delayed a few minutes due to a review.
In the end, however, the call was upheld and the Seahawks could revel in winning their seventh CAA championship. That ties East Carolina for the most in conference history.
Croom, Banks, Taylor and Jacob Shafer each garnered All-Tournament recognition for UNCW, with Lifrieri earning Most Valuable Player.
Lifrieri's 2-for-4 performance on Sunday was his second two-hit effort against Northeastern in the tournament. He also drove in the first run of the Championship for UNCW.
B5 | A sac fly by Dillon Lifrieri is the difference maker as @UNCWBaseball scores the first run of the game#CAAChamps | ⚾️ x 🏆 pic.twitter.com/dXbPWi6dvX

— Colonial Athletic Association (@CAASports) May 25, 2023
Croom went 3-for-4 in Sunday's championship game.
Danny Crossen, Jake Gigliotti, Maldonado and Smith landed on the All-Tournament team for Northeastern.
The Huskies advanced to the title game with a win earlier in the day Sunday, plating 14 runs in a 14-8 defeat of Elon.
Crossen went 4-for-6 with five RBIs against Elon, which adds another quality point to the Huskies' NCAA Tournament at-large resume.
⬆️ 4 | KEEP TWEETING ABOUT HIM, IT ONLY MAKES HIM STRONGER!

DANNY CROSSEN GIVES US THE LEAD!#HowlinHuskies pic.twitter.com/uNsUMvgfMe

— Northeastern Baseball (@GoNUbaseball) May 28, 2023
Both Northeastern and Elon await Monday's selection show with hopes of joining UNCW in the field of 64.