2023 CAA Baseball Championship
UNC Wilmington Awaits Elon-Northeastern Winner In CAA Championship
UNC Wilmington Awaits Elon-Northeastern Winner In CAA Championship
One spot in the 2023 CAA Championship final was settled Saturday when UNC Wilmington outlasted Northeastern in a raucous, extra-inning game.
May 27, 2023
by Kyle Kensing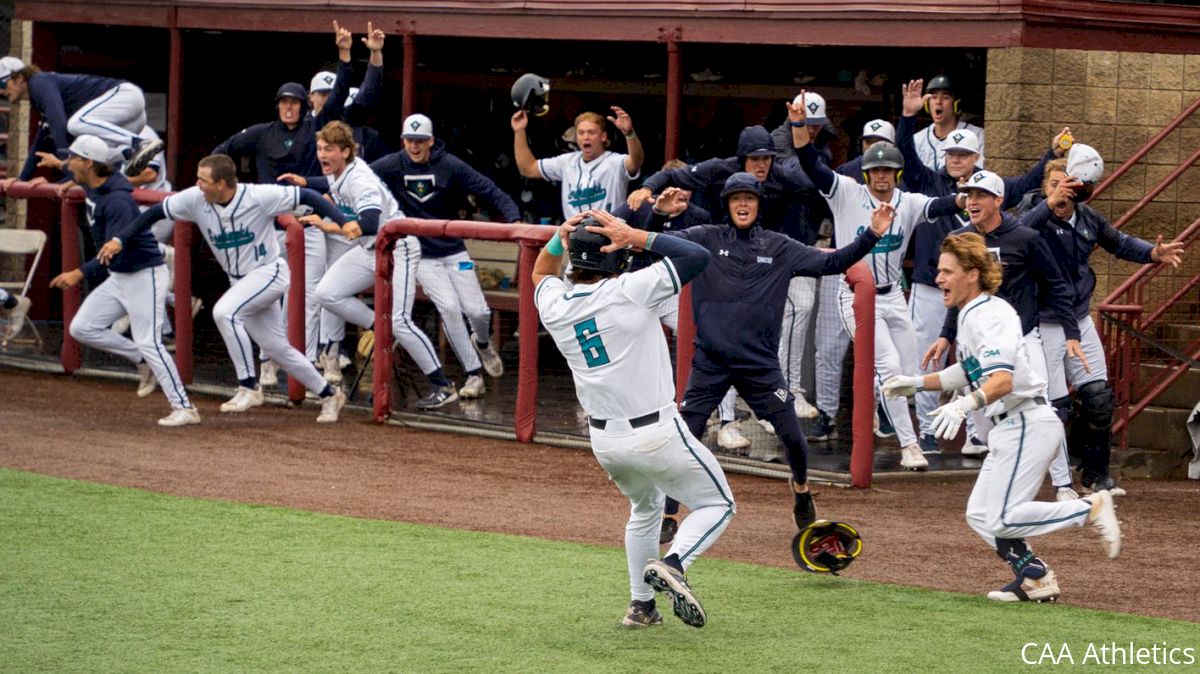 Wet and wild may be the best way to describe UNC Wilmington's Colonial Athletic Association Championship win over Northeastern on Saturday, which began on Friday.
The Seahawks rallied from a four-run deficit, mostly built before Friday's rain delay, then coughed up a lead in the ninth inning. UNCW bounced back again, scoring in the most improbable fashion during extra innings to advance to Sunday's title game.
Jac Croom demonstrated the importance of hustling out every play in the 10th inning when, with two outs, Kevin Pitarra hit a pop up that hovered between home plate and third base. It was a routine pop fly — or would have been, if not for strong winds.
As the ball lingered in the air, Croom sprinted from second and rounded third. The gusts made for a difficult ball for NU"s Danny Crossen to track, and Croom reached home.
Wow. what an ending @UNCWBaseball gets a 6-5 win in 10 innings #CAAChamps | ⚾️ x 🏆 pic.twitter.com/83xPljJneq

— Colonial Athletic Association (@CAASports) May 27, 2023
The walk-off put a fitting punctuation mark on a turbulent conclusion to Saturday's contest.
Northeastern built a 4-0 lead through the first half of the sixth inning, having scored three runs in the fourth, when Alex Lane drove in Tyler MacGregor on a double, and Harrison Feinberg drove in Lane with a single. Feinberg capped the scoring on a Seahawks error.
Then, in Huskies half of the sixth, Cam Maldonado sent Crossen home with a double to add to the NU lead.
The 4-0 advantage was fleeting.
UNCW went seven batters without an out, totaling five runs over a pivotal stretch for the CAA's regular-season champions.
Croom singled to drive in Dillon Lifrieri and load the bases. John Newton drew a walk to send Tanner Thach home, then Tyler Marsh hit a two-run single that evened the score. Pitarra's bunt single closed the scoring in a monster sixth, with the Seahawks taking a 5-4 lead.
And there they remained, thanks to a couple of scoreless innings from the UNCW bullpen. Ryan Calvert, who took the hill upon the restart, didn't give up an earned run in his three innings of work.
But in the ninth, Northeastern broke through for the run it needed to extend Saturday's contest. It came on a Feinberg home run.
The solo shot was part of a 2-for-4 performance at the plate for Feinberg.
TOP OF THE 9TH

SEE YOU LATER! Feinberg homer ties the game, 5-5#CAAChamps | ⚾️ x 🏆 pic.twitter.com/ITtbBB6llo

— Colonial Athletic Association (@CAASports) May 27, 2023
Northeastern's next five batters could not get on base, however, setting up the decisive, final half-inning. Croom's walk and steal of second led to his hustle play to score the win.
UNCW could see Northeastern again Sunday, but the Seahawks will have to wait for the conclusion of the Huskies' rematch with Elon to start the impromptu doubleheader.
Northeastern survived a pitcher's duel against the Phoenix on Thursday, 2-1, behind six scoreless innings from starter Wyatt Scotti. Scotti struck out five and allowed just three hits during his appearance.
Elon starter Shea Sprague pitched 6 2/3 innings, giving up one run - Mike Sirota singled in Gregory Bozzo.
Lane scored what proved to be the winning run on an error in the eighth inning.