2023 Florence Y'alls vs Washington Wild Things
Wild Things Stay Strong With Returning Pitchers, New Sluggers
Wild Things Stay Strong With Returning Pitchers, New Sluggers
The Wild Things, who have been with the league in some form for over a quarter-century, are hoping this is the year they break a longstanding hex.
May 23, 2023
by Briar Napier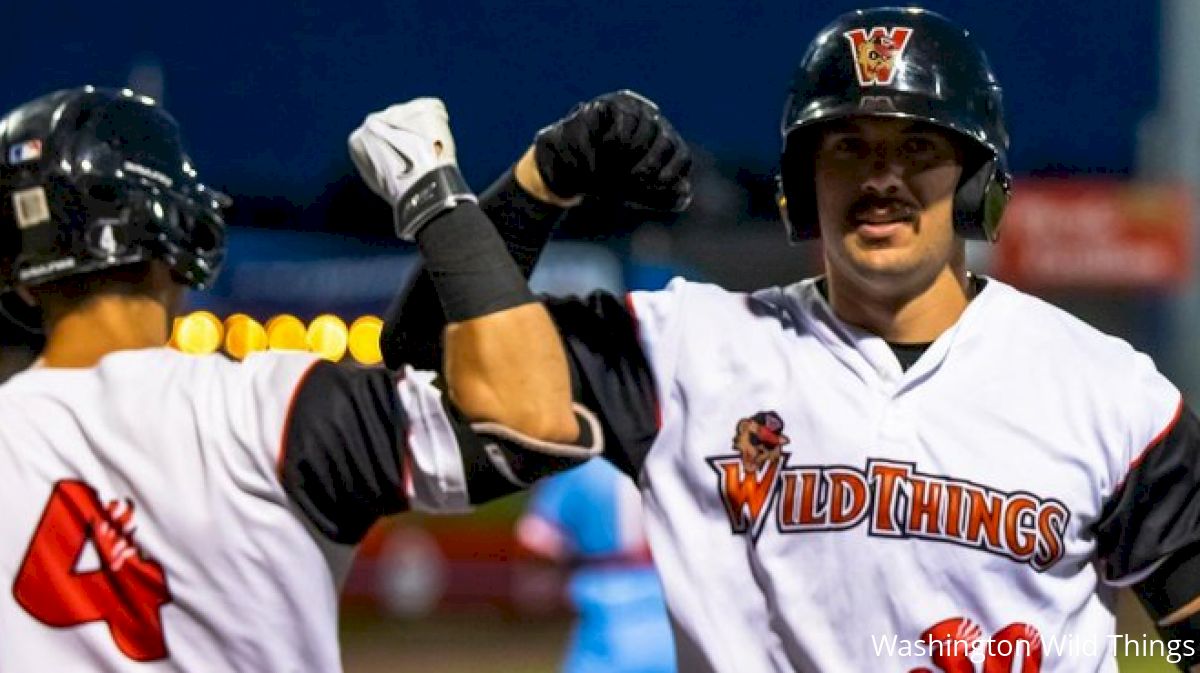 Is this year's Frontier League season about to get a little … Wild?
The Washington Wild Things, who have been with the league in some form for over a quarter-century, certainly are hoping so, as they've got a longstanding hex to break.
A reigning division champ that tied with the eventual league-winning Quebec Capitales for the most regular-season victories, Washington (based in southwestern Pennsylvania about a half-hour from Pittsburgh) came up short in the playoffs, despite a talented roster stacked with All-Stars and various other award winners.
Unfortunately for Wild Things fans, that's a familiar tune that has been played too often over the years.
But with a track record of producing a winning product, Washington has plenty of reason to believe its time to be a Frontier League champion again is coming sooner than later.
Lined up. Ready. Let's do it.

Watch: https://t.co/t78MqTPoHs#WeMakeForeverFans pic.twitter.com/mUQvZLfowT

— Washington Wild Things (@WashWildThings) May 12, 2023
With that in mind, the club brought back plenty of the heavy hitters and notable names who made the successes of the 2022 season happen – and brought in some reinforcements to help take the next step forward, too.
These Wild Things aren't untamed. They're laser-focused on holding up a trophy in a few months.
Here's a look at what the Washington Wild Things bring to the table for the 2023 Frontier League campaign. Many games will be streamed live throughout the season, exclusively on FloBaseball.
2022 record/finish: 62-34, won West Division regular-season title, lost in West Division Series to Schaumburg Boomers
Background
With the team having celebrated its 20th anniversary in Washington in 2022, the Wild Things capped it off with a second consecutive division title (and eighth overall since the Canton Crocodiles moved to Pennsylvania in 2002 and became the team's current iteration), but a long championship crown drought continued, as they exited the postseason a round short of the Championship Series.
Then-Canton won the Frontier title in its inaugural season of 1997, but since then, league titles have evaded the Crocodiles/Wild Things, despite a decorated history that includes multiple league hall of famers and future major-league players who have gone through the organization.
Still, there's plenty of reason for Wild Things fans to be optimistic – manager Tom Vaeth followed up a 56-win first season in 2021 with a 62-win campaign in 2022 to win the league's Manager of the Year honor (and he's locked under contract with the club until 2025), while the team was the only one in the Frontier League a season ago to have both a top-5 team batting average (.283) and low team ERA (4.18).
Hitting
Anthony Brocato was barely with the Wild Things at all last season, but the Frontier vet and reigning All-Star – who has been in the league since his first season with the now-defunct Southern Illinois Miners in 2019 – already is making waves amid his first full season in Washington.
Acquired from the Florence Y'alls at the Frontier's trade deadline last year, the St. John's alum wasn't 100 percent healthy for the Wild Things' playoff run last year, as he was dealing with a lingering hamstring injury, dinging the team's offensive prowess at an inopportune time.
But through Monday's games, the 26-year-old is healthy and batting a team-high .393, while new addition at catcher, Melvin Novoa, is among the league's early leaders in RBIs with 11.
WALK OFF WINNER! @Melvin_Novoa17 knocks home Gotta and the middle game is ours! #WeMakeForeverFans pic.twitter.com/3jyEPUPi0R

— Washington Wild Things (@WashWildThings) May 18, 2023
Returning All-Stars Wagner Lagrange (.346 average, 62 RBIs in 2022), Andrew Czech (.304, 59 RBIs) and Ian Walters (.284, 60 RBIs) are back in the lineup, too, giving the Wild Things one of the deepest top-to-bottom orders in the Frontier League this year.
What They're Saying:
"One through nine seems to be a really tough out, so that's the first thing. It was like that for (us) last year at Washington, but just one through nine and the reserves on the bench (are tough). We call things like, for pitchers, there's stressful innings. Every inning should be a stressful inning on the guy on the opposing team, because there are no easy outs one through nine." — Anthony Brocato to FloBaseball last week.
Pitching
The Wild Things' coaching staff struck gold in finding Kobe Foster to lead its rotation last year, coming from a decorated college career at tiny Tennessee Wesleyan to finish as the team's top starter and the Frontier League Rookie of the Year Award winner.
The 25-year-old left-hander is back in the mix for Washington's staff this year, only now firmly established as one of the Frontier's top arms.
We've inked LHP Kobe Foster to a contract extension. The 2022 @FLProBaseball Rookie of the Year and former @TwuBaseball standout is back for more in Washington!

📖: https://t.co/PiXFkhM6v6#WeMakeForeverFans pic.twitter.com/uUaFqArADK

— Washington Wild Things (@WashWildThings) January 5, 2023
Foster went 8-1 with a 1.00 ERA in 63 innings pitched a season ago and has seemed to pick up right where he left off thus far, starting on Washington's opening day and throwing four shutout innings, while striking out five in a win over the Evansville Otters.
Elsewhere on staff, new addition Spencer Johnston (5-3, 2.70 ERA in 53 1/3 innings with the Joliet Slammers in 2022) has had a pair of solid starts with his new team, registering 11 strikeouts in as many innings pitched to start the year.
Returning closer Lukas Young – who finished third in the Frontier League with 20 saves last season – seems as if he hasn't missed a beat with a win, a save and a flawless ERA of 0.00 across his four appearances in the current campaign's early goings.
What They're Saying:
"I proved last year with my numbers that it's not about how hard you throw, it's about how precise you are within the amount of time you have on the mound. I threw a lot of innings in college in the last year before I got (to Washington), so within all my starts, I was on an 80-pitch limit. … When I started picking up on the flow of the games and what teams were trying to do, really it wasn't about making great pitches. It was about making the right pitches at the right time and then letting the batters get themselves out." — Kobe Foster to FloBaseball last week.

Outlook
There's little reason not to expect to see Washington in the thick of the West Division title fight once again and the hunt for the Frontier League title.
The returners are strong, the additions are hitting at the right places and the clubhouse vibe, as players noted to FloBaseball, seems to be trending in a good direction.
Early on, the standings are corroborating those claims.
Washington is 6-3 on the year, as of this writing, in what could be a tight West Division, where six of the eight teams have started at .500 or better.
But keep something in perspective when looking at the standings in the first few weeks – last season, the Wild Things became the fastest Frontier team to reach 1,000 wins all-time, doing so in August after 1,874 games played.
Now, if they could just finally get over that league title drought.
What They're Saying:
"I would say the club is very, very tight. It's early in the season, but everyone has everyone's back, and that's a very good thing and a very good vibe to be around. If someone doesn't come through, you feel like someone else is. If someone doesn't have a good outing, you know the hitters are going to back it up or the next pitcher is going to have a shutdown inning. It's a really nice vibe to be around, and I really think it's a very, very special team." — Brocato.