2023 CAA Baseball Championship
W&M's Williamson Receives Top Honors On 2023 All-CAA Baseball Team
W&M's Williamson Receives Top Honors On 2023 All-CAA Baseball Team
Charleston senior right-hander Ty Good was chosen as the CAA Pitcher of the Year, while Cam Maldonado was honored as CAA Rookie of the Year.
May 23, 2023
by FloBaseball Staff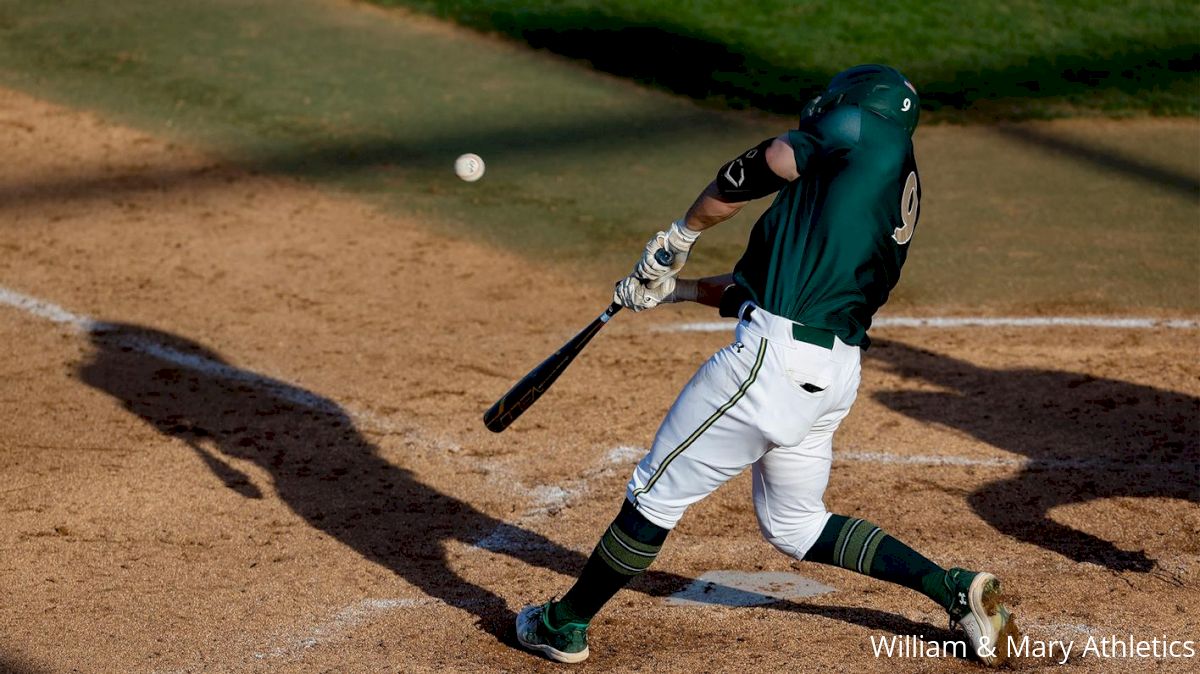 William & Mary senior third baseman Ben Williamson was selected as the 2023 CAA baseball Player of the Year, while Charleston senior right-hander Ty Good was chosen as the CAA Pitcher of the Year as the conference announced its post-season award winners on Tuesday.
Other top honors went to Northeastern freshman outfielder Cam Maldonado as CAA Rookie of the Year, Northeastern senior infielder Spenser Smith as CAA Defensive Player of the Year and Northeastern's Mike Glavine as CAA Coach of the Year.
Williamson became William & Mary's first CAA Player of the Year since 2014 after excelling offensively and defensively. The senior third baseman led the league and was 30th nationally with a .399 batting average that included 11 doubles, five triples and 12 home runs. His .520 on base percentage topped the conference and he ranked among the top 10 in the CAA in runs (57) and RBI's (49). Williamson, who was the CAA Defensive Player of the Year in 2022, committed just six errors in 168 chances at the hot corner.
Good is Charleston's second straight CAA Pitcher of the Year honoree, joining closer William Privette. The senior right-hander went 7-3 with a 4.01 ERA and topped the conference with 89 strikeouts. Opponents batted a league-low .204 against him. Good has tallied at least 85 strikeouts for the past three seasons and ranks second in career wins (25) and third in career strikeouts (270) at Charleston.
Maldonado is the third Northeastern player to be named Rookie of the Year since 2018. The freshman outfielder ranked eighth in the CAA with a .354 batting average and contributed 11 doubles, five triples and 12 home runs. He scored 42 runs and drove in 41, and ranked second in the conference with 30 stolen bases in 31 attempts.
Smith is Northeastern's first CAA Defensive Player of the Year selection since 2017. The senior shortstop had a sparkling .974 fielding percentage, committing only five errors in 196 chances while helping turn 28 double plays. His performance helped the Huskies lead the conference with a .978 fielding percentage.
Glavine received CAA Coach of the Year accolades for the fourth time after guiding Northeastern to a historic season. The Huskies set a program record with 41 victories, which was tied for the 7th-most in Division, and their .774 winning percentage is 4th-best nationally. Northeastern was ranked as high as No. 25 nationally this season and posted a 3-0 record against Top 25 opponents after beating Maryland, Boston College and UConn.
Northeastern placed a league-high four players on the All-CAA first team as Maldonado was joined by sophomore outfielder Mike Sirota, senior designated hitter Alex Lane and freshman pitcher Aiven Cabral. Regular-season champion UNCW had three selections with junior infielder Jac Croom, junior outfielder Trevor Marsh and sophomore pitcher Zane Taylor.
Five schools – Charleston (Good and junior pitcher William Privette), Delaware (senior infielder JJ Freeman and junior infielder Joey Loynd), Elon (junior outfielder Justin Cassella and sophomore pitcher Shea Sprague), Stony Brook (grad infielder Evan Giordano and junior utility player Evan Fox) and William & Mary (Williamson and sophomore pitcher Carter Lovasz) – had multiple players on the first team. Hofstra senior catcher Kevin Bruggeman rounded out the squad.
The 2023 CAA Baseball Championship gets underway on Wednesday from Charleston's Ballpark at Patriot's Point in Mt. Pleasant, S.C. Six teams will battle for the league title and an automatic berth in the NCAA Tournament in the double-elimination event.
FIRST TEAM
Player, School Pos. Cl. Hometown/High School
Kevin Bruggeman, Hofstra C Sr. Trumbull, Conn./Trumbull
Jac Croom, UNCW IF Jr. Wilmington, N.C./New Hanover
JJ Freeman, Delaware IF Sr. Downingtown, Pa./Downingtown West
Evan Giordano, Stony Brook IF Gr. Sewell, N.J./Gloucester Catholic
Joey Loynd, Delaware IF Jr. Doylestown, Pa./Central Bucks South
Ben Williamson, William & Mary IF Sr. Chantilly, Va./Freedom
Justin Cassella, Elon OF Jr. Bernardsville, N.J./Seton Hall Prep
Cam Maldonado, Northeastern OF Fr. Wolcott, Conn./Hamden Hall Country Day
Trevor Marsh, UNCW OF Jr. Asheboro, N.C./Asheboro
Mike Sirota, Northeastern OF So. Broad Channel, N.Y./The Gunnery
Evan Fox, Stony Brook UT Jr. Ballston Spa, N.Y./Ballston Spa
Alex Lane, Northeastern DH Sr. Andover, Mass./St. John's Prep
Aiven Cabral, Northeastern SP Fr. Lynn, Mass./St. Mary's Lynn
Ty Good, Charleston SP Sr. Rock Hill, S.C./South Pointe
Shea Sprague, Elon SP So. Hanover, Mass./Boston College HS
Zane Taylor, UNCW SP So. Franklinton, N.C./Pro V Academy
Carter Lovasz, William & Mary RP So. Midlothian, Va./Midlothian
William Privette, Charleston RP Jr. Chapin, S.C./Chapin
2023 CAA PLAYER OF THE YEAR: Ben Williamson, IF, William & Mary
2023 CAA PITCHER OF THE YEAR: Ty Good, RHP, Charleston
2023 CAA DEFENSIVE PLAYER OF THE YEAR: Spenser Smith, IF, Northeastern
2023 CAA ROOKIE OF THE YEAR: Cam Maldonado, OF, Northeastern
2023 CAA COACH OF THE YEAR: Mike Glavine, Northeastern
SECOND TEAM
Player, School Pos. Cl. Hometown/High School
John Cristino, Towson C Sr. Haddonfield, N.J./Haddonfield Memorial
Danny Crossen, Northeastern IF Sr. Cotuit, Mass./Cheshire Academy
Reyce Curnane, Towson IF Sr. West Chester, Pa./Dowingtown West
Cole Mathis, Charleston IF So. Cataula, Ga./Harris County
Tyler MacGregor, Northeastern IF Gr. Peabody, Mass./St. John's Prep
Luke Wood, Charleston IF Jr. Fletcher, N.C./T.C. Roberson
Trotter Harlan, Charleston OF Sr. Fountain Inn, S.C./Hillcrest
Dillon Lifrieri, UNCW OF Jr. Wilton, Conn./Wilton
James Moses, Towson OF Sr. Towson, Md./Loyola Blakefield
Dylan Palmer, Hofstra OF Fr. West Windsor, N.J./Notre Dame HS
Steve Harrington, Hofstra UT Jr. Clark, N.J./Arthur L. Johnson
Bryce Greenly, Delaware DH Jr. Milford, Del./Milford
Brad Camarda, Hofstra SP Gr. Dix Hills, N.Y./Half Hollow Hills West
Wyatt Scotti, Northeastern SP Jr. Barnstable, Mass./St. Mark's
Jacob Shafer, UNCW SP Jr. High Point, N.C./Southwest Guilford
Jake Gigliotti, Northeastern RP Jr. Paxton, Mass./The Winchendon School
Griffin Young, Northeastern RP Gr. Dover, N.H./Dover
HONORABLE MENTION: Luke Stephenson, C, Elon; Cole Reynolds, IF, Elon; Tanner Thach, IF, UNCW; Brett Paulsen, IF, Stony Brook; Matt Brown-Eiring, OF, Stony Brook; Alec DeMartino, OF, UNCW; Ryan Sprock, UT, Elon; John Newton, DH, UNCW; Nate Knowles, SP, William & Mary; Ethan Chenault, RP, UNCW; Rojo Prarie, RP, William & Mary; Joe Savino, RP, Elon
CAA ALL-ROOKIE TEAM
Player, School Pos. Cl. Hometown/High School
Casey Bishop, Towson IF Fr. Parkton, Md./Gilman School
Aiven Cabral, Northeastern SP Fr. Lynn, Mass./St. Mary's Lynn
Alec DeMartino, UNCW OF Fr. Raleigh, N.C./Millbrook
Cam Maldonado, Northeastern OF Fr. Wolcott, Conn./Hamden Hall Country Day
Justin Mitrovich, Elon SP Fr. Yardley, Pa./Pennsbury
Dylan Palmer, Hofstra OF Fr. West Windsor, N.J./Notre Dame HS
Ryan Sprock, Elon P/IF Fr. Morristown, N.J./Seton Hall Prep
Tanner Thach, UNCW IF Fr. Belvidere, N.C./Perquimans County
Brock Wills, UNCW IF Fr. Holly Springs, N.C./Holly Springs
Tank Yaghoubi, William & Mary OF Fr. Massapequa, N.Y./Woodberry Forest