2023 UCONN vs Georgetown
Ubaldo Lopez Among Players To Watch At BIG EAST Championship
Ubaldo Lopez Among Players To Watch At BIG EAST Championship
Five players to watch for in the 2023 BIG EAST Baseball Championship kicking off this week at Prasco Park in Mason, Ohio on FloBaseball.
May 23, 2023
by Briar Napier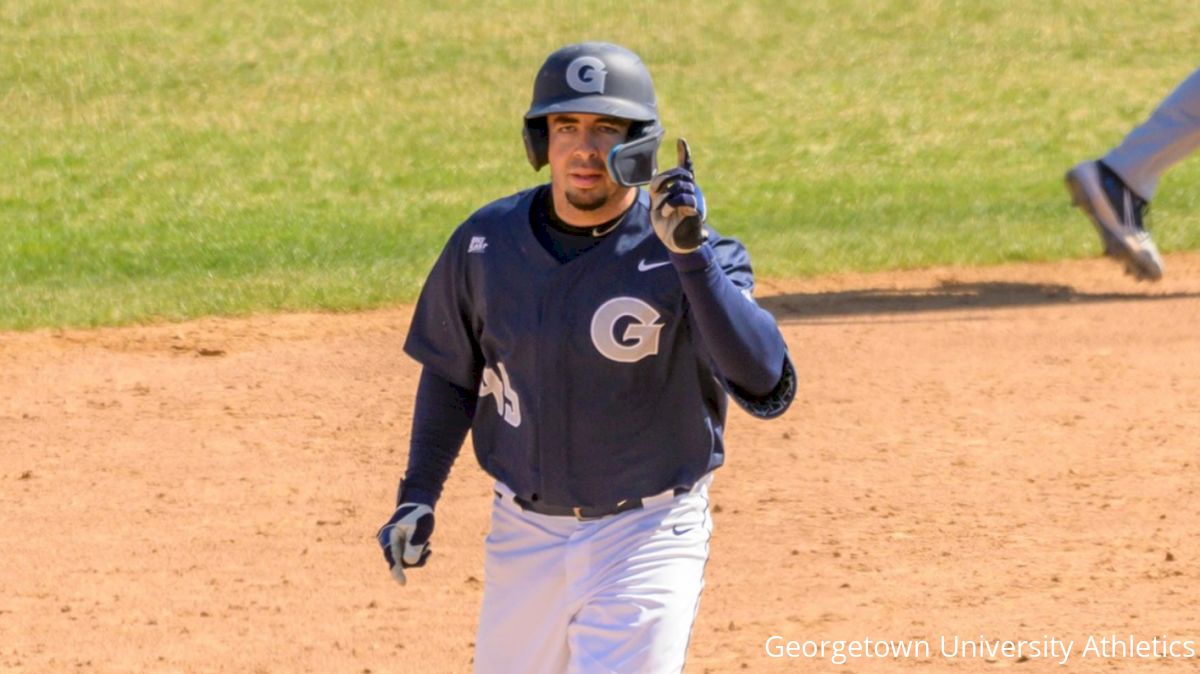 When you look through this list of players to check out when the BIG EAST Baseball Championship starts this week on FloBaseball, you'll notice a pattern.
Everyone's an upperclassman.
Of course, not every great BIG EAST baseball player this season is working on a graduate degree. But between extra years of eligibility, one-time pandemic waivers, and the like, the league's best teams beefed up on experience over the past few seasons, and it shows in the ages of the conference's main standout players.
And for the four teams left standing in the BIG EAST baseball season who'll be fighting for an automatic bid to the NCAA Baseball Tournament, they've all shown precisely why it's good to have some guys with a bit of mileage on them.
However, it's also a double-edged sword for those whose extra years are running out, they may very well play their final competitive baseball game this week. They may never know how it is to play in a regional. They may have no idea of what the feeling of holding up a conference tournament title is like.
It's those high-pressure scenarios that are going to define the 2023 BIG EAST Championship winner. Players that have seen a thing or two in their college baseball careers may be the ones that lead whichever team it is there.
Here's a look at five names to look out for as the BIG EAST Baseball Championship gets underway this week at Prasco Park in Mason, Ohio, with all games in the tournament being streamed live on FloBaseball:
Sometimes, some time away from the game can actually be turned into a good thing. Before arriving on The Hilltop for the 2022 season, Lopez spent three seasons at Dartmouth, where he had promise to be a solid player (seven home runs, 28 RBIs in 2019, his sophomore season) before COVID-19's arrival and the subsequent cancellation of the Big Green's 2020 season just seven games in forced the Floridian away from the game.
Lopez, however, was stuck away from it longer than most: Dartmouth, along with the rest of the Ivy League, did not play spring sports in 2021, staying behind while most other leagues across the country got going again.
Georgetown became Lopez's next destination as he finally got to play a full college baseball season again in spring 2022, and he immediately showed that the long time off hadn't hindered his game — it helped it thrive. He smacked 19 home runs for the Hoyas in 2022 and has so again this year entering the BIG EAST tourney, leading the conference in homers while slashing a career-best .339/.477/.704.
Georgetown baseball, now in the postseason in back-to-back years for the first time in school history, has never been on a better run, and if it is to shock the league and make it to its first-ever NCAA Regional with the BIG EAST's automatic bid, Lopez will very likely be the engine behind it.
Congrats to @l_ub25 on being named first team all-conference! Ubaldo is also tied for first in program history in career home runs with 38!#HoyaSaxa | #Team153 pic.twitter.com/R7PvYY42tV

— Georgetown Baseball (@GtownBaseball) May 23, 2023
The Huskies had some big names to replace offensively following its run to the Super Regionals in 2022, so they did what most programs do in the current era of college sports for a quick fix — they hit the portal.
They found Freeberger, a two-time All-Big South Conference selection at UNC Asheville who did it all for the Bulldogs; not only did he lead the team in his senior season with a .338 average and had 78 RBIs in all across his time there, but he also made 29 total appearances as a pitcher and was capable of getting in the circle in a pinch. UConn hasn't really needed that second part out of him — he's only pitched 5⅓ innings for the Huskies this year — but, oh, how they've ever needed his plate production.
The BIG EAST's regular-season RBI king (57), Freeberger (playing mainly at third base) has been vital to the Huskies winning a third straight regular-season conference title, a top-10 national ranking, and being in contention to host a regional, making his move to New England, and UConn's courting of him, that much more of a smart decision as the Huskies chase more hardware beyond just all the league accolades they've swallowed up over the past few years.
🍔 is BIG EAST Player of the Year ‼️ pic.twitter.com/XgfmvHqEFY

— UConn Baseball (@UConnBSB) May 23, 2023
Want another Huskies portal win? Meet Fogell, who — similar to Lopez's story mentioned above — was unable to play college baseball for some time while at Brown from 2019-22, also being subject to the Ivy League's decision to cancel the spring sports season in 2021.
Instead of leaving immediately, however, the Rhode Island native stayed in-state with the Bears for the program's return in 2022, though struggled to find his footing as a starter; Fogell went 0-4 with a 6.46 ERA across 39 innings pitched that year, though did have strong strikeout numbers with 46 Ks. UConn saw that potential and snapped him up this past offseason and stuck him in the bullpen as a reliever instead, which turned out to be a brilliant decision.
Fogell has been dynamite as UConn's top option in relief, going a perfect 6-0 with a 1.53 ERA and 48 strikeouts in just 35⅓ innings entering the conference tourney, being one of the top punch-out options on the most strikeout-happy staff in the BIG EAST. He's only gotten better as the season's gone along, too, dropping his ERA down from upwards of 5.00 in mid-March all the way to his current mark thanks to an ongoing 19⅔-inning streak without allowing an earned run — and had his defining performance of the season on May 11 against Butler, throwing a near-perfect 5⅓ frames in relief as he allowed just a single hit.
Fogell with a scoreless 8th for the Huskies!#HookC 5, Creighton 3 pic.twitter.com/m0bLxjwAWM

— UConn Baseball (@UConnBSB) May 20, 2023
Unlike the other names mentioned on this list to this point, Payero has been a Pirate through and through all the way across his college career, though hasn't always had the levels of success that he's enjoying now.
With a 1-6 record and 7.74 ERA for The Hall a season ago, for instance, Payero was one of the team's innings leaders but had his struggles, allowing six earned runs or more in a single appearance on three separate occasions. But amid his fifth season in the program, the New Jersey native has seemed to have found his stride and peaked just at the right time. Payero is entering the postseason coming off of his two best outings of the season back-to-back — against Creighton on May 12, he went 7⅓ innings with four hits and no earned runs allowed to go with seven strikeouts. A near-identical appearance then happened six days later against Villanova: seven innings, three hits and no earned runs allowed, six strikeouts.
All in all, Payero is 5-2 in 2023 with a career-low 3.23 ERA across 64 innings as both a starter (eight starts) and out of the bullpen (15 total appearances), proving himself to, at last, be a hurler that Seton Hall can rightfully call an ace.
E4 | 1-2-3 inning for Nick 👊

He's allowed just one hit through 4. We lead 2-0.#HALLin 🔵⚪️ pic.twitter.com/XnQshXB1NK

— Seton Hall University Baseball (@SHUBaseball) May 18, 2023
The Musketeers' Mr. Consistent, Walker, with a team-best .330 batting average, is over the .300 threshold for the third straight year and finished the regular season as the BIG EAST's joint-leader in hits with 76. But more importantly for Xavier, as they host the BIG EAST Championship yet again and look to snatch a conference tournament championship in front of what's sure to be a big contingent of home fans, Walker upped his game in the postseason.
As an All-Tournament selection in last year's event as the Musketeers' blasted their way to the championship series with a record-breaking amount of offense in the form of an eye-popping 50 RBIs in four games, Walker had eight of those and even had a five-hit game in Xavier's 27-8 semifinal win over Creighton that broke all sorts of tourney, league and program records.
The Musketeers' one-swing power in 2023 is still very good, albeit slightly diminished, with 87 homers as of this writing compared to the single-season program record of 100 that they smashed last year, meaning that old-fashioned clean contact may be of great importance if Xavier runs into a pitcher that doesn't budge. The good news for the Musketeers is that they know just the guy to help them out if that happens.
Three Musketeers pick up All-BIG EAST First Team honors! pic.twitter.com/0307mRVkUM

— Xavier Baseball (@XavierBASE) May 23, 2023