2023 UCONN vs Georgetown
BIG EAST Baseball Championship Preview: Is A UConn Three-Peat In The Cards?
BIG EAST Baseball Championship Preview: Is A UConn Three-Peat In The Cards?
There's four days of baseball are left in the BIG EAST season. Those four days could shape national postseason implications and change outlooks.
May 22, 2023
by Briar Napier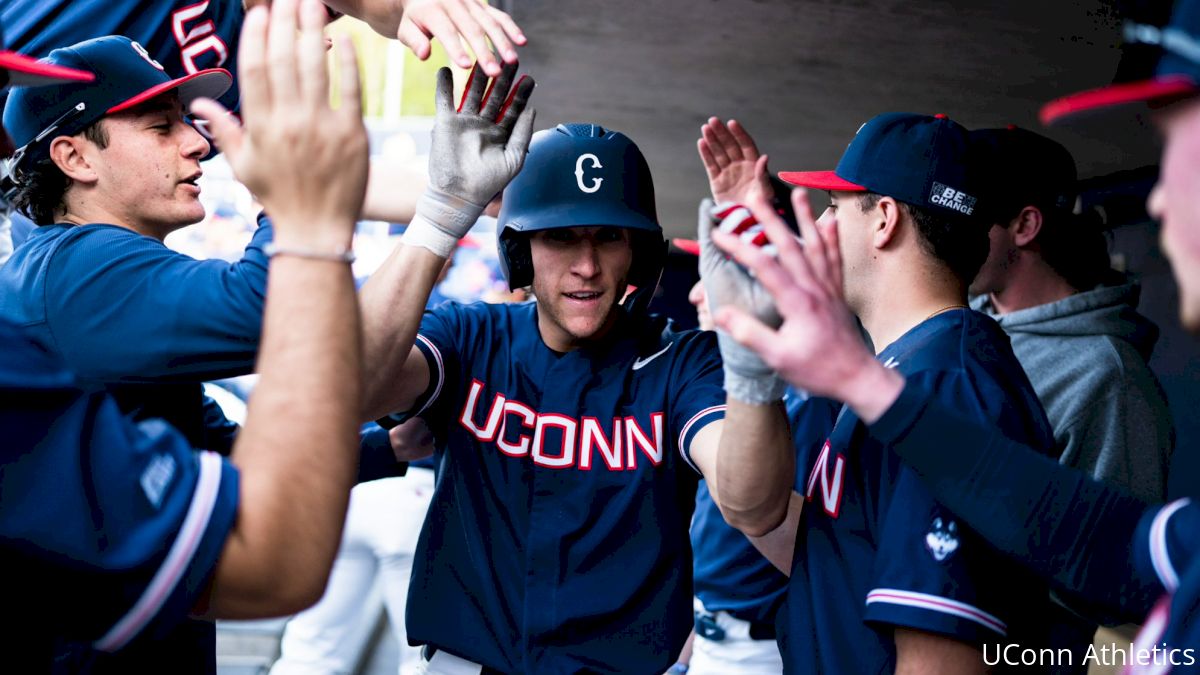 It's well known who the top dog in the BIG EAST baseball sphere has been for some time, but is it possible that things could change in this season's BIG EAST Baseball Championship?
Not if UConn, the newly crowned three-time reigning BIG EAST regular-season champion and two-time defending conference tourney winner, has anything to say about it, especially amid what could be a historic season that hasn't been seen in Storrs for decades.
The Huskies may be the top seed, but three others – Xavier, Seton Hall and Georgetown – will be standing in their way on the path to another piece of hardware, with the particular add-on this time that a third straight UConn title could be the resume-building achievement the program needs, not just make it back to a NCAA Regional, but to host one.
Four days of baseball are left in the BIG EAST season. Those four days could shape national postseason implications and change outlooks. So, for any program in the league left standing, slowing down now more than likely would get them left behind.
As for what it will take to be on top after this weekend, it'll require one last grind, with the biggest stage in college baseball on the horizon.
Below, is a preview of the four teams that'll participate in this week's 2023 BIG EAST Baseball Championship, being held Wednesday through Saturday at Prasco Park in Mason, Ohio, with all games in the event being streamed live on FloBaseball.
No. 4 Georgetown
The record: 29-25 overall (10-10 BIG EAST)
The lowdown: Georgetown baseball has only had four seasons of 28 wins or more in program history, which dates back to (in a school-sanctioned form) 1870.
Coach Edwin Thompson has only been in Washington D.C. since 2021 and already has two of them.
Hired from Eastern Kentucky in 2020 to lead what has been, for much of the team's history, a downtrodden program, Thompson's job in charge on The Hilltop has been nothing short of remarkable to date.
He led the BIG EAST Coaching Staff of the Year in 2022 and following it with a second straight appearance in the BIG EAST Championship this time around – Georgetown baseball's first back-to-back postseason appearances.
With at least one win in the regular season against all three teams seeded above them in the conference tourney, is winning the BIG EAST crown and advancing to their first NCAA Regional next for the Hoyas?
It's important for Georgetown not to get too ahead of itself here, but the answer to that question is not an outright no.
The biggest reason why is that the roster has power for days.
Only three players in the league enter the BIG EAST tournament with 15 or more home runs this year, and all three are Hoyas – regular season home run king Ubaldo Lopez (19 homers, 53 RBIs) plus Jake Hyde and Owen Carapellotti (15 blasts each) make up the terrific trio.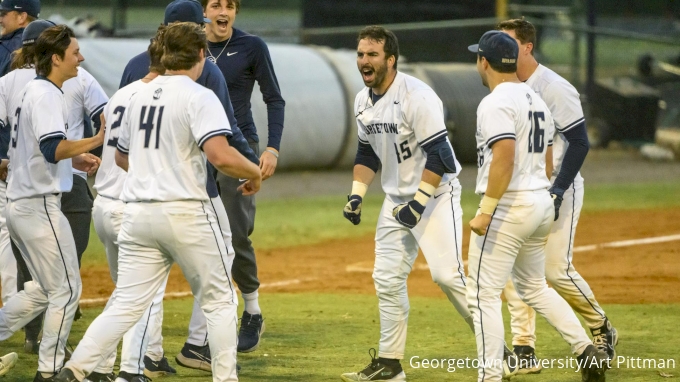 Lopez, in particular, has been a monster since arriving as a grad transfer in the offseason from Dartmouth, and with an ability to help the Hoyas pile on runs in a hurry (like when he had a five-game multi-RBI streak in late March), he's been a tough out all year for BIG EAST pitchers.
And, speaking of the mound, right-hander Jake Bloss has been a hoss there all year with the lowest ERA (2.43) and most strikeouts (102) of any BIG EAST hurler on the season, helping GU loop it all together to make for what's quite possibly the most talented team in school history.
Can it close the show with some new hardware, too?
First game: vs. No. 1 UConn, Wednesday at 2:30 p.m. Eastern
No. 3 Seton Hall
The record: 31-22 (13-8)
The lowdown: With its most victories in a season in seven years, The Hall – which enters the BIG EAST Championship on a league-best six-game winning streak – has a right to feel good about itself right now as the third seed.
In fact, since April 23 – with the notable exception of being swept by top-seeded UConn – the Pirates have only lost one time, with their late burst to close the regular season a big reason why they're still playing in late May.
Another big reason is the pitching rotation.
No pitching staff in the league finished with a lower ERA in the regular season than Seton Hall's 4.45, with the bullpen (joint BIG EAST-best 15 saves), featuring key assets, such as the right-handed freshman duo Michael Gillen (0.34 ERA in 18 outings, 26 1/3 innings) and Ryan Reich (2.00 ERA, 37 strikeouts in 27 innings), proving more than capable of being able to help shoulder some of the load carried by ace Nick Payero (5-2, 3.23 ERA, 59 strikeouts in 64 innings).
Another stellar outing for Sticks 👏

He's thrown 14.1 scoreless innings over the last two games with 13 Ks#HALLin 🔵⚪️ pic.twitter.com/PFoBuJTyrd

— Seton Hall University Baseball (@SHUBaseball) May 18, 2023
Being able to break open games dramatically has been a bit of an issue for the Pirates all year, with some of the lower team home run (37) and doubles (86) totals in the conference, but an aggressive baserunning strategy – 94 stolen bases on the year, including three players with over 20 swipes – ensures that The Hall makes the most of its opportunities on base.
Leading hitters Max Viera (.329 average) and Devin Hack (.326) have a combined 48 stolen bags between them, adding to opposing pitchers' worries if they get on base and making the Pirates' offense have a tendency to be a bit more methodical, compared to the one-swing power of Georgetown, for instance.
It's still a dangerous setup – something the Pirates' opening-round opponent in the conference tourney, Xavier, knows all too well, after Seton Hall won their series in Cincinnati in late April.
First game: vs. No. 2 Xavier, Wednesday at 6:30 p.m. Eastern
No. 2 Xavier
The record: 34-22 (14-7)
The lowdown: Following a record-breaking run to last season's BIG EAST Championship title series, which included a 27-run game and 16 RBIs in four games from eventual Los Angeles Angels draft choice Luke Franzoni, the Musketeers are back for more as the second seed and looking to finish the job this time around.
Having last won the conference tourney in 2017, Xavier has never taken the title at the event since it moved to Prasco Park in suburban Cincinnati for the 2018 tourney – but it does have the benefit of keeping a lot of the slugging that had it posting eye-popping numbers at this event a year ago.
Featuring the most homers hit of any team in the conference (87) and five players on the roster who smacked double-digit dingers, the Musketeers have a balanced lineup, where several players can tag pitching staffs for multiple runs at a moment's notice against any opponent. Just ask UConn, which did win its regular-season series against Xavier, but not before it put 18 runs on the Huskies in the first game of a Saturday doubleheader April 15.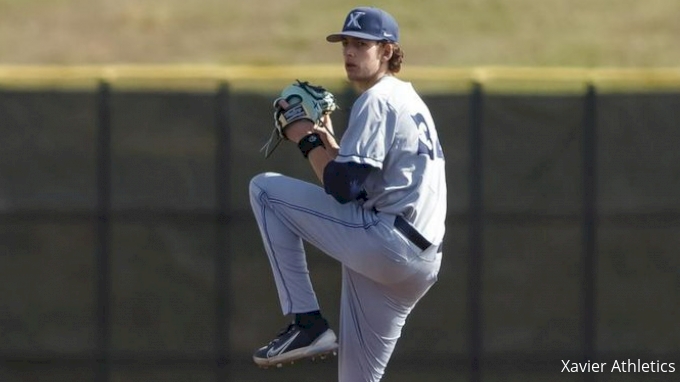 Throw a strong rotation (4.64 team ERA) into the mix that has all three of its weekend starters holding records well above .500, and a BIG EAST Championship title (and subsequent return to the NCAA Tournament for the first time in six years) most certainly is not out of the question for coach Billy O'Conner and his team.
After all, the 34 wins the program has at the moment is the most in a season in O'Conner's tenure to date.
As they play postseason games in front of home fans, while having an exciting style with plenty of momentum, what use is there in the Musketeers stopping now and being merely satisfied with what they have?
First game: vs. No. 3 Seton Hall, Wednesday at 6:30 p.m. Eastern
No. 1 UConn
The record: 40-13 (15-5)
The lowdown: Sure, UConn baseball has had plenty of great seasons before.
The Huskies are five-time College World Series qualifiers, after all, albeit their last appearance came in 1979.
Yet, in 2023, the vibes around Storrs just feel a bit … different.
The program has reached a ranking as high as No. 9 in the national polls – UConn's highest mark since that last trip to the CWS, by the way, and the Huskies won their third consecutive BIG EAST regular-season title rather comfortably after notching back-to-back 40-win seasons, the first time that's been accomplished in school history.
Now in contention to possibly host a NCAA Regional after being a game away from making it to Omaha as an unseeded team a season ago, UConn has big postseason dreams for good reason – but they must start, first and foremost, with statement performances against the rest of the BIG EAST.
As holders of the only BIG EAST lineup to finish with a team batting average over .300 (.304), the pitching staff with the most total strikeouts in the league (493) and the conference's most aggressive group on the basepaths (114 stolen bases), the Huskies are dangerous in just about every part of the game.
They have deserved any accolades achieved so far this season and have the firepower across the board to earn more.
Dom with his 27th multi-hit game to push the 10! pic.twitter.com/FLt43QEIl9

— UConn Baseball (@UConnBSB) May 20, 2023
Sluggers Dominic Freeberger, Ben Huber and Jake Studley all have over 50 RBIs on the year (the rest of the BIG EAST combined has one player with that many), helping the Huskies leave numerous opponents in the dust and too far behind to get enough runs against an above-average rotation.
Their opening opponent in the Hoyas may have the achievement of just getting to the NCAA Tournament for the first time behind them, but the Huskies are aiming for that and more, especially with what could be their most talented team in decades.
First game: vs. No.4 Georgetown, Wednesday at 2:30 p.m. Eastern