CAA Baseball
CAA Baseball Report | May 8, 2023
CAA Baseball Report | May 8, 2023
Catch up on the CAA Baseball weekly news, notes and awards.
May 9, 2023
by FloBaseball Staff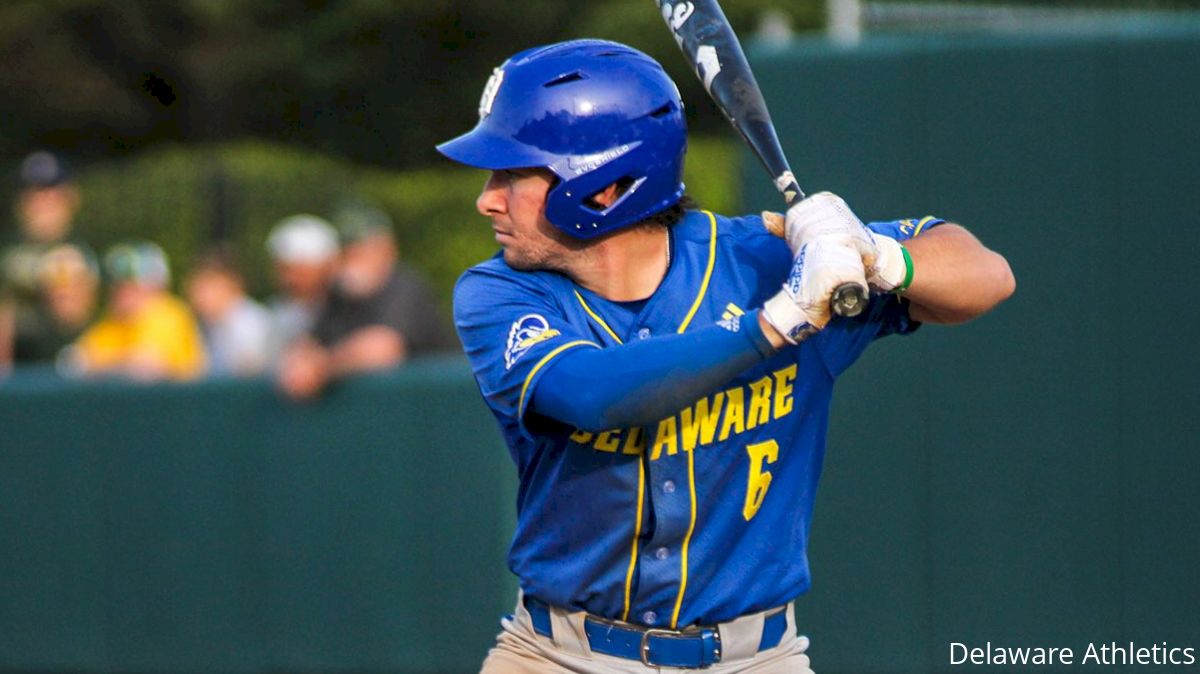 Catch up on the CAA Baseball weekly news, notes and awards.
CAA Baseball Player of the Week
JJ Freeman, Delaware – Sr., SS – Downingtown, Pennsylvania/Downingtown West
Freeman batted .438 (7-for-16) with three homers and 10 RBIs in Delaware's 3-1 week that included a CAA sweep of Stony Brook.
The shortstop was 2-for-4 with a homer and four RBIs against No. 23 Maryland and smacked a grand slam in the sixth inning that put UD ahead for good in a 12-11 win over SBU on Friday.
He recorded his fifth straight multi-hit game Saturday, going 2-for-5 with a two-run shot in an 8-3 victory.
Freeman is on a 10-game hitting streak.
CAA Baseball Pitcher of the Week
Brad Camarda, Hofstra – Gr., RHP – Dix Hills, N.Y./Half Hollow Hills West
Camarda threw the third Hofstra no-hitter in program history last Friday, as the Pride defeated Monmouth, 7-1.
The right-hander struck out eight and walked two in the 97-pitch outing, giving up only an unearned run in the fourth.
It was the third complete game of the season for Camarda, who improved to 5-2.
He also was honored as a National Player of the Week by Collegiate Baseball newspaper.
CAA Baseball Rookie of the Week
Tanner Thach, UNCW – Fr., 1B – Belvidere, N.C./Perquimans County
Thach batted .500 (6-for-12) with three homers and six RBIs, as UNCW won 2-of-3 over No. 25 Northeastern last weekend.
The freshman was 3-for-4 with a two-run homer Friday, before going 2-for-4 with a pair of long balls and four RBIs on Saturday, including a three-run shot that put the Seahawks up 5-1 in the fifth.
Thach has set UNCW freshman records for homers (14) and RBIs (57).
"... you can tell sometimes that he gets a little perturbed with how he plays, but he finds a way to stay very calm and be ready to go the next day and compete and get after it."

𝐈𝐂𝐘𝐌𝐈: @aaronfitt on @UNCWBaseball and freshman phenom Tanner Thach ⤵️ https://t.co/k2IQ0eOBOf

— D1Baseball (@d1baseball) May 8, 2023
CONFERENCE NOTES
UNCW REGAINS TOP SPOT IN CAA STANDINGS: UNCW regained the top spot in the CAA standings after taking 2-of-3 from No. 25 Northeastern over the weekend.
The Huskies extended their winning streak to nine games with an 8-2 victory Friday, before the Seahawks responded with a 7-2 win Saturday and a 4-2 triumph Sunday to continue their streak of not losing a weekend series all season.
UNCW and Northeastern became the first teams to clinch spots in the six-team CAA Baseball Championship, which will be held May 24-28 at the Ballpark at Patriots Point in Mount Pleasant, South Carolina.
SIX CAA TEAMS IN TOP 100 OF RPI: Six CAA teams are ranked among the top 100 of the latest NCAA RPI through games of May 7.
Northeastern leads the way at No. 35 and is followed by Elon at No. 53, UNCW at No. 61, Charleston at No. 74, William & Mary at No. 86 and Delaware at No. 98.
The CAA is one of only eight conferences (ACC, Big 12, Big Ten, Big West, Pac 12, SEC, Sun Belt) with at least six top 100 squads.
The CAA has moved up to No. 7 among the 30 Division I conferences.
CAA SUCCESS AGAINST RANKED NON-CONFERENCE FOES: CAA teams have had a great deal of success against nationally ranked nonconference opponents.
Over the past eight weeks, CAA squads have recorded 11 wins over ranked opponents with UNCW (four), Elon (three), Northeastern (two), Hofstra and William & Mary picking them up.
On Tuesday, UNCW visits No. 13 Campbell, and Northeastern travels to No. 19 Maryland, while Hofstra heads to No. 9 UConn on Wednesday.
TOUGH ON THE MOUND: Four CAA squads rank in the top 34 nationally in ERA.
Northeastern is No. 3 (3.56), William & Mary is No. 6 (3.82), Elon is No. 28 (4.24) and Charleston is No. 34 (4.37).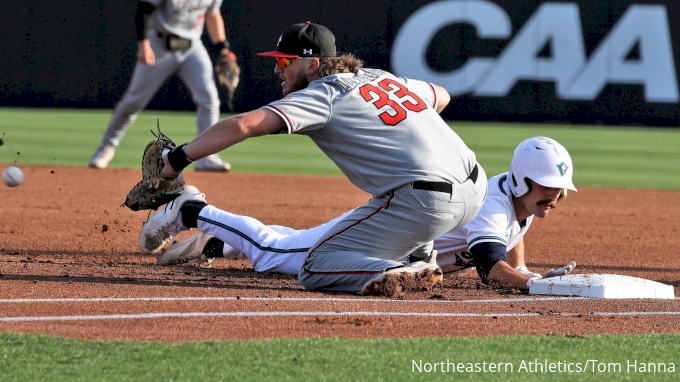 TEAM NOTES
CHARLESTON (29-17, 15-9 CAA): The Cougars scored 32 runs in winning the first two games of their CAA series at North Carolina A&T, before losing the finale, 3-1.
Tyler Sorrentino, Trotter Harlan and Luke Wood each had two hits and drove in three in Friday's 16-5 victory.
Ty Good (6-2) tied his career-high with 11 strikeouts and moved into third place on CofC's career strikeout list with 264.
On Saturday, the Cougars built an 8-0 lead, fell behind 15-8 and then rallied for eight runs in the final two frames to win 16-15.
Harlan homered twice and drove in six. Khyree Miller went 6-for-11 with five RBIs in the two wins.
Connor Campbell threw a complete game Sunday, giving up two earned runs over eight innings.
DELAWARE (24-24, 13-11 CAA): The Blue Hens had a 3-1 week, falling to No. 23 Maryland, but recording a CAA sweep of Stony Brook.
JJ Freeman batted .438 with three homers and 10 RBIs. He drove in four runs in back-to-back games and is on a 10-game hitting streak.
Joey Loynd also is on a 10-game hitting streak. He batted .421 with seven runs scored and eight RBIs last week.
Bryce Greenly provided six hits from the leadoff spot against SBU.
Joey Silan (2-1) held SBU to two earned runs over seven innings and tied his career high with nine strikeouts in Saturday's 8-3 win.
Andrew Amato's three-run shot in the seventh inning Saturday broke a 3-3 tie.
Freshman Anthony Gubitosi struck out three in 1.1 innings Sunday.
ELON (28-18, 15-8 CAA): The Phoenix dropped a 5-2 decision at No. 13 Campbell, before splitting a pair of weekend games at Navy.
Elon rallied for two in the ninth inning to beat Navy, 3-1, on Saturday, as Tanner Holliman and James Broderick delivered RBI singles.
Shea Sprague fanned six over four shutout innings, and Joe Savino (4-1) picked up the win after two scoreless frames with four Ks. Sprague lowered his ERA to 2.83 and has recorded 69 strikeouts with only 14 walks this season.
Connor Coolahan was 2-for-4 with a double, homer and three RBIs in Sunday's 8-5 setback.
Parker Haskin was 3-for-4 and drove in a run at Campbell.
HOFSTRA (23-23, 13-13 CAA): The Pride closed within striking distance of a CAA Tournament berth after a three-game sweep at Monmouth.
Brad Camarda (5-2) threw the third no-hitter in Hofstra history and first since 2018, striking out eight in a 7-1 victory Friday.
Mark Faello (5-6) and Steven Kaenzig combined on a two-hitter, as the Pride won 9-1 on Saturday.
Hofstra's pitchers posted a 0.67 ERA in the series and held MU to a .100 batting average.
The Pride offense batted .368 and scored 36 runs, including a season-high 21 hits in Sunday's 19-2 win.
Steve Harrington went 6-for-7 with three doubles and five RBIs on Sunday and batted .600 for the series. He has reached base in 38 straight games.
MONMOUTH (15-25, 5-17 CAA): The Hawks beat Fairleigh Dickinson, 9-2, in their return from a 10-day layoff, but were swept in their weekend series with Hofstra.
Eric Sabato was 2-for-4 with a pair of doubles and two RBIs against FDU, and Harry Padden also had two hits.
Monmouth's pitchers held FDU to three hits and no runs over the first eight frames.
Tommy Kane didn't allow a hit over three shutout innings and struck out five.
Alex Barker provided three shutout innings and fanned five against Hofstra on Friday.
Austin Denlinger was a team-best 3-for-4 in Sunday's loss to the Pride.
NORTH CAROLINA A&T (18-26, 10-15 CAA): The Aggies suffered tough one-run losses to NC State (6-5) and Charleston (16-15), before ending a seven-game slide with a 3-1 win over the Cougars on Sunday.
Cort Maynard drove in all three runs in the victory with a two-run homer and a sac fly.
Jaheim Brown (2-5) held CofC to a run on four hits over the first 5.2 frames, and Trent Simmons retired the game's final 10 batters to earn the save.
A&T scored 15 runs over four innings to overcome an 8-0 deficit to CofC on Saturday, only to fall 16-15.
Maynard, Canyon Brown, Cameran Brantley and TJ Ash each had three RBIs, while Tre Williams was 4-for-5 and scored three runs.
UNCW (27-17, 16-6 CAA): The Seahawks won 2-of-3 against No. 25 Northeastern to regain the top spot in the CAA standings.
After losing the opener 8-2, UNCW's pitching staff limited NU to two earned runs over the final two games.
Zane Taylor (6.0 IP, 0 ER) and Connor Kane (3.0 IP, 1 R) combined on Saturday's 7-2 win and four Seahawk hurlers gave up just five hits in Sunday's 4-2 victory, with Brett Banks fanning three over the final 1.2 innings to earn his fifth save.
Tanner Thach led the UNCW offense, belting three homers and driving in six to set school freshman records with 14 HRs and 57 RBIs.
Dillon Lifreri batted .462 in the series with two hits in each game, including a HR and two RBIs on Sunday.
NORTHEASTERN (36-9, 17-7 CAA): The Huskies extended their winning streak to nine games by beating UNCW 8-2 last Friday, but dropped the final two games of the series.
Mike Sirota was 3-for-5 with a triple, homer and two RBIs, and Tyler MacGregor homered and drove in three in the win.
Freshman Aiven Cabral (6-2) held UNCW to two runs over seven innings, and Jake Gigliotti tossed two scoreless frames.
Sirota also was 3-for-4 on Saturday and is batting .354 for the year.
The Huskies have tied their program record for wins in a season for the third time in six years.
NU ranks 19th nationally with 84 home runs, shattering their previous school record of 60 homers in a season.
STONY BROOK (19-26, 10-14 CAA): The Seawolves went 0-4 last week, including three CAA losses at Delaware, on the heels of a five-game winning streak.
Matt Brown-Eiring batted .412 (7-for-17) for the week with two homers and three RBIs.
Evan Giordano smacked a sixth-inning grand slam to give SBU a 10-5 lead at UD on Friday, before falling 12-11.
Giordano leads the Seawolves with 10 HRs and 49 RBIs.
Brett Paulsen went 3-for-4 with a homer and two RBIs, and Evan Fox added a three-run shot in Sunday's 10-7 setback. Freshman Eddie Smink struck out a career-high eight batters over 6.2 innings at UD on Sunday.
TOWSON (15-34, 4-20 CAA): The Tigers split four home games last week, opening with a 7-2 victory against Georgetown and closing with a 9-5 win over William & Mary.
Reyce Curnane went 5-for-5 with a solo homer against GU and provided a two-run double in the eighth inning that snapped a 5-5 tie against W&M on Sunday. He's hitting .385 for the year.
Bryce Frederick was 3-for-5 with a pair of two-run homers in the win over the Tribe.
Nate Nabholz held GU to one hit over four scoreless innings to earn his first victory of the year.
Ethan Pecko didn't allow an earned run over five frames and fanned five against W&M on Saturday.
WILLIAM & MARY (30-19, 13-11 CAA): The Tribe went 3-1 on the road last week, edging VMI (6-5), before taking 2-of-3 at Towson.
Nate Knowles (5.0 IP, 4 H) and Carter Lovasz (4.0 IP, 3 H) combined on a 4-0 shutout of TU on Friday.
Tribe pitchers pushed their scoreless streak to 19 innings during Saturday's 6-1 win.
Joe Delossantos was 4-for-6 with a homer and five RBIs in the final two games at Towson.
Tank Yaghoubi had a hit in all four games last week, including scoring the winning run at VMI, after tripling and coming home on an error.
Ben Williamson, who tops the CAA with a .406 average, hit his 12th homer.