2023 Northeastern vs William & Mary
Northeastern Finds Local Hidden Gems For Rotation, Sends Them to the Pros
Northeastern Finds Local Hidden Gems For Rotation, Sends Them to the Pros
It was his high ceiling to grow and proximity to home that got pitcher Aiven Cabral to Northeastern's baseball team in the first place.
May 9, 2023
by Briar Napier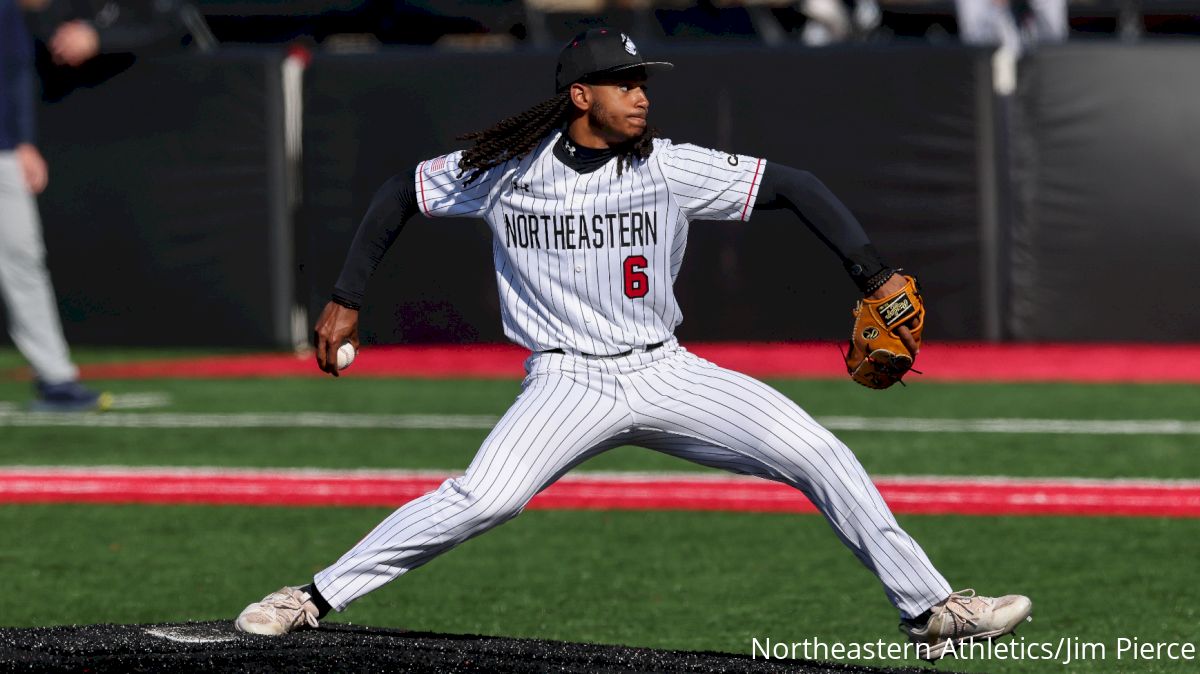 It was his high ceiling to grow and proximity to home that got pitcher Aiven Cabral to Northeastern's baseball team in the first place.
It was a relief performance earlier in the season against South Florida that confirmed to both him and the Huskies' coaching staff that they each had made the right choice in trusting in each other.
Cabral, a right-handed freshman from Lynn, Massachusetts – roughly a 30-minute drive from campus – entered the program with a point to prove in his first college season, though because of his age, he had to earn his chops and the trust of his coaches by way of the bullpen at first.
With Northeastern looking to cap off a nonconference, early-season sweep of the Bulls in Tampa, Florida, on March 5, Cabral was tasked with settling things down on the mound after the Huskies got into a 4-2 hole by the bottom of the second inning and pulled their started.
In just his third collegiate appearance, Cabral was money.
He went 5 2/3 innings against the Bulls, allowing two hits and no runs, while striking out eight.
At the same time, his teammates in the lineup clawed back into the game bit by bit, eventually sealing the sweep in the Sunshine State with an 8-7 win.
⬇️ 1 | Aiven Cabral off to a fast start - first batter of the game is retired via strikeout!#Howlinhuskies pic.twitter.com/GwIr5Gr0iE

— Northeastern Baseball (@GoNUbaseball) May 5, 2023
That's all the evidence Northeastern's coaching staff needed to confirm they had another found pitching gem on their hands, and they let Cabral loose by making him a weekend starter for all of the Colonial Athletic Association season to this point.
And Cabral, knowing what Huskies in similar shoes to his have gone on to do once out of the program, takes solace in the fact that he knows he made a good call on his college selection.
"Whenever my number was called, I was ready," Cabral said. "My first outing out of the bullpen that really kind of set me up to be a weekend starter was when I came into the game in relief at USF, which is probably why I am where I am right now. (It's) kind of where they built the confidence in me to put me out there to start."
As of Friday evening, Cabral – now at 6-3 on the year after going seven innings and allowing just two runs in a series-opening win Friday over UNCW. He has the lowest ERA (2.67) on the best man-for-man pitching staff (3.51 team ERA) in the CAA.
Northeastern, which made the D1 Baseball Top 25 poll at No. 25 for the first time in history this week, is racking up victories and leading the league's regular-season title fight with less than three weeks remaining before the postseason.
Guys like Cabral – local, under the radar and driven – leading that charge on the mound fits exactly into the longtime vision and plans of pitching coach and recruiting coordinator Kevin Cobb.
Cobb, amid his 12th year as pitching coach and sixth year as recruiting coordinator, has been heavily responsible for bringing in and developing a wealth of highly successful pitchers over the years.
At least one Northeastern hurler has made an All-CAA team every season since 2013, while 11 pitchers in his time with the program have been selected in the MLB Draft, the most notable of which – current Cleveland Guardians starter Aaron Civale – was a third-round choice for Cleveland in 2016.
There's a heavy recruiting focus on New England, and especially Massachusetts, Cobb said, and it shows in the Huskies' roster numbers.
Only one player on the team, redshirt senior right-handed pitcher Nick Davis (from California) doesn't hail from New England, while three of Northeastern's top-4 innings leaders on the mound this season call The Bay State home.
"When (head coach Mike Glavine) got the job, he wanted to put an emphasis on getting the best players in our backyard," Cobb said. "It's always challenging, like anywhere. All these guys are recruited by everyone in the country, so it's hard to keep some of the premier talent home, but there's a lot of good players around here.
"We've been fortunate with some guys who committed early and had a good jump toward the end of their high school years and came in and helped us right away."
Cabral certainly fits that mold, with him noting that he began being contacted by Northeastern during his sophomore year of high school. He was continually reached out to and checked on throughout his prep career, until he finalized his commitment.
⬇️ 4 | Always stay with it!

Aiven Cabral fields a tough one while falling over and still gets the out!#HowlinHuskies pic.twitter.com/0cTCciFXXc

— Northeastern Baseball (@GoNUbaseball) May 5, 2023
Northeastern's record and resume at the moment both indicate that he made a good decision.
At 36-7 overall (17-5 CAA) and riding a nine-game winning streak, with 24 victories in their past 27 games, the Huskies are among the nation's top win leaders (having tied their all-time single-season program record Friday) and have surged into conversation as a dangerous mid-major team to watch when the NCAA Tournament gets going in June.
It's a run that's upping the pro stock of plenty of names across the board, including Cabral, who has major-league dreams of his own.
With the infrastructure that's been put in place and a proven history of scouts' eyes being locked on the Northeastern rotation – three Husky pitchers were drafted by the 19th round of the 2022 draft, for instance – it's got to feel awfully good to be a part of the program at the moment.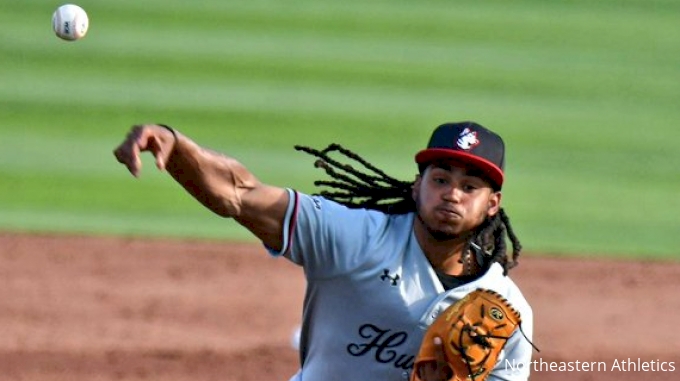 And whatever new heights the Huskies reach on their 2023 joyride, they'll be reached by a Northeast-bred core that's proud to do something special for home.
"I feel like I'm in the right place, I definitely made the right decision," Cabral said. "I feel like I'm getting better, just from the year I've been here, and hopefully, I'll continue to grow and get better and reach that goal that I'm ultimately trying to reach.
"If we keep playing our best baseball, pretty much the way we have been most of the season, I feel we can go pretty far. The main goal is the College World Series, if that's in our future, but I think we've just got to keep playing the way we do and let it take us wherever it takes us."