2023 Lincoln Memorial vs Newberry - SAC Championship
Newberry, Lincoln Memorial Clash For 2023 SAC Championship
Newberry, Lincoln Memorial Clash For 2023 SAC Championship
Newberry and Lincoln Memorial meet for the 2023 South Atlantic Conference championship in a series at Tennessee Smokies Stadium.
May 5, 2023
by Kyle Kensing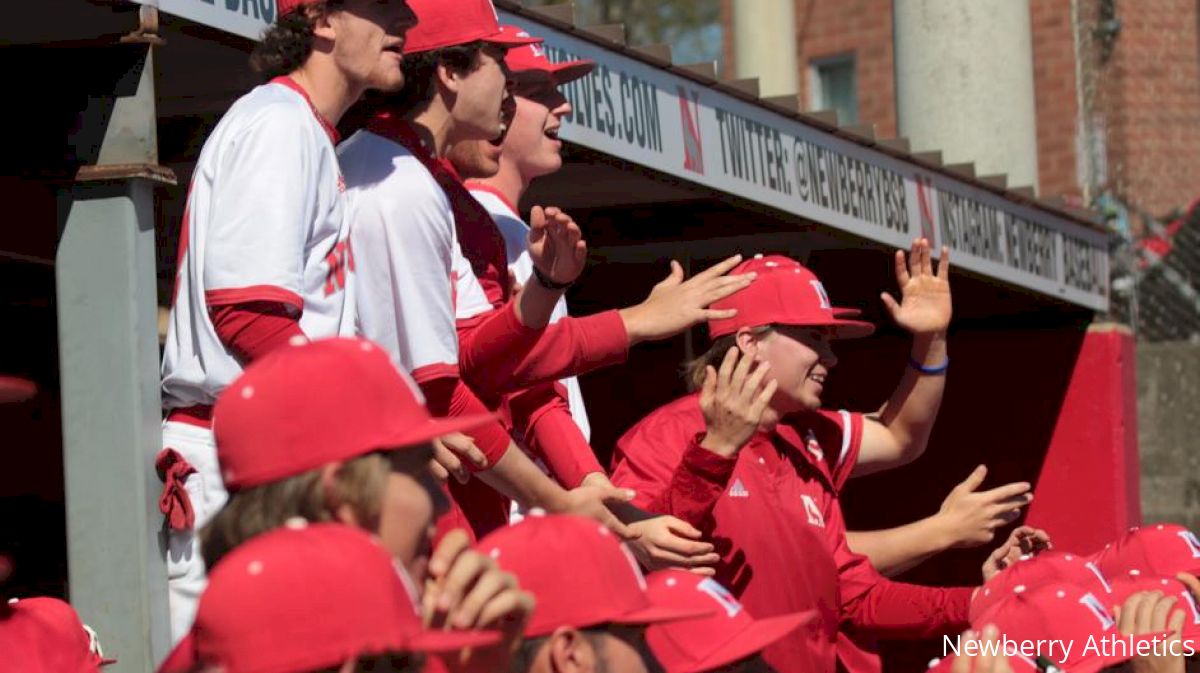 South Atlantic Conference regular-season champion Newberry looks to complete the title sweep at Tennessee Smokies Stadium, site of the 2023 SAC Championship Series — but the Wolves will have to contend with a tough Lincoln Memorial team.
Newberry (39-9) wrapped up the SAC regular-season crown April 22 in its series against Lenoir-Rhyne, part of an ongoing six-game winning streak the Wolves ride into the conference title series. That roll includes three wins in the SAC Tournament, landing Newberry in the championship series.
BSB | Putting a Ring on It.#GoWolves pic.twitter.com/CmZQkBIBqs

— Newberry Wolves (Blue Checkmark) (@NewberrySports) April 22, 2023
The Wolves rolled past Tusculum, 11-1, then took two straight from Lenoir-Rhyne, 6-1 and 7-6. They head into Tennessee Smokies Stadium with one of the most prolific offenses in the nation, plating 429 through 48 games.
At the forefront is Braylin Marine, the senior third baseman.
Marine is batting a whopping .439, good for No. 13 in Division II baseball, with a team-leading 62 RBIs. Marine also is a key contributor to Newberry's dangerous brand of small ball.
Our Male Athlete of the Year, Braylin Marine!#Wolfies2023 pic.twitter.com/01HK5DILSC

— Newberry Wolves (Blue Checkmark) (@NewberrySports) May 2, 2023
His 38 stolen bases are second on the Wolves roster — and second in the SAC — behind Donovan Ford and his 39. Ford also has proven nearly as automatic getting on base with a .407 batting average.
The tandem paces a Newberry lineup boasting six batters with at least 130 plate appearances who are hitting .311 or better. All of them have driven in at least 24 runs, too.
Complementing the productive Newberry offense is a pitching staff that includes Bennett Roemer and Tyler Chinpire, both of whom are undefeated in 22 combined starts.
Roemer sports a 2.80 ERA with 66 strikeouts in 64 1/3 innings for an 8-0 record, while Chinpire has a 3.60 ERA, .238 opponent batting average and 6-0 mark in 55 innings of work.
Roemer went the distance for Newberry in his last start, striking out five and allowing one earned run in last Saturday's win over Lenoir-Rhyne.
Newberry will need more dominant pitching to hold off upset-minded Lincoln Memorial (30-16), one of the hottest teams in the country at the plate over recent weeks.
LMU used an efficient and overwhelming offense to earn its spot in the SAC Championship Series, wrapping up an eighth consecutive win last Sunday in a 17-8 win over second-seeded Wingate.
Designated hitter Carson Boles' 4-of-5 performance with a home run and four RBIs set the pace against Wingate, while Jared Hancock added his own homer and four RBIs in a 4-for-6 showing.
Boles is hitting a team-leading .369 in 187 at-bats heading into the SAC Championship. He is one of four Railsplitters with at least 37 RBIs on the season, joining Andrew Keene, Ryan Kurth and Cameron Bowen each with 40.
Bowen also boasts a team-high 10 home runs — though each of the four, and Kasten Harvey, have knocked out five this season.
Lincoln Memorial's potentially potent offense is hitting its stride at the ideal time, putting together four outings with at least 11 runs over this eight-game winning streak. Two — an 11-3 defeat of third-seeded Catawba to kick off the SAC Tournament, and the championship series-clinching defeat of Wingate — have been in the postseason.
On the mound, ace Patrick Queener earned All-SAC recognition for his 2.76 ERA and 70 strikeouts over 71 2/3 innings.
Fellow starters Ethan Bobo and Eli Edds have an ERA of 3.78 (Bobo) and 63 strikeouts (Edds) to their credit.