2023 Elon vs Towson
Elon Baseball: Phoenix Frosh Mitrovich, Sprock Are Fast Learners
Elon Baseball: Phoenix Frosh Mitrovich, Sprock Are Fast Learners
Freshmen pitchers Ryan Sprock and Justin Mitrovich have been integral to the fast start for Elon baseball in the 2023 season.
Mar 30, 2023
by Kyle Kensing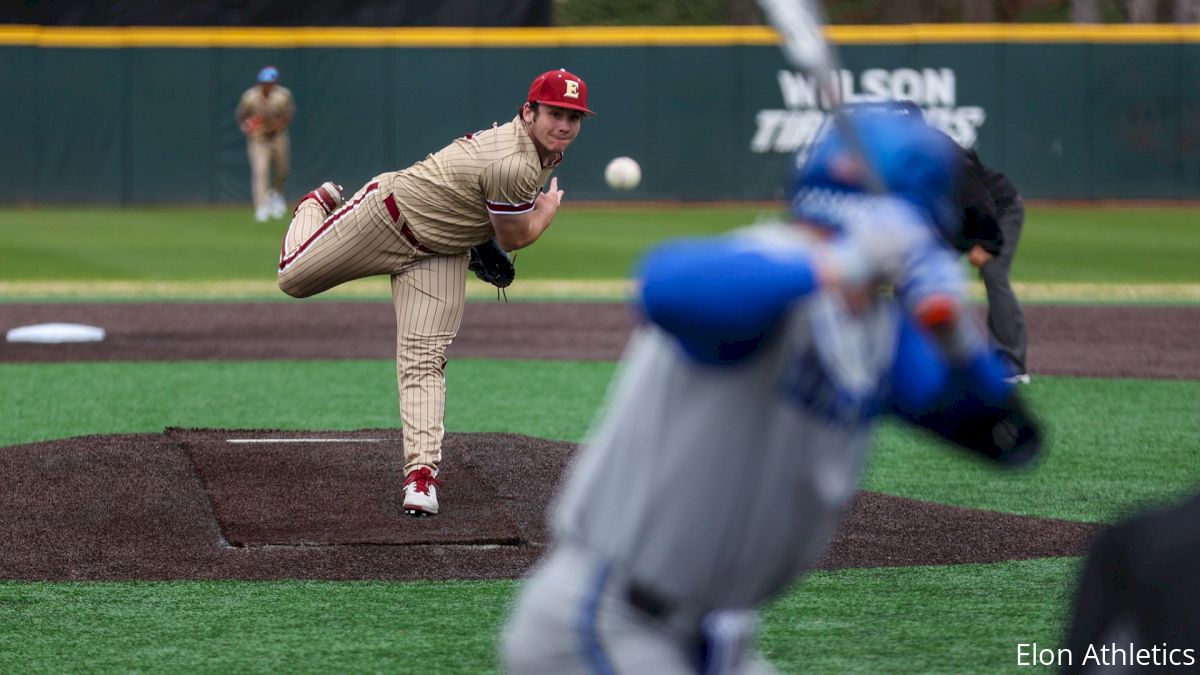 Justin Mitrovich and Ryan Sprock could both be described as naturally studious — not a bad trait to have as a freshman.
Sprock, an Exercise Science major at Elon, says he enjoys digging into the nuances of his field of study for leisure as much as for school.
"When I got injured [ACL] in high school a little bit, I really enjoyed learning about my body. So outside of baseball, I really enjoy that I get to learn about the functions of the body," said Sprock, a graduate of Seton Hall Prep.
Mitrovich, who describes himself as curious, said he has been "learning linear algebra in my free time."
Not every college freshman is as dedicated to scholarly pursuits; even fewer college freshmen are also acing tests on the baseball diamond.
That the first-year pitchers for the Colonial Athletic Association-leading Phoenix have the same approach to learning and developing in baseball has served them well in an impressive start to their college careers.
Mitrovich and Sprock join veteran Shea Sprague to form what's been one of the best starting rotations in the CAA. Each of the trio sport ERA of 2.18 or less: Sprock at 2.18, Sprague at 2.17 and Mitrovic at 2.08.
They rank fourth, fifth and sixth in the league through games played March 29. Likewise, Sprock's 36 strikeouts rank second in the Colonial, Sprague is tied for third with 32 and Mitrovich is eighth with 29.
Indeed, it's tough having a better debut season than Mitrovich and Sprock are both putting together. Fitting into the framework of the Elon roster has helped fuel their performances.
Mitrovich described the Phoenix as "clicking at the right time," a byproduct of "everyone [knowing] their roles." That begins with the seniors and grad students, and extends on down to the newcomers.
"Being able to pick the brain of anyone on certain pitches or spots that guys have been in that I've never been in before," Sprock touted as a big part of the lessons his veteran teammates have shared.
He credited the coaching for making the freshmen class feel at home from the moment they arrived last summer, and that environment has only continued since.
"It was very welcoming early on when I was lucky enough to get some innings and playing time," Sprock said.
Sprock debuted on Feb. 19, striking out six in four innings against Kentucky. He also had the opportunity to show his ability at the plate early into Elon's season, hitting a two-run homer Feb. 21 against Gardner-Webb.
His work at the plate also includes a three-hit effort against top 10-ranked East Carolina, a two-home run outing vs. Monmouth, and a round-tripper in a Phoenix win over ACC powerhouse NC State.
Ryan Sprock with his second homer in as many games! #PhoenixRising #ElonBaseball pic.twitter.com/jPbvwwXK0Z

— Elon Baseball (@ElonBaseball) March 17, 2023
This is not a repeat of the same highlight. Ryan Sprock with his SECOND home run of the game, giving Elon a 7-0 lead! #ElonBaseball #PhoenixRising pic.twitter.com/mS047TL9Ep

— Elon Baseball (@ElonBaseball) March 17, 2023
On the mound, Sprock delivered a 12-strikeout performance against one of the Colonial's preseason favorites, Northeastern, part of a run of five consecutive wins for the freshman heading into April.
At 6-foot-3, Mitrovich could be an imposing figure staring down the plate before ever throwing a pitch. When he starts cooking, he's downright intimidating.
Mitrovich struck out eight in seven innings of scoreless work against Delaware, earning CAA Pitcher of the Week for March 27.
And with this strikeout Mitrovich sets a new single-game career high at eight! #PhoenixRising pic.twitter.com/jNX5Z47pqM

— Elon Baseball (@ElonBaseball) March 26, 2023
But for as impressive as both Mitrovich and Sprock have been thus far in the 2023 season, the most unnerving part for opponents has to be that the two will keep studying ways to be better — on and off the diamond.