CAA Baseball
CAA Baseball Report | March 28, 2023
CAA Baseball Report | March 28, 2023
Catch up on the CAA Baseball weekly news, notes and awards.
Mar 29, 2023
by FloBaseball Staff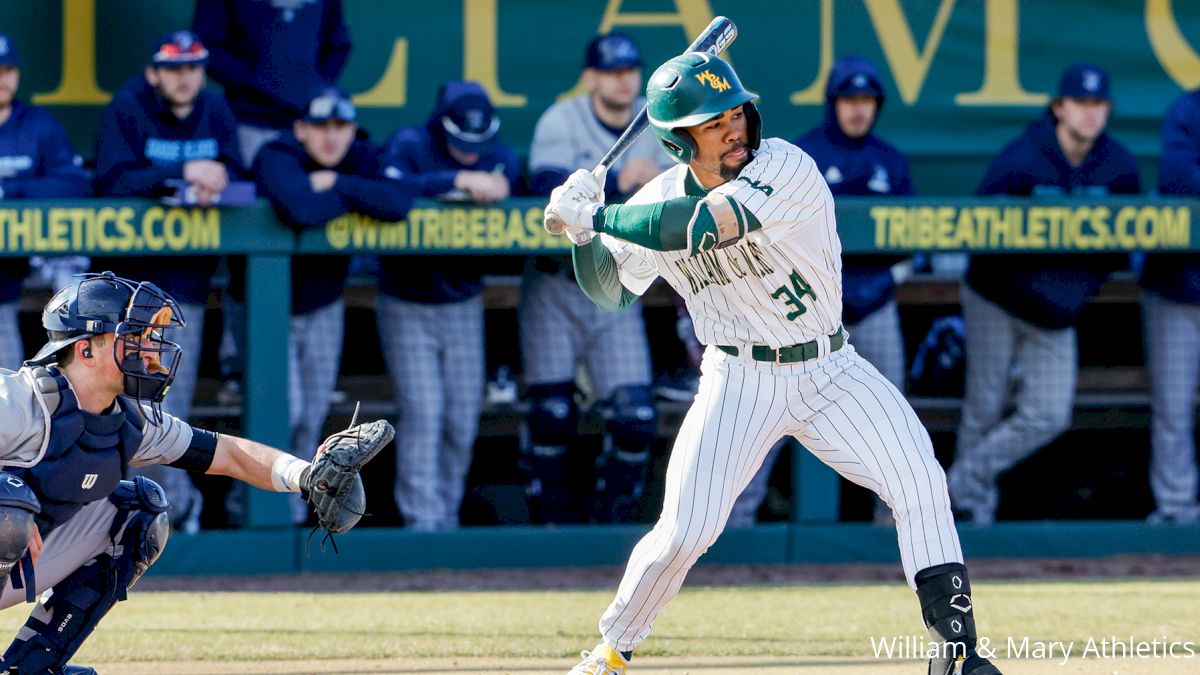 Catch up on the CAA Baseball weekly news, notes and awards.
CAA Baseball Co-Player of the Week
Joe Delossantos, William & Mary – Sr., OF – Creedmoor, North Carolina/Granville Central
Delossantos batted .529 (9-for-17) with a double, two triples, a homer, seven runs scored and eight RBIs in William & Mary's 3-1 week.
The senior batted .643 and drove in eight in a series win against Monmouth, including a pair of four-hit performances, and had multiple RBIs in all three games.
Delossantos raised his average to .361 for the year.
CAA Baseball Co-Player of the Week
Tre Williams, North Carolina A&T – Jr., 2B – Fairfax, Virginia/South County
Williams batted .500 (10-20) with five doubles, two homers, five runs scored and nine RBIs in North Carolina A&T's five games. Seven of his 10 hits went for extra bases, including a double in all five contests.
Williams was 3-for-4 with a double, homer and four RBIs at No. 15 North Carolina and was 3-for-4 with a double, homer and three RBIs in a series-opening win over Hofstra.
CAA Baseball Pitcher of the Week
Justin Mitrovich, Elon – Fr., RHP – Yardley, Pennsylvania/Pennsbury
Mitrovich allowed just three singles over seven scoreless innings and struck out a career-high eight with no walks in Elon's 1-0 victory over Delaware on Sunday.
The right-hander retired 14 straight batters at one point and didn't allow a runner past second base, as the Phoenix won their eighth straight league game.
Mitrovich improved to 3-2 with a 2.08 ERA.
CAA Baseball Rookie of the Week
Brock Wills, UNCW – Fr., IF – Holly Springs, North Carolina/Holly Springs
Wills batted .444 (8-or-18) with two doubles, two runs and six RBIs in UNCW's four games.
The freshman had a career-high four RBIs in an extra-inning loss to No. 25 NC State, was 2-for-4 with an RBI in a 7-2 series-opening win at Stony Brook and went 2-for-3 with two doubles and an RBI in the finale at SBU to win the series.
He's riding an eight-game hitting streak.
⚾️ #CAASports Baseball Weekly Awards presented by @PrimisBank @WMTribeBaseball's Joe Delossantos@NCAT_Baseball's Tre Williams@ElonBaseball's Justin Mitrovich@UNCWBaseball's Brock Wills

➡️ https://t.co/0NAauimkrG pic.twitter.com/qCRwQIviPE

— Colonial Athletic Association (@CAASports) March 27, 2023
CONFERENCE NOTES
TWO MORE WINS AGAINST RANKED FOES: For the second week in a row, CAA baseball teams recorded two wins over nationally ranked teams.
Last Tuesday, Northeastern defeated No. 16 Boston College, 6-2, and Hofstra topped No. 24 West Virginia, 4-2.
There are more opportunities on the slate this Tuesday, as UNCW visits No. 8 East Carolina, and William & Mary hosts No.15 Campbell.
IMPRESSIVE RPI NUMBERS: Three CAA baseball teams are in the top 90 of the latest NCAA RPI.
Elon leads the way at No. 29, Northeastern is close behind at No. 36 and Charleston is No. 87. William & Mary is No. 122, and UNCW is No. 127.
TOUGH ON THE MOUND: Four CAA squads rank in the top 25 nationally in ERA. William & Mary is No. 15 (3.42), Northeastern is No. 18 (3.49) and Charleston and Elon are tied for No. 22 at 3.67.
CHARLESTON (16-7, 7-2 CAA): The Cougars went 3-1 in four one-run games last week, losing 4-3 at Appalachian State, before sweeping their CAA series with Towson.
Cole Mathis, who doubled three times last week, provided the game-tying hit and game-winning run in Sunday's 3-2 triumph over Towson and also got the win on the mound. He gave up two runs over eight innings.
Trotter Harlan delivered a game-winning RBI single in the 11th on Friday, as CofC edged Towson, 6-5, and then scored the game-winning run in the 17th on Saturday, helping CofC win 5-4.
The Cougars' bullpen didn't allow a run over the final 11 innings Saturday.
Alex Lyon threw 3.2 scoreless frames and picked up a win and a save against TU.
DELAWARE (9-14, 2-4 CAA): The Blue Hens beat rival Delaware State, 14-12, but were swept in their three-game CAA series at Elon.
Aidan Kane batted .357 (5-for-14) with a homer and five RBIs last week. He was 2-for-4 in the first two games at EU and smacked a two-run HR against DSU.
Bryce Greenly added a three-run homer against DSU. The Hens had five players with multiple RBIs.
Greenly also threw three scoreless innings at Elon on Saturday.
Joey Loynd had six hits last week and continues to top the team with a .396 batting average.
UD got a great performance out of the pen from Tyler Strechay on Sunday. He held Elon to one run on five hits over the last six innings of a 1-0 setback.
ELON (16-8, 8-1 CAA): The Phoenix remained atop the CAA standings after sweeping their series with Delaware to run their league winning streak to eight.
Elon held the Hens to five runs in the series.
Justin Mitrovich (3-2) gave up three hits over seven shutout innings and fanned eight in a 1-0 triumph Sunday.
And with this strikeout Mitrovich sets a new single-game career high at eight! #PhoenixRising pic.twitter.com/jNX5Z47pqM

— Elon Baseball (@ElonBaseball) March 26, 2023
Shea Sprague improved to 4-1, and Joe Sprake threw three scoreless innings for his first save in Friday's 12-2 victory.
Justin Cassella swung the big bat, hitting .583 (7-for-12) with two homers and six RBIs against UD, including a first-inning grand slam Friday.
Connor Offshack was 5-for-9 with three RBIs against the Hens, including driving the game's lone run in the seventh inning Sunday.
HOFSTRA (8-15, 3-6 CAA): The Pride opened a five-game road trip with a 4-2 win at No. 24 West Virginia and closed it with a 5-3 league victory at North Carolina A&T.
Freshman Dylan Palmer had a hit in all five games, batting .318 (7-for-22) with a double, triple and seven RBIs.
Kevin Bruggeman doubled twice and drove in three in Sunday's win at A&T.
Brad Camarda earned his first victory by limiting the Aggies to two runs on four hits over seven innings. He's now fifth in all-time wins (14) at HU.
Will Kennedy extended his on-base streak to 20 games.
Michael O'Hanlon posted two saves last week, including Hofstra's first win over a ranked foe since 2011. It came at WVU.
Cade Henry held WVU to two runs over the first five innings.
MONMOUTH (9-11, 2-7 CAA): The Hawks split four road games, edging Saint Joseph's (9-8) but dropping 2-of-3 at William & Mary.
MU put up a 10-run third to beat W&M 14-12 on Saturday. Austin Denlinger and Ben Winstead each drove in three in the win, and Phil Stahl was 3-for-4 with two RBIs.
Stahl batted .500 (8-for-16) with six RBIs for the week and is hitting a team-best .434 for the year, while maintaining a 20-game hitting streak.
Casey Caufield was 3-for-5 with a three-run homer in the win at SJU.
Ryan Bearse shut down W&M over the final 1.2 innings Saturday to get his first save.
NORTH CAROLINA A&T (12-12, 5-4 CAA): The Aggies won 2-of-3 over Hofstra as part of a five-game week.
Tre Williams led the A&T offense, batting .500 (10-for-20) with five doubles, two homers and nine RBIs. He was 6-for-12 against HU and went 3-for-4 with a homer and four RBIs in a 6-4 setback at No. 15 North Carolina.
Camden Jackson had a hit in all five games last week and scored four runs.
Cort Maynard was 6-for-14 with six RBIs in the Hofstra series.
Ethan Snyder tossed three shutout innings against Hofstra on Friday to earn his first save, while Trent Simmons didn't give up a run over the final four frames Saturday to get his first save.
Jake Delisi provided three scoreless relief innings on Sunday.
UNCW (15-9, 7-2 CAA): The Seahawks split four games, falling in 10 innings to No. 25 NC State (11-8), before taking 2-of-3 at Stony Brook to win their third straight CAA series.
Dillon Lifreri batted .474 (9-for-19) with four doubles, a homer and six RBIs last week and recorded multiple hits in all four games.
Brock Wills pushed his hitting streak to eight games, batting .444 (8-for-18) with two homers and six RBIs last week.
Trevor Marsh had a hit in all four games, including a 3-for-3 outing with a homer in the opener at SBU.
Jacob Shafer moved to 4-1 after giving up just one run on two hits over 6.2 innings in the opener against SBU. He's 3-0 with a 2.18 ERA in CAA play.
Ethan Chenault had seven strikeouts in 4.1 innings last week.
NORTHEASTERN (17-4, 3-3 CAA): The Huskies continued their scorching start to the season with a 5-0 week that included a 6-2 triumph over No. 16 Boston College.
Jake Gigliotti (3-0) got the win over BC, giving up just three hits over five shutout innings.
Alex Lane went 2-for-4 with a three-run homer against the Eagles and batted .438 (7-for-16) with two homers and eight RBIs for the week.
NU stole 10 bases in a win over Merrimack.
Wyatt Scotti moved to a nation's-best 6-0 after firing six scoreless frames with 8 Ks in a 14-0 victory over Hartford on Friday.
Jack Thorbahn smacked a walk-off grand slam, as NU scored seven in the ninth inning to beat Hartford 10-6 on Sunday. Griffin Young recorded his fourth save in the win.
STONY BROOK (8-13, 2-4 CAA): The Seawolves rolled past LIU, 14-7, but dropped 2-of-3 to UNCW last week.
Evan Fox extended his hitting streak to eight last week, highlighted by going 3-for-5 with two doubles and an RBI in a 7-4 win over UNCW on Friday.
Evan Giordano homered twice last week and leads SBU with five homers and 30 RBIs for the year.
Matt Miceli had a two-run triple in the eighth inning of SBU's victory over UNCW and went 2-for-4 in the series finale.
Freshman Eddie Smink held UNCW to one hit over 6.2 innings of scoreless relief in the series finale.
Josh O'Neill gave up one run over the final 4.2 innings to pick up the win against the Seahawks on Friday.
TOWSON (7-19, 1-8 CAA): The Tigers went 1-4 on the road last week, including three tough one-run losses at Charleston.
Reyce Curnane and Elijah Dickerson each drove in three, as Towson topped Richmond, 12-6.
James Moses batted .450 (9-for-20) from the leadoff spot last week.
Andalo Santangelo (3.0 IP, 1 H), Jacob Whiteman (2.0 IP, 0 H) and Cam Clark (4.0 IP, 1 H) combined to throw nine scoreless innings out of the pen in Saturday's 5-4 loss to CofC in 17 innings.
Nate Nabholz gave up one run and struck out eight over four frames in Friday's 6-5 setback that lasted 11 innings.
Starter Justin Rebok held the Cougars to an unearned run over the first four innings in a 3-2 loss Sunday.
WILLIAM & MARY (14-11, 5-4 CAA): The Tribe continued to roll offensively, scoring 43 runs in a 3-1 week.
Joe Delossantos batted .643 (9-for-14) with a double, two triples, a homer and eight RBIs, as W&M took 2-of-3 from Monmouth.
Ben Williamson is on a 10-game hitting streak and leads the CAA with a .439 batting average. He hit .421 and scored eight runs last week.
Lucas Carmichael has a six--game hit streak and batted .368 last week.
Owen Pierce (4.0 IP, 1 R), Tom Mayer (3.0 IP, 0 R) and Rojo Prarie (2.0 IP, 0 R) combined to limit Monmouth to five hits in Sunday's 7-1 victory.
Zach Tsakounis didn't give up an earned run over three innings, as the Tribe beat the Hawks on Friday, 8-3.