2023 Delaware vs Elon
CAA Baseball Games Of The Week: UNCW Trying To Avoid Stony Brook's Trap
CAA Baseball Games Of The Week: UNCW Trying To Avoid Stony Brook's Trap
So far, the CAA baseball season has offered more than what a first glance may have indicated. Top to bottom, the teams are better than their records show.
Mar 23, 2023
by Briar Napier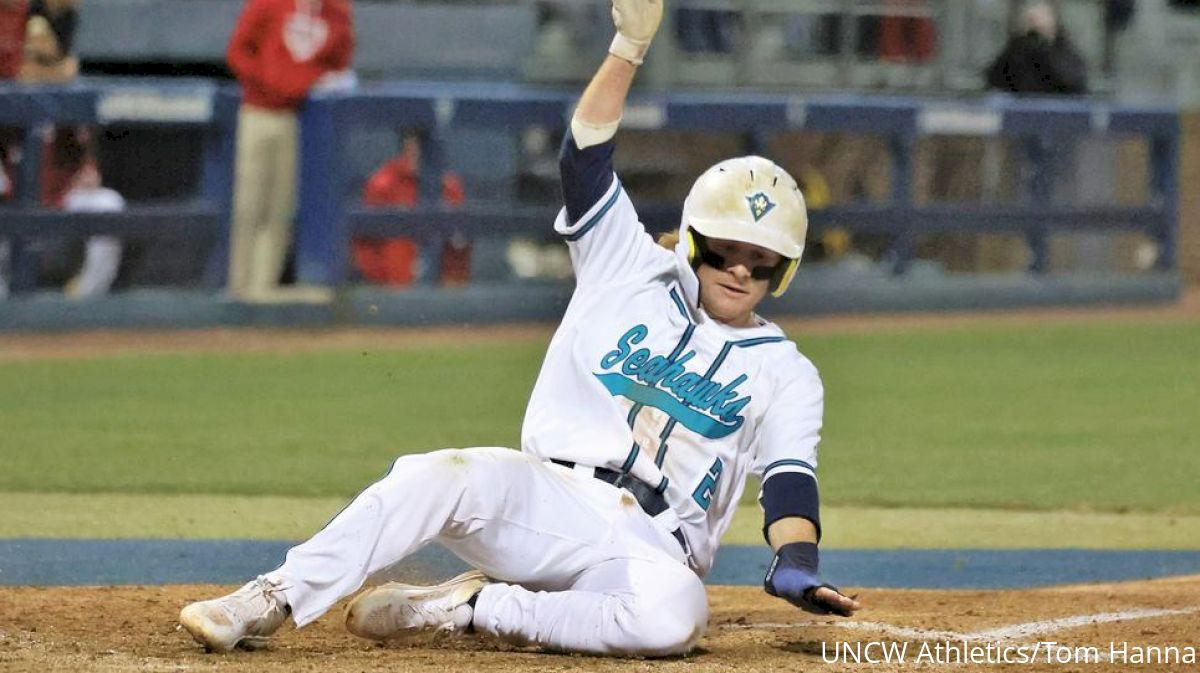 So far, the Colonial Athletic Association baseball season has offered more than what a first glance may have indicated.
What does that mean?
It means the league, top to bottom, is a lot better than the records show – and the eventual winner weeks from now is going to have to go through a gauntlet of a league season to finish on top.
Through two weekends of league play, no CAA baseball program is unbeaten, yet no program is winless, either.
The phrase "any given night" can get overused in sports, referring to the fact that victories can come from out of nowhere, by any team, against any opponent, at any time. In this league, it seems to ring a bit truer.
Expect things to get a little wild over the next couple of months, so it probably is a good idea to strap in for the ride ahead.
Here's a look ahead at the games to watch across the CAA schedule this week, with matchups throughout the conference schedule being streamed live on FloBaseball.
NOTE: All times are listed in Eastern Time and are subject to change.
Delaware Vs. Elon
A 5-1 start to conference play, multiple victories over power-conference opponents and a six-game winning streak coming out of the weekend? Not bad for Elon, a program projected in the league's preseason coaches' poll back in February to be seventh in the CAA this year.
The Phoenix might have been smoked 20-0 at No. 2-ranked Wake Forest on Tuesday to end that aforementioned stretch of victories, but against opponents more around their level, Elon has, for the most part, done more than enough to get the job done.
The program took its opening conference series over perennial contender Northeastern, thanks to back-to-back wins, emerged victorious in a nonconference game against a ranked NC State squad then swept Monmouth with relative ease on the road. The Phoenix scored double-digit runs in all three games.
CAA Baseball Co-Player of the Week ⚾️@ElonBaseball's Tanner Holliman batted .438 (7-16) with a double, two homers, nine runs scored and seven RBI's in Elon's 4-0 week.

➡️ https://t.co/o7T8d9hDxp pic.twitter.com/tJaXA487hw

— Colonial Athletic Association (@CAASports) March 20, 2023
Junior second baseman Tanner Hollliman – who batted .438 with two home runs and seven RBIs – earned a CAA Co-Player of the Week honor (with UNCW's Jac Croom) for his efforts in Elon's 4-0 surge last week, being a major reason why the rising Phoenix sit atop the CAA.
But, as Delaware arrives in North Carolina this weekend to take on Elon for a three-game series, the Blue Hens definitely aren't going to come in acting afraid of how the Phoenix have been playing.
A nonconference schedule that's seen them play some of the best in college baseball already has made them hardened. Five of Delaware's 11 losses on the year have come against Ole Miss and Maryland, the former of which is the defending national champion, the latter of which won the Big Ten regular-season title last year.
Still, good luck to the UD offense in trying to crack what has been the best pitching staff in CAA thus far. Elon's 2.29 team ERA against conference foes entering this weekend is the lowest in the league.
UNCW Vs. Stony Brook
When Stony Brook was welcomed by Charleston for the Seawolves' first CAA series last weekend, the CAA rookies held their own against the defending regular-season league champs, winning the Sunday finale 15-11 and taking the Cougars to 11 innings in a 3-2 defeat Saturday.
Remember, Stony Brook – which made the 2012 College World Series and won the past two regular-season America East Conference titles, before departing for the CAA – is far from a slouch on the diamond and brings serious pedigree and history to an already-strong mid-major league.
That makes this weekend's three-game series on the road an especially treacherous one for UNC Wilmington.
Despite the Seawolves' 7-11 record as of Tuesday evening, longtime coach Matt Senk knows how to get the best out of his players, as his teams have eventually finished with a winning record every season but one since 2007.
So, how can the Seahawks avoid disaster in New York and stay afloat in the league standings?
By relying on their strengths and riding them to some key conference road wins.
One of the most powerful offenses in the league (.311 team average, 26 total home runs, 183 runs in 21 games), UNCW holds a win over East Carolina, which has appeared in the Super Regionals in each of the past three NCAA Tournaments, on its resume and has a pair of players in redshirt junior outfielder Trevor Marsh and freshman infielder Tanner Thach who have tied for the team lead with six homers and have combined for 52 RBIs between in 2023.
Meanwhile, Stony Brook's counter on the offensive end, graduate student and star third baseman Evan Giordano, is the reigning America East Player of the Year and has done well in adjusting to life in his new league.
EVAN² SENT THIS ONE FAR, FAR, AWAY 🤯@evangiordano12 ties Brian Witkowski for 7th all-time in program history with 26 career 𝐁𝐎𝐌𝐁𝐒 👏

🌊🐺 x #NCAABaseball pic.twitter.com/B6LxUgOD1x

— Stony Brook Baseball (@StonyBrookBASE) March 21, 2023
He's batting .427 to rank third among all players across the conference through Tuesday's games.
Charleston Vs. Towson
Charleston probably could use a game or two where it had the ability to let off some steam.
The Cougars, as previously mentioned, missed out on a sweep of Stony Brook last weekend and couldn't rebound Tuesday in a nonconference tilt against Appalachian State to immediately restore some of the program's mojo.
As a result, CofC is staring down four losses in its past six games heading into a CAA series against Towson, a far cry from the streak of 10 straight victories the Cougars had earlier this season. The run included victories over the likes of former national champion Coastal Carolina and the Big Ten's Michigan State, among others.
With Towson in town for a trio of games, however – as the Tigers are anchored to the bottom of the CAA standings with a 1-5 league record and 6-16 mark overall – perhaps this weekend could be the sort of "reset button" Charleston desires in order to get back on track. The Cougars are a game behind Elon and UNCW.
Five Cougars have hit double-digit RBI numbers, while senior right-hander Trey Pooser has been dealing, starting 3-0 on the mound with a 1.99 ERA and 23 strikeouts in 31 2/3 innings.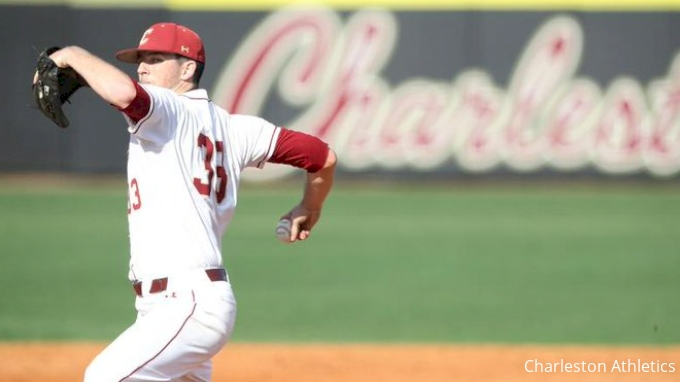 Elite reliever, junior William Privette, is wreaking havoc out of the bullpen, too, with the high-level MLB prospect and reigning CAA Pitcher of the Year notching four saves thus far, with a 1.08 ERA in nine appearances.
Nonetheless, the Cougars have been the weakest-hitting team in CAA play (.219) and are trying to find a way to get out of that funk and give their top-tier arms some consistent insurance runs – all before the meat of the spring schedule gets underway.
And as the Tigers' pitching staff is going through a rough patch of its own (allowing double-digit runs in each of its past four games), it finally may be CofC's time to shine at the plate against its conference opposition.
It must beware of the power of redshirt junior Bryce Frederick at the plate, though, as he's smashed four home runs with 21 RBIs to begin the season.