CAA
CAA Baseball Report | March 21, 2023
CAA Baseball Report | March 21, 2023
Catch up on the CAA Baseball weekly news, notes and awards.
Mar 21, 2023
by FloBaseball Staff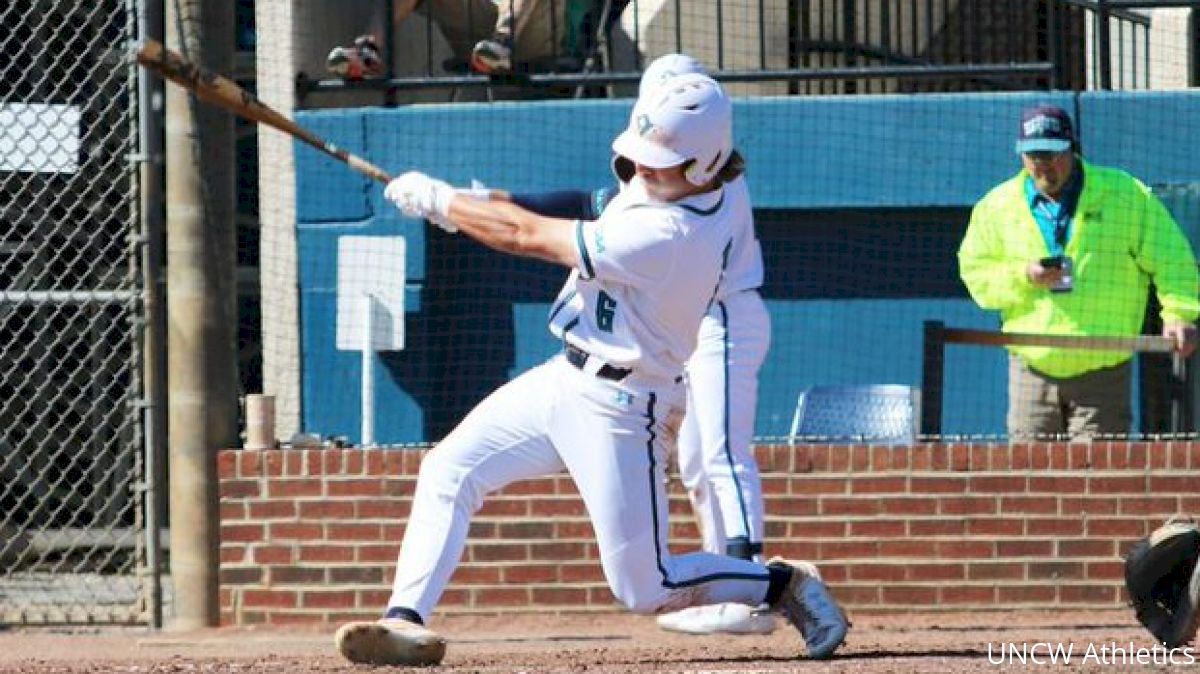 Catch up on the CAA Baseball weekly news, notes and awards.
CAA CO-PLAYER OF THE WEEK
Jac Croom | 3B | UNCW
Gr. - Wilmington, North Carolina / New Hanover
Croom batted .533 (8-for-15) with two doubles, nine runs scored and four RBIs in UNCW's 4-0 week, which included a win over No. 10 East Carolina and a CAA sweep at Towson.
The junior, who is hitting .529 over his current 13-game hit streak, was 2-for-2 and scored twice against ECU and went 4-for-5 with four runs in a 12-2 win at Towson on Sunday.
He's 15th in Division I with a .450 batting average.
CAA CO-PLAYER OF THE WEEK
Tanner Holliman | 2B | Elon
Jr. - Edmond, Oklahoma / Oklahoma Christian School
Holliman batted .438 (7-for-16) with a double, two homers, nine runs scored and seven RBIs in Elon's 4-0 week, which included a win at No. 23 NC State and a CAA sweep at Monmouth.
The junior tallied multiple hits in three games, scored at least two runs in all four and went deep twice at MU, as the Phoenix piled up 56 runs last week.
Holliman is on an eight-game hitting streak.
CAA Baseball Weekly Awards presented by @PrimisBank@UNCWBaseball's Jac Croom@ElonBaseball's Tanner Holliman & Ryan Sprock@GoNUbaseball's Wyatt Scotti

➡️ https://t.co/o7T8d9hDxp pic.twitter.com/fu4Y7nGy69

— Colonial Athletic Association (@CAASports) March 20, 2023
CAA PITCHER OF THE WEEK
Wyatt Scotti | RHP | Northeastern
Jr. - Barnstable, Massachusetts / St. Mark's
Scotti improved to 5-0 after holding N.C. A&T to two hits over seven scoreless innings, while striking out five in Northeastern's 14-0 victory Friday.
The right-hander didn't allow a runner past second base, giving up a second-inning single and a two-out double in the seventh.
Scotti is one of only seven pitchers in Division I off to a 5-0 start.
CAA ROOKIE OF THE WEEK
Ryan Sprock | P/IF | Elon
Fr. - Morristown, New Jersey / Seton Hall Prep
Sprock excelled at the plate and on the mound once again.
The freshman hit .500 (4-for-8) with three homers, five runs scored and eight RBIs in Elon's 4-0 week, including a three-run shot in a 14-6 win at No. 23 NC State.
He homered twice in Friday's win at Monmouth and threw six shutout innings with seven strikeouts in a win over MU on Saturday.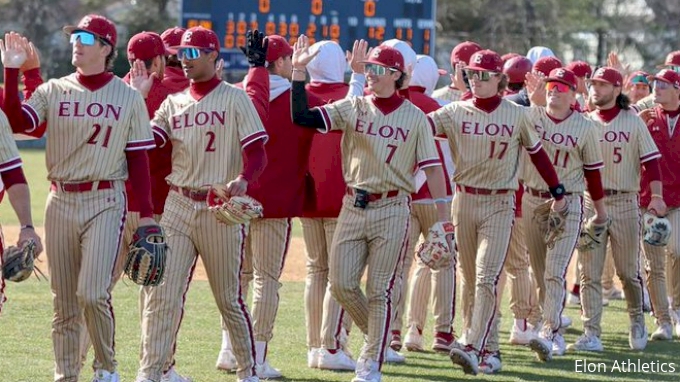 CONFERENCE NOTES
BIG WEEK AGAINST RANKED FOES: The CAA posted a pair of wins over nationally ranked opponents last Tuesday, as UNCW beat No. 10 East Carolina, and Elon knocked off No. 23 NC State.
The league gets six more chances this week. Five of those are on Tuesday - Elon visits No. 2 Wake Forest, North Carolina A&T is at No. 15 North Carolina, Northeastern hosts No. 16 Boston College, Hofstra travels to No. 24 West Virginia and UNCW welcomes No. 25 NC State. The Pride and Mountaineers continue their series on Wednesday.
CHARLESTON (13-6, 4-2 CAA): The Cougars rebounded from a tough 4-3 loss at Clemson by winning 2-of-3 over CAA foe Stony Brook.
Jared Kirven was 5-for-13 with a homer and five RBIs in the SBU series.
Will Baumhofer had back-to-back three-hit games against Clemson and SBU and finished 8-for-18 for the week.
JT Marr tallied seven hits in the four games last week.
Tyler Sorrentino came through with a walk-off RBI single in the 11th to beat SBU, 3-2 on Saturday.
All-America closer William Privette worked four scoreless innings with five strikeouts to earn the win on Saturday.
Trey Pooser held SBU to two runs over seven frames and has a 1.99 ERA for the season.
Ty Good fanned eight against SBU on Friday.
DELAWARE (8-11, 1-2 CAA): The Blue Hens split four games, falling 13-11 in 10 innings to Maryland, before taking 2-of-3 from UMass Lowell over the weekend.
Joey Loynd had another big week at the plate, batting .588 (10-for-17) with three doubles, two homers and 10 RBIs. He went deep twice and drove in seven in Friday's 20-2 win over UML. Loynd leads the CAA in homers (six), doubles (11), runs (28) and RBIs (32) and recorded his 100th career RBI.
Bryce Greenly didn't allow an earned run over five innings in Saturday's 3-2 win over UML, while Eli Atiya (3-2) threw five shutout innings and struck out four on Friday. Greenly also went 2-for-4 with five RBIs on Friday and hit .500 (9-for-18) for the week.
ELON (13-7, 5-1 CAA): The Phoenix extended their winning streak to six with a 4-0 week on the road that featured a 14-6 victory at No. 23 NC State and a CAA sweep at Monmouth. Elon's offense exploded for 56 runs in the four games.
Tanner Holliman hit .438 (7-for-16) with two homers, nine runs scored and seven RBIs, while Charlie Granatell batted .400 (8-20) and drove in 10.
Ryan Sprock belted three homers and knocked in eight, and he also threw six shutout innings in Saturday's 12-1 win at MU.
Justin Cassella smacked a grand slam at NC State and added three RBIs in the finale at Monmouth.
Shea Sprague moved to 3-1 after limiting the Hawks to two earned runs over 7.2 innings and fanning six on Friday.
HOFSTRA (6-12, 2-4 CAA): The Pride went 2-2 at home last week, defeating Manhattan (11-4) and winning the CAA series finale against William & Mary (4-3).
Danny Kelleher tossed four scoreless innings of relief against Manhattan to earn his first career win, and Santino Rosso led Hofstra offensively with four hits and three RBIs.
Hofstra rallied for three runs in the seventh inning against W&M on Sunday, as Anthony D'Onofrio delivered a pinch-hit two-run double that tied the game, and Dylan Palmer followed with a RBI single.
Mike McKenna worked a scoreless inning to get his first win, and Michael O'Hanlon recorded the final five outs for his second save.
John Mikolaicyk held W&M to one run over 5.2 innings in Saturday's 2-1 loss.
MONMOUTH (7-9, 1-5 CAA): The Hawks edged Seton Hall (2-1), but suffered setbacks in all three CAA games with Elon.
Relievers Nick Tamburro, Mason Miller and Jake Fraher combined for six scoreless innings at SHU, and Ben Winstead drove in the winning run with a single in the sixth.
Austin Denlinger went 4-for-5 with a double, homer and two RBIs in the opener against Elon and followed with a 3-for-4 effort with three runs scored in Sunday's finale. He is batting a team-best .429 for the season.
Phil Stahl was 2-for-4 and knocked in a run Sunday and is hitting .417 for the year.
Tamburro added 2.2 scoreless innings Sunday and hasn't given up a run in three appearances.
NORTH CAROLINA A&T (10-9, 3-3 CAA): The Aggies split four road games last week, beating UNCG (9-4) and taking the finale of their CAA series at Northeastern (5-3).
Camden Jackson was 8-for-15 with four runs scored and five RBIs last week, including a 4-for-5 effort in the UNCG win.
Anthony Hennings was 2-for-4 and drove in two in both victories.
Canyon Brown had at least one hit in all four games and was 7-for-16 for the week.
The Aggies recorded 13 hits as a team in the two wins.
Jaheim Brown and Jake Delisi combined to limit NU to two runs over the first 7.1 innings Saturday, before Xavier Meacham came on to post his CAA-best fifth save.
UNCW (13-7, 5-1 CAA): The Seahawks had a 4-0 week, knocking off No. 10 East Carolina (8-5), before sweeping a three-game CAA series at Towson. UNCW plated 42 runs in the four games and raised its team batting average to .311.
Jac Croom batted .533 (8-for-15) for the week to raise his CAA-best batting average to .450, while extending his hitting streak to 13 games.
Trevor Marsh had multiple hits in three games, including going 2-for-4 with two RBIs against ECU.
Sophomore Zane Taylor (2-1) fired seven shutout innings at Towson in the finale, allowing four hits and striking out four. He dropped his ERA to 1.38 in CAA play.
Connor Kane earned his first career save at Towson on Friday, giving up one hit over the final four frames.
NORTHEASTERN (12-4, 3-3 CAA): The Huskies took 2-of-3 from North Carolina A&T in their Friedman Diamond debut last weekend.
Northeastern got a doubleheader sweep (14-0, 9-4) on Friday, as Tyler MacGregor went 5-for-6 with a double, two homers, three RBIs and four runs scored across the two games.
NU had six different players launch homers in Game 1.
Harrison Feinberg came up big in the nightcap, going 4-for-5 with two doubles and two RBIs from the leadoff spot.
Wyatt Scotti became one of seven pitchers nationally to start the year 5-0 after holding the Aggies to two hits over seven shutout innings and fanning five in the opener.
Griffin Young recorded his third save in Game 2 with 1.1 scoreless innings.
STONY BROOK (6-11, 1-2 CAA): The Seawolves dropped 2-of-3 at preseason CAA favorite, Charleston, in its opening league series. All nine starters had at least one hit as Stony Brook earned a 15-11 victory in Sunday's finale.
Evan Giordano was 3-for-5 with three RBIs in the victory, and Brett Paulsen went 3-for-6 and drove in four.
Evan Fox batted .384 in the series from the leadoff spot and stole his 13th base of the year.
Freshman Eddie Smink picked up his first collegiate save Sunday with 1.1 shutout innings and two strikeouts.
In Saturday's 3-2, 11-inning setback to the Cougars, Ben Fero limited CofC to two runs over 6.1 innings, and reliever Josh O'Neill didn't allowed an earned run in four frames.
TOWSON (6-15, 1-5 CAA): The Tigers picked up a pair of mid-week victories over Marist (9-8, 12-4), but they were swept in their CAA series against UNCW.
Jordan Peyton was 2-for-5 and drove in two in the opener against Marist, including the game-winning RBI in the ninth inning.
Reyce Curnane was 3-for-5 with a triple and three RBIs in the second Marist win, which featured four shutout innings and seven strikeouts on the mound from Brett Seils.
Curnane was 8-for-19 for the week with three doubles and a triple.
Bryce Frederick belted a two-run homer in Sunday's setback to UNCW.
Casey Bishop had a nine-game hit streak end Sunday, but he is batting a team-best .354.
WILLIAM & MARY (11-10, 3-3 CAA): The Tribe got strong performances offensively and on the mound in a 3-2 week. W&M allowed just one run in each of its three wins, lowering its team ERA to a CAA-best 2.96.
Zach Tsakounis (4.0 IP, 2 H), Mike Weidinger (3.0 IP, 1 H) and Rojo Prarie (2.0 IP, 1 R) didn't allow an earned run in Saturday's 2-1 victory at Hofstra, while Carter Lovasz limited the Pride to two hits in 4.2 shutout innings in Friday's 15-1 triumph .
At the plate, Ben Williamson batted .500 (10-for-20) with six runs scored and six RBIs and raised his season average to .443.
W&M tallied its second-highest run total in school history in a 34-1 win over Norfolk State. Luca Danos drove in five runs.