Big Ten
BIG EAST Baseball Games Of The Week: Xavier Finally Gets To Play Host
BIG EAST Baseball Games Of The Week: Xavier Finally Gets To Play Host
With the college baseball season now in full swing, the BIG EAST Conference has seen a trio of teams break out of the gates with strong starts.
Mar 15, 2023
by Ron Balaskovitz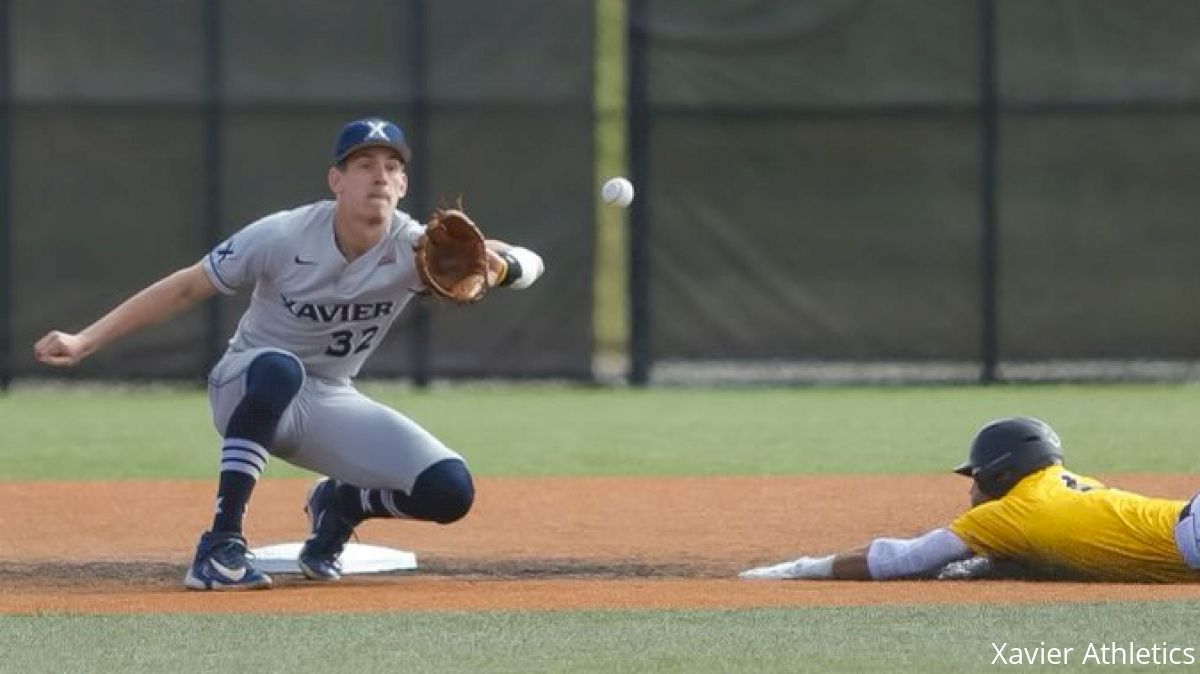 With the college baseball season now in full swing, the BIG EAST Conference has seen a trio of teams break out of the gates with strong starts, possibly hinting and how the race for the conference title may shake out once league play begins in early April.
At the moment, UConn, St. John's and Georgetown have separated themselves from the rest of the pack in the eight-team league, but Creighton and Xavier lurk close behind.
While the early standings are a good way to get an idea of how the season may shake out, keep in mind that five of the league's teams have yet to play a game at home, due to playing in cold-weather climates, so they have not had the benefit of home-field advantage.
As teams continue to round into shape, here's a look at this week's BIG EAST baseball games of the week.
As is the case with all early-season games, particularly as teams in colder climates get set to play host, times and dates are subject to change.
Wofford At Xavier, Friday at 3 p.m., Saturday/Sunday at 1 p.m.
This trio of games marks the first at home for the Musketeers, who despite playing every game on the road so far, have posted respectable 7-8 start to the season. They'll welcome the Terriers, who have roared out of the gates with a 14-2 start, including going 12-1 on their home field.
What's helped keep Xavier in games early this season has been its pitching, which has posted a team ERA of 4.63 and a WHIP of just 1.29.
Starters Ethan Bosacker (2-1, 2.35 ERA) and Luke Hoskins (1-0, 3.38 ERA) have shined in their combined seven starts this season and should see the ball in two of the three games, giving the Musketeers a good chance at a series win.
𝗠𝗮𝘁𝘁 𝗠𝗰𝗖𝗼𝗿𝗺𝗶𝗰𝗸, 𝗵𝗮𝘃𝗲 𝗮 𝗱𝗮𝘆! pic.twitter.com/mFi5y5tjCX

— Xavier Baseball (@XavierBASE) February 26, 2023
While the pitching has shined, the offense has been hit or miss, with three players batting over .300 already, including Hayden Christiansen at a team-best .412, while Andrew Walker has driven in 13 runs, along with four homers from Matt McCormick, but four regular players hitting .250 or worse.
Wofford has hit the cover off the ball early, hitting .303 as a team, paced by Ryan Galanie and his .492 average. He has blasted six home runs and collected 25 RBIs, so if Xavier is going to have success, shutting him down is a must.
Two Terriers starters have an ERA over 5.00, but their bullpen is a combined 10-0 on the season.
UConn At San Diego State, Thursday/Friday/Saturday at 9 p.m., Sunday at 4 p.m.
Conference-leading UConn heads way out west for a four-game set against traditional power San Diego State, in what should be a good test of how the Huskies might fare in the postseason.
UConn is off to an impressive 9-4 start, despite not yet playing a home game, and has caught fire of late, winning three in a row. That's the longest current winning streak in the nation.
Back at the ball yard. #HookC pic.twitter.com/4bIjBSOeTv

— UConn Baseball (@UConnBSB) March 12, 2023
The big help for the Huskies has been depth up and down the lineup, with only three hitters, even those not qualifying with enough at bats, hitting under .250.
Add in that the Huskies have five players already with 10 or more RBIs, and there are threats to make things happen from top to bottom.
Dominic Freeberger paces the team at .367 and a team-best 16 RBIs, while Ben Huber has racked up nine doubles.
On the hill, starter Stephen Quigley should see the ball. He has a 2.57 ERA in three appearances.
SDSU has limped into the year at just 4-8, but has played strong competition to start, including Pac-12 foes Arizona State and Washington State, who they went 0-4 against. Against all others, including a four-game Mountain West set with UNLV, they've played .500 ball.
We have a big four-game home series vs. UConn on tap for us this weekend (March 16-19) at Tony Gwynn Stadium! #GoAztecs

🎟 Tickets: https://t.co/ZjiJG2t5cO

📰 Preview 👇 👇 👇https://t.co/HmutuXKIfU

— San Diego State Baseball (@AztecBaseball) March 16, 2023
The Aztecs have hit well, posting a .271 team average, but there hasn't been much thump behind it. They're only his eight home runs as a team in their 12 games.
Pitching, like the offense, has been mostly OK, but nothing stand outs, with their two main starters sitting at ERAs over 4.60.
Chalk up the slow start to tough competition, but this is a team that's always tough, no matter where you face them.
Georgetown At Penn State, Friday at 5 p.m., Saturday at 1 p.m., Sunday at noon.
The Hoyas also have gotten out of the gates strong at 10-6, and they will get their shot at a Big Ten team on the road this weekend – Penn State.
Georgetown's start has been fueled by an offense that already has slugged 21 home runs, including four each for Michael Eze, Ubaldo Lopez and Jake Hyde, along with six players in double-digit RBIs.
At .276, they don't make a ton of contact, but when they do, the Hoyas tend to hit the ball hard, boasting a .469 slugging percentage in 2023.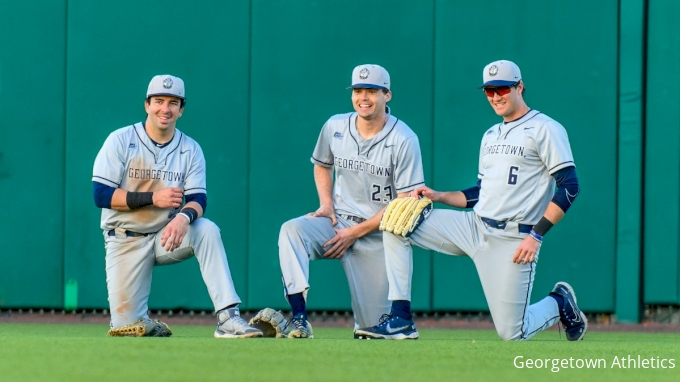 On the hill, Jake Bloss has dominated through four appearances, going 2-1 with a 1.69 ERA, while Andrew Williams and his 2.86 ERA through four starts hasn't been bad either.
Penn State is out to a 9-5 start to the year, which includes a win over Miami, which is ranked in the top 25.
The Nittany Lions have hit .291 as a team, but it's been their pitching, with two starters boasting ERAs under 3.30, that has led the way. Daniel Ouderkirk has been the star with 35 strikeouts in 19 innings of work.