CAA
CAA Baseball Report | March 14, 2023
CAA Baseball Report | March 14, 2023
Catch up on the CAA Baseball weekly news, notes and awards.
Mar 15, 2023
by FloBaseball Staff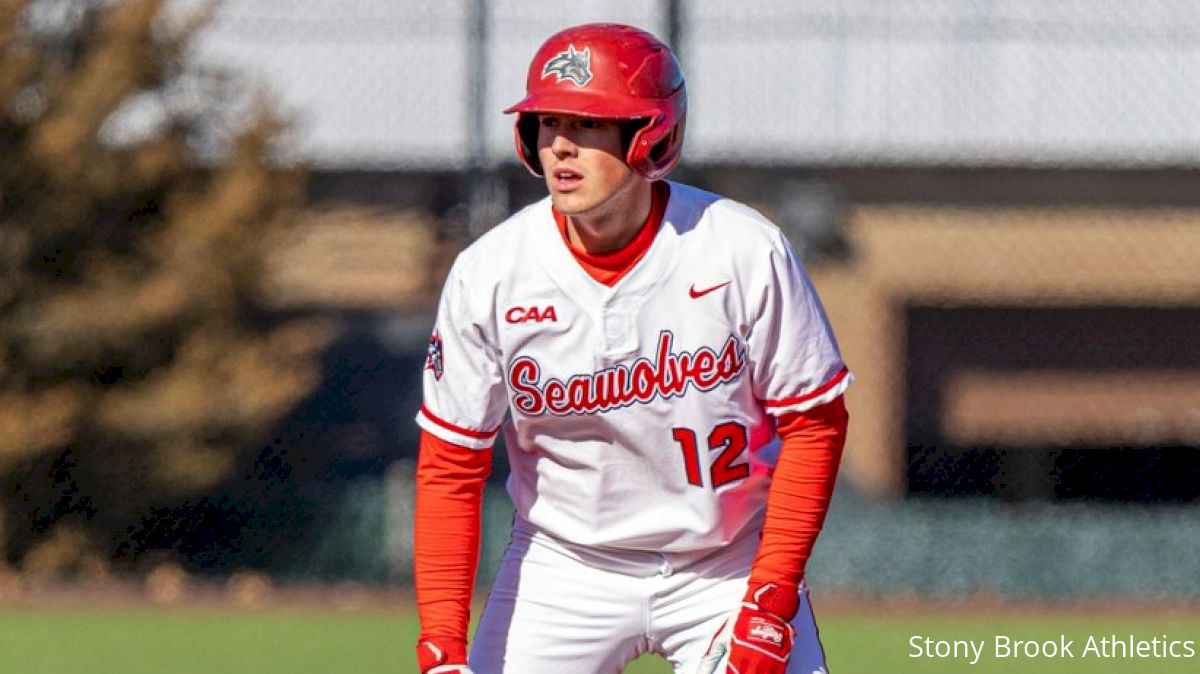 Catch up on the CAA Baseball weekly news, notes and awards.
CAA PLAYER OF THE WEEK
Evan Giordano | 3B | Stony Brook
Gr. - Sewell, New Jersey /Gloucester Catholic
Giordano batted .636 (14-22) with five doubles, a triple, a homer, nine runs scored and 14 RBIs in Stony Brook's 5-0 week.
The grad student had multiple hits, runs and RBIs in four of the five contests and doubled in all five.
He drove in five runs in a win over Fordham, went 5-for-6 in a victory over LIU and had six hits and six RBIs in a three-game sweep of Lafayette.
CAA PITCHER OF THE WEEK
Jacob Shafer | RHP | UNCW
Jr. - High Point, North Carolina /Southern Guilford
Shafer threw the first complete game in the CAA this season, needing only 93 pitches to earn the win, as UNCW beat Monmouth, 3-1, last Friday.
The right-hander allowed just three singles, struck out five and retired the final 10 batters of the game.
It was the first "Maddux game" (CG with less than 100 pitches) by a UNCW hurler since 2016.
Big game from Shafer vs @muhawksbaseball ... here are some highlights #NCAABaseball #CAASports #UNCW pic.twitter.com/0KgkRHCgYq

— UNCW Baseball (@UNCWBaseball) March 13, 2023
CAA CO-ROOKIE OF THE WEEK
Brian Heckelman | C | Towson
Fr. - Mineola, New York /Chaminade
Heckelman batted .500 (8-for-16) with two homers, four runs scored and eight RBIs in Towson's 2-2 week.
The freshman had multiple hits in three games, including going 3-for-5 with three RBIs in a victory at GW.
He was 5-for-11 with a pair of homers in the N.C. A&T series, highlighted by a three-run shot in a 10-3 win Saturday.
CAA CO-ROOKIE OF THE WEEK
Ryan Sprock | P/IF | Elon
Fr. - Morristown, New Jersey /Seton Hall Prep
Sprock allowed just three hits and two runs over six innings, while striking out a career-high 12 to help Elon edge Northeastern, 4-3 in 10 innings, ending the Huskies' nine-game winning streak.
The freshman fanned at least two batters in a five of his six frames. Sprock also was 3-for-4 with a double against nationally ranked ECU.
⚾️ Men's CAA baseball weekly awards presented by @PrimisBank @StonyBrookBASE's Evan Giordano@UNCWBaseball's Jacob Shafer@Towson_BASE's Brian Heckelman@ElonBaseball's Ryan Sprock

➡️ https://t.co/9xFIV4ptZE pic.twitter.com/B4Oz8mvUXc

— Colonial Athletic Association (@CAASports) March 13, 2023
CONFERENCE NOTES
NO SERIES SWEEPS TO START CAA PLAY: There were no series sweeps during the first weekend of CAA play.
Delaware, Elon, UNCW and North Carolina A&T went 2-1, while Charleston was the only team to post a series victory on the road.
NATIONAL HONOR FOR GIORDANO: Along with his CAA honor, Stony Brook's Evan Giordano was chosen as a National Player of the Week by Collegiate Baseball newspaper. He batted .636 with five doubles, a triple, a homer, nine runs and 14 RBIs in a 5-0 week.
CHARLESTON (11-4, 2-1 CAA): The Cougars pushed their winning streak to 10 with a pair of victories over Longwood and William & Mary, before falling to the Tribe on Sunday.
Charleston's pitching was outstanding, giving up just five runs in the four victories that included three straight 2-1 decisions.
All-America closer William Privette recorded three saves last week after giving up only two hits over 4.2 shutout innings and striking out 10. He's 1-0 with four saves and a 0.00 ERA in seven appearances.
Ty Good held W&M to one run on three hits over six innings and fanned nine on Friday.
Trey Pooser improved to 3-0 with a 1.82 ERA after not allowing an earned run in six innings at W&M on Saturday.
Freshman Alex Lyon threw 5.1 shutout innings out of the bullpen last week and got a save vs. LU.
DELAWARE (6-9, 1-2 CAA): The Blue Hens took 2-of-3 from defending CAA champ Hofstra as part of a 2-2 week. UD tallied 40 runs against the Pride.
Joey Loynd led the charge, going 8-for-14 with a double, three homers and seven RBIs in the Hofstra series. He's driven in 22 runs this season.
Dan Covino smacked a pair of homers against the Pride on Sunday, while J.J. Freeman was 3-for-6 with a homer and five RBIs in the contest.
On the mound, Dan Frake tossed three scoreless innings against HU on Saturday and struck out a career-high five batters.
ELON (9-7, 2-1 CAA): The Phoenix went 2-2 in a tough four-game week, which included a doubleheader sweep of Northeastern on Saturday.
Tanner Holliman homered twice and drove in three, as Elon won the opener, 4-3, on a walk-off solo shot by Cole Reynolds in the 10th.
In the nightcap, Holliman and Kenny Mallory Jr. went deep in a 2-1 triumph.
Holliman batted .385 for the week and recorded a hit in all four games.
Ryan Sprock tallied a career-high 12 strikeouts over six innings, and Joe Savino allowed just one run over the final four frames in Game 1 against NU.
In Game 2, freshman Justin Mitrovich threw 6.1 shutout innings and struck out six. Ben Simon picked up his third save.
HOFSTRA (4-10, 1-2 CAA): The Pride had a 1-3 week on the road, picking up a 6-3 win at Delaware on Saturday.
Freshman Dylan Palmer led Hofstra offensively, batting .526 (10-for-19) with two doubles, a triple, six runs scored and three RBIs. He was 9-for-15 in the UD series.
Santino Rosso went over 100 hits for his career Sunday.
The Pride batted .313 as a team last week.
Mark Faello earned his first win of the season Saturday, after giving up three hits in 5.1 innings against the Hens.
Tristan Nemjo and Michael O'Hanlon closed it out with 3.2 frames of shutout relief work.
Sammy Burman's first collegiate hit was a RBI double.
MONMOUTH (6-6, 1-2 CAA): The Hawks dropped 2-of-3 at UNCW to open CAA play but picked up a 7-4 victory in Saturday's finale.
Catcher Brady Mutz came up big in the win, going 3-for-5 with a double, homer and four RBIs.
Ben Winstead and Mason Wolf each had two hits and combined for three runs in the victory.
Reliever Jake Fraher improved to 3-0 after not allowing an earned run over 2.2 innings, and Stephen Aldrich recorded his first save with two shutout frames.
The Hawks got homers from Wolf, Eric Sabato and James Harmstead in the first two innings of Saturday's opener.
Dante Ciaramella held the Seahawks to one hit over five scoreless innings and struck out four Friday.
NORTH CAROLINA A&T (8-7, 2-1 CAA): The Aggies had a 3-1 week, highlighted by a CAA series win over Towson.
Shortstop Sabin Roane, who recently moved into the starting lineup, batted .600 (9-15) with a double and four RBIs last week. He had multiple hits in three of the four games and didn't commit an error in 24 chances.
Cameran Brantley and Tre Williams both drove in three runs in Friday's 9-8 triumph over the Tigers.
Camden Jackson smacked a two-run homer and TJ Ash had three hits in a 6-3 victory over the TU in the series finale.
Jaheim Brown limited the Tigers to two earned runs over six innings.
Xavier Meacham picked up saves in all three wins last week, including two scoreless outings.
UNCW (9-7, 2-1 CAA): The Seahawks topped in-state foe Charlotte (11-9), before taking 2-of-3 from Monmouth to start CAA play.
Jac Croom batted .577 (10-for-17) for the week with two doubles, a homer and seven runs scored. He's riding a career-best nine-game hitting streak, with multiple hits in eight of those contests, to raise his batting average to .431.
Freshman Tanner Thach homered twice and drove in seven last week. He tops the CAA with six home runs and 26 RBIs for the season.
Jacob Shafer threw the CAA's first complete game Friday against MU, allowing just one run on three hits over nine innings. It was the sixth "Maddux game" (CG with less than 100 pitches) in UNCW history and first since 2016.
NORTHEASTERN (10-3, 1-2 CAA): The Huskies ran their winning streak to nine with road wins at Duke (2-1) and Elon (6-2), before dropping a pair of one-run games to the Phoenix on Saturday.
Jake Gigliotti led a group of seven NU pitchers who threw a four-hitter at Duke. He also threw four shutout innings of relief at EU.
Wyatt Scotti moved to 4-0 after limiting Elon to two runs on four hits over seven innings and fanning six on Friday.
Danny Crossen was 7-for-12 (.583) with a homer and four runs scored in the Elon series.
Freshman Cam Maldonado hit .400 and drove in three against the Phoenix.
STONY BROOK (5-9, 0-0 CAA): The Seawolves had a 5-0 week, beating Fordham and LIU, before sweeping a three-game series from Lafayette.
SBU's offense plated 52 runs in the five games.
Along with the huge week put together by Evan Giordano, Matt Brown-Eiring was 7-for-11 with a homer and six RBIs in the Lafayette series.
Freshman JT Raab threw five scoreless innings against Fordham, retiring 15 of the 16 batters he faced to earn his first career win.
Eddie Smink held Lafayette to one run over five frames and fanned four to get his first collegiate victory.
Coach Matt Senk recorded his 900th career victory at SBU against LIU.
TOWSON (4-12, 1-2 CAA): The Tigers split four games last week, rolling over George Washington (21-11) and beating North Carolina A&T (10-3) in the middle game of their CAA series.
Bryce Frederick batted .368 (7-for-19) with two doubles, a homer and 11 RBIs for the week, with seven RBIs coming in the GW win.
Freshman Brian Heckelman batted .500 (8-16) with a pair of homers and eight RBIs.
Justin Rebok and Tyler Russo each threw three shutout innings in the victory over A&T.
Towson piled up 20 hits against GW, with every starter recording a hit.
The 21 runs were the most for the Tigers in a game since 2020.
WILLIAM & MARY (8-8, 1-2 CAA): The Tribe had a 1-3 week but picked up a 12-3 victory over Charleston on Sunday to end the Cougars' 10-game winning streak.
Joe Delossantos was 4-for-6 with two runs scored, Ben Williamson went 2-for-4 with a homer and three RBIs and Corey Adams and Luca Danos each were 3-for-4 in the win.
Mike Weidinger and Carter Lovasz combined for five shutout innings of relief against Charleston on Friday.
Tom Mayer provided 2.2 scoreless innings of relief against the Cougars on Saturday, as W&M suffered back-to-back 2-1 losses.
Williamson and Delossantos both homered against No. 17 Virginia.