CAA
CAA Baseball Report | Feb. 21, 2023
CAA Baseball Report | Feb. 21, 2023
Catch up on the CAA Baseball weekly news, notes and awards.
Feb 22, 2023
by FloBaseball Staff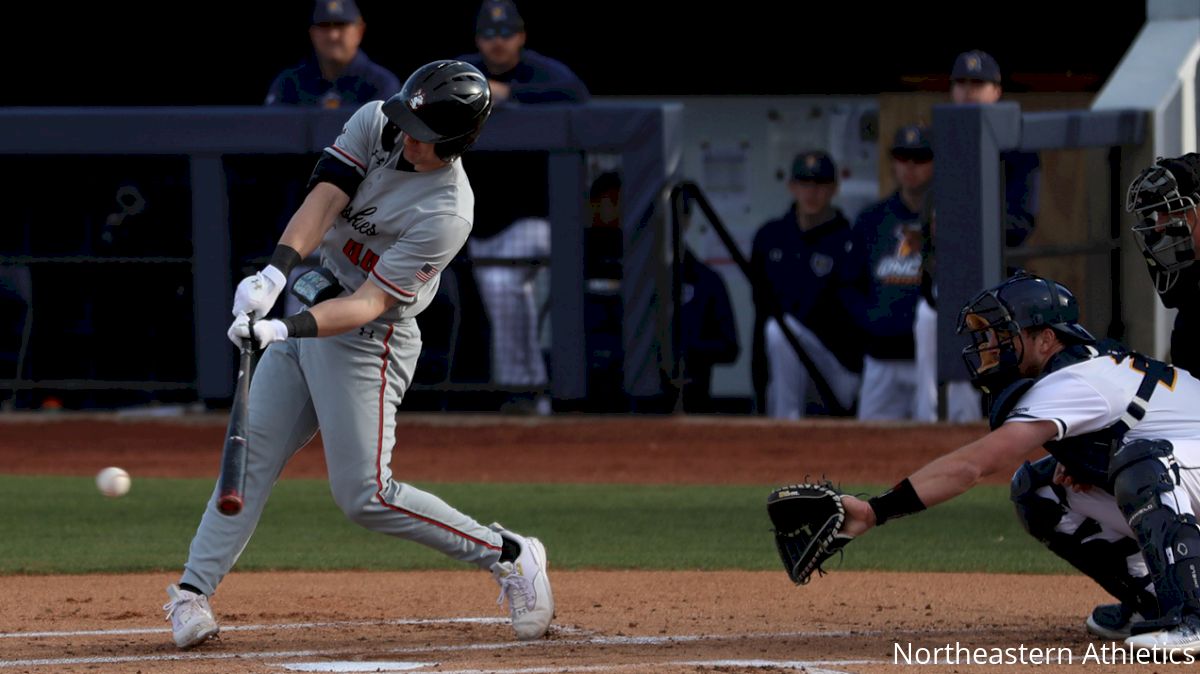 Catch up on the CAA Baseball weekly news, notes and awards.
WEEKLY AWARDS
PLAYER OF THE WEEK
Jimmy Sullivan | C/DH | Northeastern
Jr. - East Hampton, Connecticut/Choate Rosemary Hall
Sullivan batted .417 (5-13) with a homer, three runs scored and four RBIs, as Northeastern won 2-of-3 at defending SoCon champ UNCG last weekend.
The UMass Lowell transfer went 2-for-4 as the DH in each of the Huskies' first two games, including Friday's 11-0 victory.
He moved to catcher Sunday and smacked a three-run homer in a 12-9 series-clinching win.
CO-PITCHER OF THE WEEK
Ty Good | RHP | Charleston
Sr. - Rock Hill, South Carolina/South Pointe
Good allowed just one hit over five shutout innings and fanned six in Charleston's 5-2 win over No. 14 Virginia Tech last Friday.
The senior gave up a single to open the game, but he didn't allow a runner past first base over his final four innings.
He had a strikeout to strand a runner on third in the first inning and struck out the side in the second.
CO-PITCHER OF THE WEEK
Shea Sprague | LHP | Elon
So. - Hanover, Massachusetts/Boston College HS
Sprague scattered four hits over six shutout innings and struck out three in Elon's 2-0 win over Kentucky last Friday.
The lefty gave up just four singles and helped Elon record its first Opening-Day shutout since 1992 and first shutout of a current SEC team since 1916.
Sprague didn't allow a runner to reach second base.
CAA ROOKIE OF THE WEEK
Tanner Thach | 1B | UNCW
Fr. - Belvidere, North Carolina/Perquimans County
Thach excelled in his collegiate debut, batting .500 (5-for-10) with a homer, five runs scored and six RBIs in UNCW's 2-1 weekend.
The freshman belted a three-run homer in his first at-bat and finished 2-for-5 with five RBIs in a 14-10 win over Ohio.
He also was 2-for-4 with two runs scored in a victory over Navy and had a hit against Virginia.
It's time for our CAA Baseball Weekly Awards presented by @PrimisBank ⚾️@GoNUbaseball's Jimmy Sullivan@CofCBaseball's Ty Good @ElonBaseball's Shea Sprague@UNCWBaseball's Tanner Thatch

➡️ https://t.co/hHUt8Chmk2 pic.twitter.com/YqqaA2Ohry

— Colonial Athletic Association (@CAASports) February 20, 2023
CONFERENCE NOTES
SOLID START TO THE SEASON: It was a solid start to the season for CAA baseball teams.
League newcomer, North Carolina A&T, swept a three-game series with Maryland-Eastern Shore, Northeastern won 2-of-3 over defending SoCon champ UNCG and UNCW went 2-1 in the Hughes Bros. Challenge, with its only loss being to No. 19 Virginia.
Last Friday, Charleston knocked off No. 14 Virginia Tech, 5-2, and Elon blanked Kentucky, 2-0, for its first shutout win over a current SEC program since 1916.
CHARLESTON (1-2, 0-0 CAA): The Cougars opened the season with a 5-2 victory over No. 14 Virginia Tech last Friday.
Outfielder Khyree Miller belted a grand slam in the sixth inning that put Charleston ahead to stay.
Ty Good held the Hokies to one hit and fanned six over five shutout innings, and William Privette earned his first save by retiring all six batters he faced, striking out four in the process.
Tyler Sorrentino batted .333 in the series and scored three runs.
Trey Pooser limited VT to one earned run and five hits over 5.2 frames on Saturday.
DELAWARE (0-3, 0-0 CAA): The Blue Hens were swept at fourth-ranked Ole Miss last weekend.
UD got a strong pitching performance from Joey Silan on Friday, holding the Rebels to one hit over 4.1 shutout innings out of the bullpen, while striking out three.
Offensively, Bryce Greenly smacked a solo homer and was one of four Blue Hens with two hits in the series.
Andrew Amato delivered a two-run double in Sunday's contest.
ELON (1-2, 0-0 CAA): The Phoenix picked up a season-opening 2-0 victory against SEC member Kentucky last Friday.
Lefty Shea Sprague (1-0) gave up just four hits over 6+ innings, and Liam Dibagian and Ben Simon retired nine straight batters to end the game.
Tanner Holliman hit a solo homer in the UK win, and Cole Reynolds also drove in a run.
Vandy transfer Kenny Mallory, Jr. had three hits in the series, his Elon debut.
Freshman Ryan Sprock got the start on Sunday and allowed one run over four innings, while collecting six strikeouts.
HOFSTRA (0-4, 0-0 CAA): The Pride dropped four games at Florida Gulf Coast last weekend.
Outfielder Brian Morrell recorded a hit in all four games, and Nick Marrero batted a team-best .571 with a hit in all three games he played in.
Zach Bailey homered and drove in four at FGCU, and Will Kennedy also went deep in the series.
Ryan Morash saw his 16-game hitting streak, dating back to last season, come to an end in Sunday's finale.
MONMOUTH (0-0, 0-0 CAA): The Hawks were swept in a three-game series at Florida Atlantic last weekend.
Infielder Austin Denlinger batted a team-best .500 (7-14) and recorded multiple hits in all three games.
Ben Winstead homered in the final two games of the series, while Monmouth also got long balls from Phil Stahl and Harry Padden.
The Hawks' pitching staff got solid relief efforts from Dante Ciaramella, who gave up one hit over three innings, and Nick Tamburro, who surrendered one hit in 3.1 frames.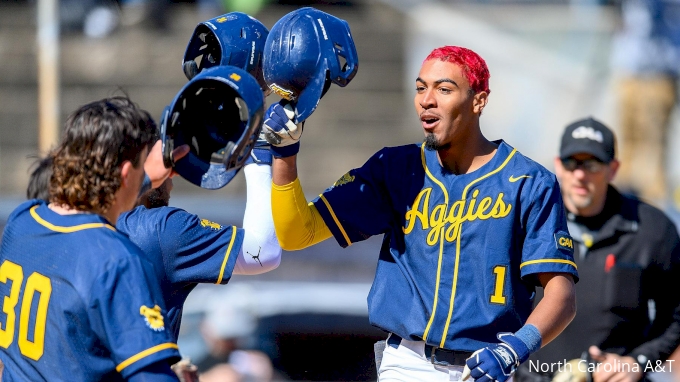 NORTH CAROLINA A&T (3-0, 0-0 CAA): The Aggies opened the season with a three-game weekend-sweep of Maryland-Eastern Shore.
A&T batted .345 as a team, and Anthony Hitchings led the way with a .500 average from the leadoff spot, including a pair of 3-hit games. Cort Maynard batted .462 and scored six runs. Canyon Brown hit .444 with a homer and a team-high five RBIs, highlighted by a walk-off RBI double in the 10th inning on Sunday that gave A&T a 5-4 win.
Daniel Carter (1-0) gave up just two runs over five innings and fanned nine.
UNCW (2-1, 0-0 CAA): The Seahawks went 2-1 in the Hughes Bros. Challenge, beating Ohio (14-10) and Navy (8-0), before falling to No. 19 Virginia (7-0).
Freshman Tanner Thach hit a three-run homer against OU in his first collegiate at-bat and batted .500 with five runs scored and six RBIs for the weekend.
Trevor Marsh hit .385 with a double, triple and homer over the three games.
Jacob Shafer fired seven shutout innings against Navy, allowing only five singles and tying his career-high with eight strikeouts.
NORTHEASTERN (2-1, 0-0 CAA): The Huskies took 2-of-3 from defending SoCon champ UNCG.
NU hit .333 in the series, with newcomer Jimmy Sullivan batting .417 with four RBIs.
Danny Crossen (.400 with two doubles) and Mike Sirota (.375, four RBIs) returned to action after dealing with injuries last season, and freshman Carmelo Musacchia batted .385 in three starts at shortstop.
Four pitchers, led by ace Wyatt Scotti (1-0), combined for a four-hit shutout in Friday's opener.
Freshman Charlie Walker threw three scoreless innings at UNCG.
STONY BROOK (0-3, 0-0 CAA): The Seawolves dropped all three games on their West Coast trip to Cal State Northridge.
Matt Brown-Eiring recorded a hit in each game and batted .400 with a double and four runs scored.
Shane Paradine homered and drove in three, and Derek Yalon also contributed three RBIs.
Making his first start since last February, Nick DeGennaro allowed three hits and two earned runs over five innings and struck out three on Sunday.
SBU also got three scoreless innings from Brandon Lashley on Saturday.
TOWSON (0-4, 0-0 CAA): The Tigers suffered three losses to USC Upstate and lost a narrow 4-3 decision to Southern Illinois to start the season.
Catcher John Cristino got off to a hot start, batting .313 with a CAA-best three homers and five RBI's. He went deep twice and drove in all three runs against SIU.
Casey Bishop recorded a hit in all four games and batted a team-best .333.
Nate Nabholz didn't allow a hit and fanned five in three innings of work against USC Upstate on Saturday, while Shayne Clowar threw three scoreless frames against SIU.
WILLIAM & MARY (1-2, 0-0 CAA): The Tribe battled well at Mercer, winning 6-2 on Saturday but suffering a pair of one-run losses.
W&M's three starting pitchers - Carter Lovasz, Nate Knowles and Tom Mayer - combined to allow only one earned run over nine innings, also tallying 11 strikeouts.
Cory Wall and Rojo Prarie each recorded six strikeouts in three shutout frames from the bullpen.
Offensively, Ben Williamson and Nick Lottchea each batted .417 at Mercer, while Cole Ragone homered twice and drove in four.