GLIAC
GLIAC Baseball Team-By-Team Preview: Can Davenport Make It Three Straight?
GLIAC Baseball Team-By-Team Preview: Can Davenport Make It Three Straight?
In a Division II baseball league that had plenty of standouts a season ago, the games in the GLIAC are about to get even more competitive.
Jan 21, 2023
by Briar Napier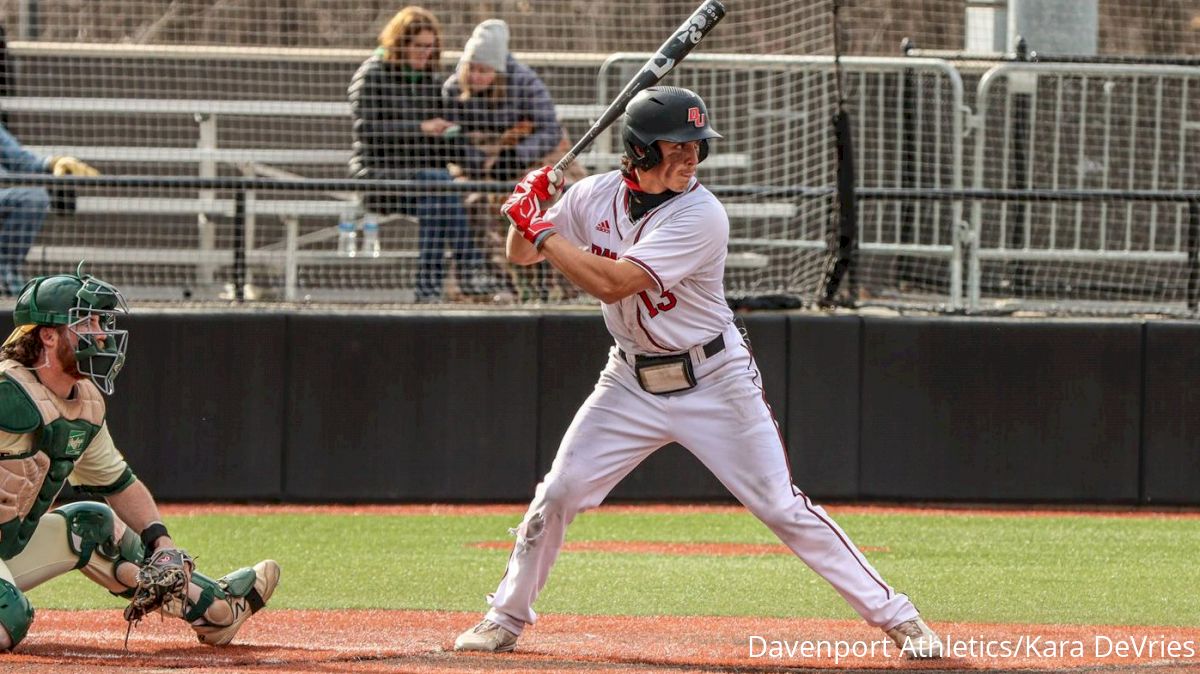 In a Division II baseball league that had plenty of standouts a season ago, the games in the Great Lakes Intercollegiate Athletic Conference are about to get even more competitive.
The league has downsized from seven to six teams for the 2023 season (Northwood left for the Great Midwest Athletic Conference in the offseason), lessening the margin for error in the race for the conference title.
This year, one team seeks a three-peat, old powers look to return to their glory days and new coaches hope to stamp their influences on their programs in a positive manner.
Things are about to get wild in the Division II ranks.
Here's a look at a team-by-team preview of the GLIAC baseball slate for this upcoming season,
with games throughout the conference set to be streamed live on FloBaseball throughout the year.
Wisconsin Parkside Rangers
2022: 5-33 overall (4-19 GLIAC), no postseason
The lowdown: Parkside has struggled mightily in the GLIAC since joining the league for the 2019 season, winning just 11 conference games combined and finishing last in the league in each of the three seasons held since then.
On the bright side for the Rangers, there's a new perspective coming to the dugout that potentially could bring the program some much-needed sustained growth.
Zac Charbonneau is Parkside's new coach.
His move comes after spending four seasons in the dugout at nearby Milwaukee Area Technical College, not to mention being a two-time champion as the manager of the Fond du Lac Dock Spiders, who play one of the country's most respected collegiate summer leagues, the Northwoods League.
Charbonneau has got a lot of work to do to bring the Rangers to relevance, however, especially after they had just a .212 team batting average and an eye-watering 11.25 team ERA last season.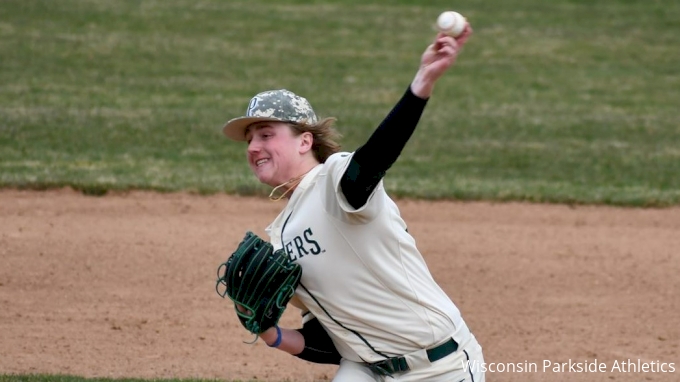 Name to watch: Noah Gerritson, Soph., P/INF
All things considered, Gerritson did admirably on the mound in an extremely difficult scenario in 2022.
Thrown into the fire as a freshman, the 6-foot-5 hurler played his way to a second-team All-GLIAC nomination, after leading Parkside with a 2-4 record.
On the surface, that mark doesn't sound spectacular, but for a Rangers program trying to create any semblance of positive momentum, getting it from a freshman, who additionally decided to return for 2023, is big news when putting it all into perspective.
Yes, the 7.41 ERA likely will need to go down, if the Rangers want to be consistently competitive, but it also was the lowest individual ERA in the rotation among Parkside pitchers who tossed at least 25 innings.
So, Gerritson did his best and showed himself to be a building block on the staff Charbonneau and the Rangers can hope to rely on in future seasons.
Purdue Northwest Pride
2022: 21-23 (7-17), lost in GLIAC Tournament
The lowdown: After Purdue Northwest appeared to be going in the right direction as a program with 16 wins and a fifth-place finish in the then eight-team GLIAC in 2019, the Pride now have finished second from the bottom in each of the past two regular-season tables.
Still, there was the epic Northwest run to the GLIAC Tournament final a year ago as the No. 6 seed to shout about, though it lost in straight games to double-winner Davenport.
Northwest also could celebrate a potent offense that batted .300 as a team and had one of the league's top offensive threats in Ray Hilbrich.
The pitching rotation, however, was one of the Pride's weak points. They finished with a 6.35 team ERA and the second-fewest strikeouts in the league (285).
Northwest frequently found itself in shootouts - see the Pride's wild 21-19 win against Northwood in April.
Hilbrich's Grand Slam Completes Comeback, Pride Extend School-Record Win Streak with Sweep https://t.co/034GnItDz7

— Purdue Northwest Pride (@PNWathletics) March 14, 2022
Name to watch: Ray Hilbrich, Gr., OF
It took the native Hoosier a little bit to rediscover the form he had during his impressive freshman campaign in 2019 - when he batted .362 for one of the best averages in the GLIAC - but when he finally found it again in 2022, it made him fun to watch.
A first-team All-GLIAC selection last year, along with second baseman Ethan Imlach (who also returns for Northwest this season), Hilbrich finished tied for third in the GLIAC with a team-high .373 average - his best season since that breakout freshman campaign.
Hilbrich also led the Pride in slugging (.503) and on-base percentage (.479).
If Northwest's rotation can improve while the lineup's production continues to be strong, Northwest could be a much-improved team overall and find itself climbing up the GLIAC standings - and Hilbrich likely will have something to do with any push.
Saginaw Valley State Cardinals
2022: 21-28 (10-14), lost in GLIAC Tournament
The lowdown: Following seven consecutive bottom-half finishes in the GLIAC, the Cardinals' program is trying to build some positive momentum wherever they can get it.
Perhaps a new face leading the dugout can help with that.
Longtime coach Steve Jaksa retired in the offseason, with the baseball team's new head coach being hired from outside the Division II ranks in former Western Michigan and Valparaiso assistant Adam Piotrowicz.
On staff for a total of eight conference championships and five NCAA Regional appearances in his career, Piotrowicz has been part of plenty of wins in his time coaching, but being a head coach will be a new test.
The first part of that might be fixing Saginaw's rotation - the 7.94 team ERA a year ago was the second-worst in the GLIAC, and the staff allowed 50 home runs, the most in the league.
SVSU was dumped out early from the conference tournament.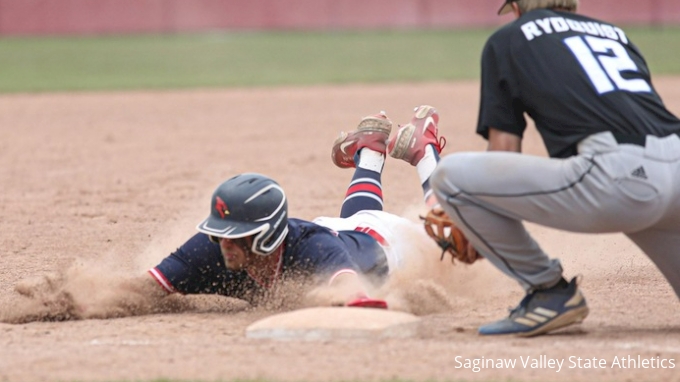 Name to watch: Hayden Jatczak, Jr., DH/P
A double-hitting machine, Jatczak hit double-figures (no pun intended) in the category for the second straight year, tallying 13 a season ago. He was named a first-team All-GLIAC designated hitter after finishing with a team-high .372 batting average and being among the Cardinals' best in a variety of other offensive categories, including RBIs (43, second on the team), walks (36, first) and on-base percentage (.471, first).
The 6-foot-4 in-state product and 2021 GLIAC Freshman Player of the Year isn't limited to just production with the bat, however. He has proven to be capable of dealing in the circle as a right-handed pitcher, as well.
Jatczak struck out 43 batters in 38 innings and nine starts last season, and though his hitting likely will be of more value to SVSU's success - Jatczak went 0-6 on the mound last year - it's always an advantage for a coaching staff to have a two-way threat to turn to in a pinch.
Grand Valley State Lakers
2022: 30-20 (13-11), lost in GLIAC Tournament
The lowdown: Formerly the GLIAC's dominant force, GVSU won four conference championships in a five-season stretch from 2011-2016. The run included two trips to the Division II College World Series.
Grand Valley State baseball has seen some sort of a regression in terms of living up to its lofty standards set across the past decade in the sport, but with an array of returning talent from the 2022 season, getting back to the Midwest Regional should be a reasonable goal for the Lakers this time around. After that, who knows?
Most of GVSU's 10 All-GLIAC nominations from last season (the most of any school in the league) will be back on the diamond this year and will be joined by a solid mix of JUCO/Division II transfers and Division I dropdowns, possibly making the Lakers poised for a surge back toward the top of the league under coach Jamie Detillion in his 11th season.
Congrats to Nate Logan and Nick Shaw for adding another accolade to the resume! They were named NCBWA All-America Honorable Mention! #AnchorUp⚾️🎉 pic.twitter.com/SnQpCzoz1P

— GVSU Baseball (@GVSUBaseball) June 3, 2022
Name to watch: Nathan Logan, Jr., OF
The GLIAC's reigning batting champion (.395), who also hit a school-record 24-doubles, Logan was awesome as a sophomore, exploding onto the scene as one of the conference's breakout stars.
The pandemic ruined his promising 2020 true-freshman campaign (.357 average in 13 games played), and struggles in 2021 (.193) prevented Logan from reaching his full potential that season, but the Michigan native came back in full force a year ago to pick up where he left off during the shuttered season two years ago.
His first-team All-GLIAC campaign consisted of his aforementioned league-leading batting average, along with 49 RBIs, a .708 slugging percentage and a .459 on-base percentage, making him likely the GLIAC's most dangerous returner in the batter's box and a serious threat to be the GLIAC Player of the Year at season's end.
Oh, and his 10 home runs in 2022 were the best on the team, too, so there's plenty of pop in his bat to go along with it.
Wayne State Warriors
2022: 37-19 (16-7), lost in Midwest Regional
The lowdown: The Warriors fought with eventual GLIAC champion Davenport at the top of the league standings right until the very end, narrowly losing out on what would've been the school's first conference title in baseball since 2010.
But the league's best pitching staff (4.20 team ERA) from last year should be in the thick of the hunt once again, especially with many of the standouts in the rotation returning and ready to shut down opposing lineups.
Coach Ryan Kelley, a 400-game winner at Wayne State over 14 years (achieved last April), also directed a group that a year ago broke school records for walks (281) and RBIs (388), with the team's 41 home runs being its best mark in 12 seasons.
If that sounds like a potent mixture for success and possible hardware, you'd be right - the 37 victories last season were a single-season program record.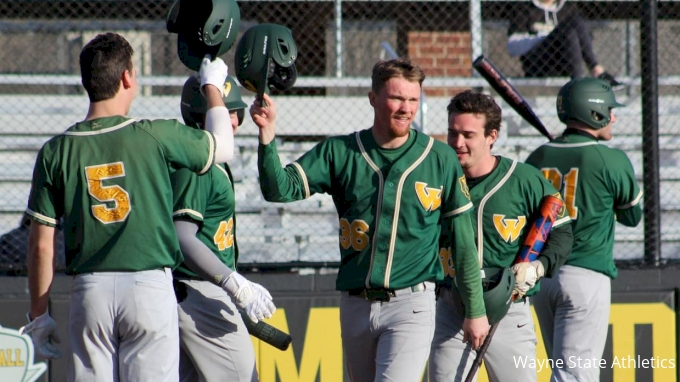 Name to watch: Ryan Korolden, R-Sr., P
An All-America honorable mention and the reigning GLIAC Pitcher of the Year, Korolden was money on the mound all season as the Warriors' ace, finishing the regular season with a 1.87 ERA. He went 8-1 across 11 starts, holding batters to just a .194 batting average for the season, while striking out a team-high 70.
Combined with fellow returner and first-team All-GLIAC nominee Karter Fitzpatrick (8-1, 2.77 ERA and 55 strikeouts in 65 innings), the dominant duo tore apart GLIAC lineups.
They helped give Wayne State a heavy chunk of its wins a year ago, with Korolden's improvement in particular - he had a 7.13 ERA in nine appearances in 2021, his first season with WSU after transferring from St. Clair County Community College - being an especially integral part of the Warriors' push to the GLIAC title and eventual NCAA Tournament appearance.
Korolden didn't slow down in the Midwest Regional, either, throwing a seven-inning, three-run outing against Walsh in the first round.
Davenport Panthers
2022: 36-23 (18-6), lost in Midwest Regional
The lowdown: The Panthers went back-to-back on GLIAC championships, largely thanks to the heavy amounts of raw power and production in their lineup.
Led by GLIAC Player of the Year Nolan Anspaugh and conference home run leader Noah Marcoux (11 homers), Davenport led the conference in batting average (.329), on-base percentage (.422) and slugging percentage (.544). The Panthers scored double-digit runs in 18 games to overwhelm pitching rotations across the GLIAC.
Head coach Kevin Tidey interview after winning another GLIAC Tournament crown in Gary, Ind.@DU_BSBALL pic.twitter.com/JjXK5cn5SI

— Davenport Panthers (@DUAthletics) May 15, 2022
With a target on its back as the league's standout team now fully acquired, the Panthers now will try to do something they've been close to doing but haven't achieved - make it out of regionals.
Davenport's consecutive appearances in the NCAA Tournament in 2021 and 2022 were their first two in program history, though the program has come up just shy of advancing out of the round both times, including making the championship game in 2021.
Name to watch: Ben Mets, Sr., INF
Anspaugh is a huge name with a lot of production to replace, after he batted .448 in conference games, but Mets will be among the group of Panthers attempting to fill in the gaps and keep them as the GLIAC's team to beat.
The senior Michigander has been Davenport's starting shortstop for the past two seasons - the school's most successful run of form since it moved up from the NAIA ranks in the past decade - batting .339 with 46 RBIs (with nine home runs). He was the second-leading hitter on the team behind Anspaugh.
One of five first-team All-GLIAC selections for the Panthers in 2022, Mets should be in the running for another appearance on the list as Davenport's returning top hitter - and the Panthers will need another standout year, if they are to make it three straight regular-season GLIAC championships. It would make them first program to do it in the league since Grand Valley State from 2012-2014.